KNOWLEDGE BASE Mobile - Internet Usage In The UK
The information on this page was current at the time it was published. Regulations, trends, statistics, and other information are constantly changing. While we strive to update our Knowledge Base, we strongly suggest you use these pages as a general guide and be sure to verify any regulations, statistics, guidelines, or other information that are important to your efforts.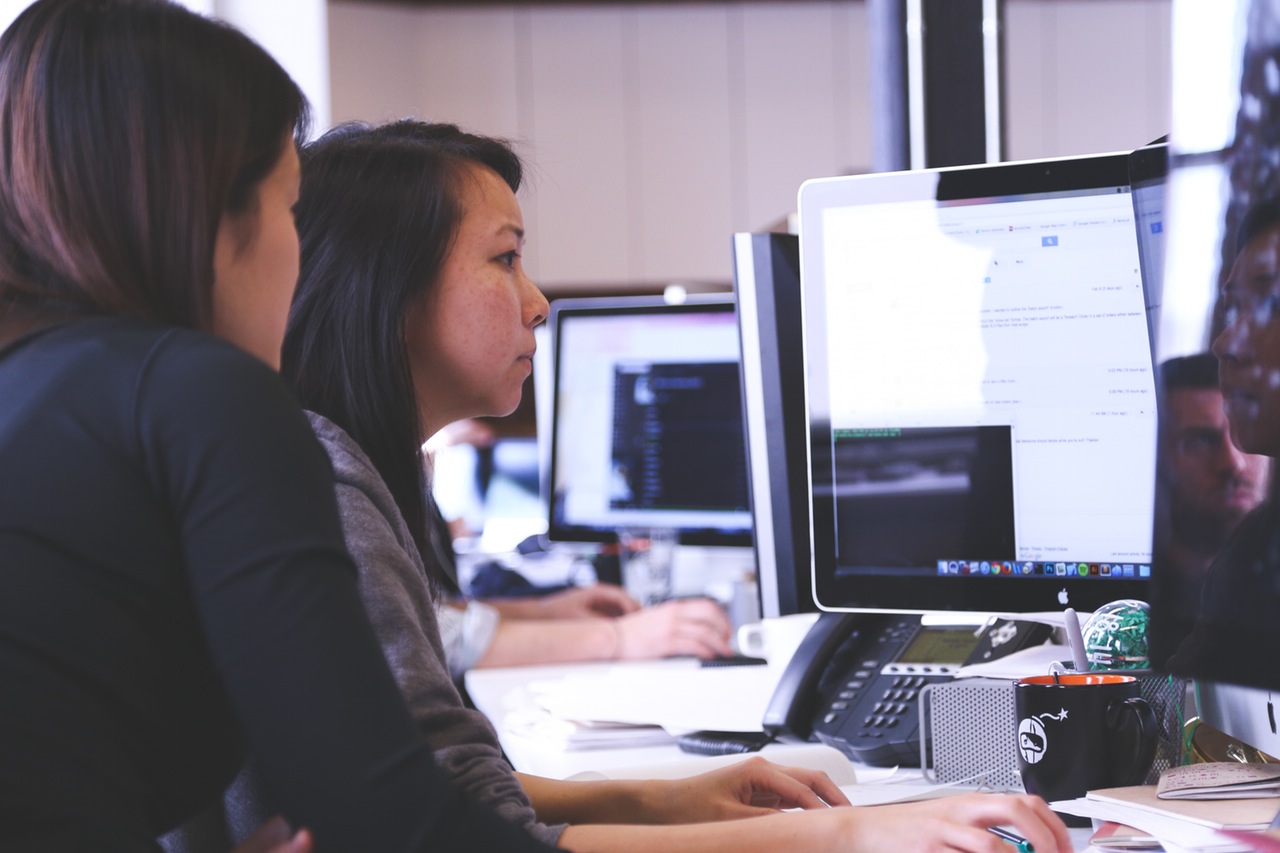 January 31st, 2020 Update: On March 29, 2017, UK Prime Minister Theresa May triggered Article 50, which formally started the process whereby the UK would leave the European Union. The original plan was for the UK to leave the EU on March 29th, 2019 but on October 28th, 2019, the EU agreed to push the extension deadline to January 31, 2020.
The council agreed to conclude the withdrawal, and it took effect at midnight on January 31st, 2020. After this date, the UK is no longer an EU member state. This will obviously shift how business is done in the UK. We will keep updating this page to reflect these changes.
Learn more about Brexit here.
Mobile and Internet Usage in The UK
The UK is network-ready and it's people are digitally savvy. And while showing slightly less daily time online than the world average, a high percentage of households have access to the internet and nearly 8 out of 10 people are online every day or nearly every day. They are one of the leading countries in online purchasing and most report that they do not have any security issues.
Smartphone ownership is high, with two-thirds reporting that they use their phones "on the go" to get online. Over a quarter of UK web traffic is via mobile and half of those with active social media accounts access them with their mobile devices.
Let's take a look at some of the digital activities taking place in the UK.
The United Kingdom Ranked #8 out of 139 countries in Networked Readiness Index
The World Economic Forum's Global Information Technology Report 2016 features the latest iteration of the Networked Readiness Index, which assesses the factors, policies, and institutions that enable a country to fully leverage information and communication technologies (ICTs) for increased competitiveness and well-being. The Networked Readiness Index (NRI) reveals the correlation between a country's level of ICT uptake and the economic and social impacts ICTs have on its economy and society. With a global ranking of 8, the World Economic Forum believes that the UK is well-positioned to utilize ICTs to its advantage.
Global Information Technology Report - UK
Global Information Technology Report - Full Report
Related to this topic, In 2012 the UK government launched a "digital by default" strategy whereby public services are being migrated online. This UK Digital Transformation began with work to move 25 services online, including information and forms for things such as registering to vote, Self Assessment tax returns, and the Registered Traveller service. They have a number of services completed and continue to build out more. Their premise is to provide information and services online "based on the needs of the users, not the needs of government".
You can see a list of services that are live and others that are in beta or under development on the UK government's Digital Transformation page.
Internet, mobile, purchase behavior, and social media in the United Kingdom
Not surprisingly, the UK is well-versed in the digital world. They are connected to and active on the internet, use their mobiles for more than just making calls, and are engaged in social media. To give you an idea for just how involved the British are:
Internet usage in the UK
Most households in the UK have access to the web, age of the household's members being a factor in its likelihood. The UK Office for National Statistics (ONS) provides a lot of information in their Internet Access for Households and Individuals resources. There are many ways to dissect the information, and we'll provide some of the insights below, mixed in with UK internet stats from other sources, as well.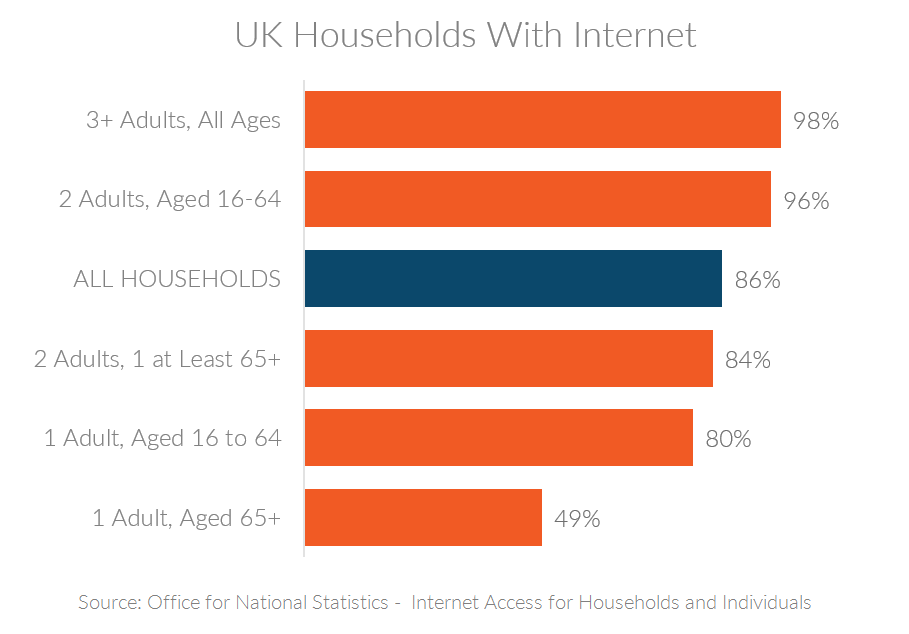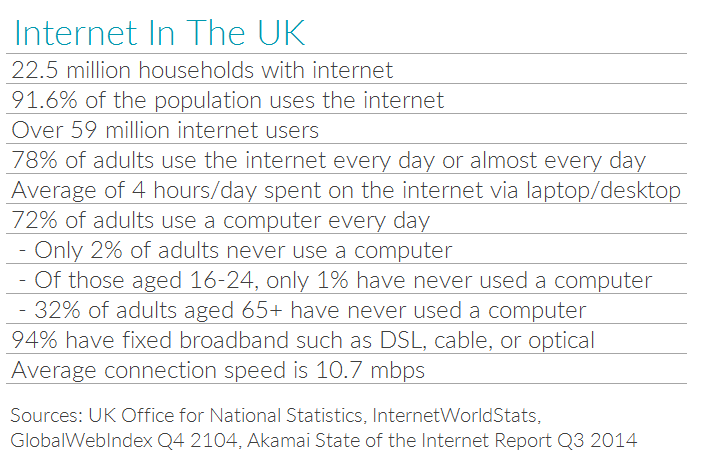 Of the internet activities surveyed in 2015, email remained the most common for the UK. The second most common internet activity in 2015 was finding information about goods and services.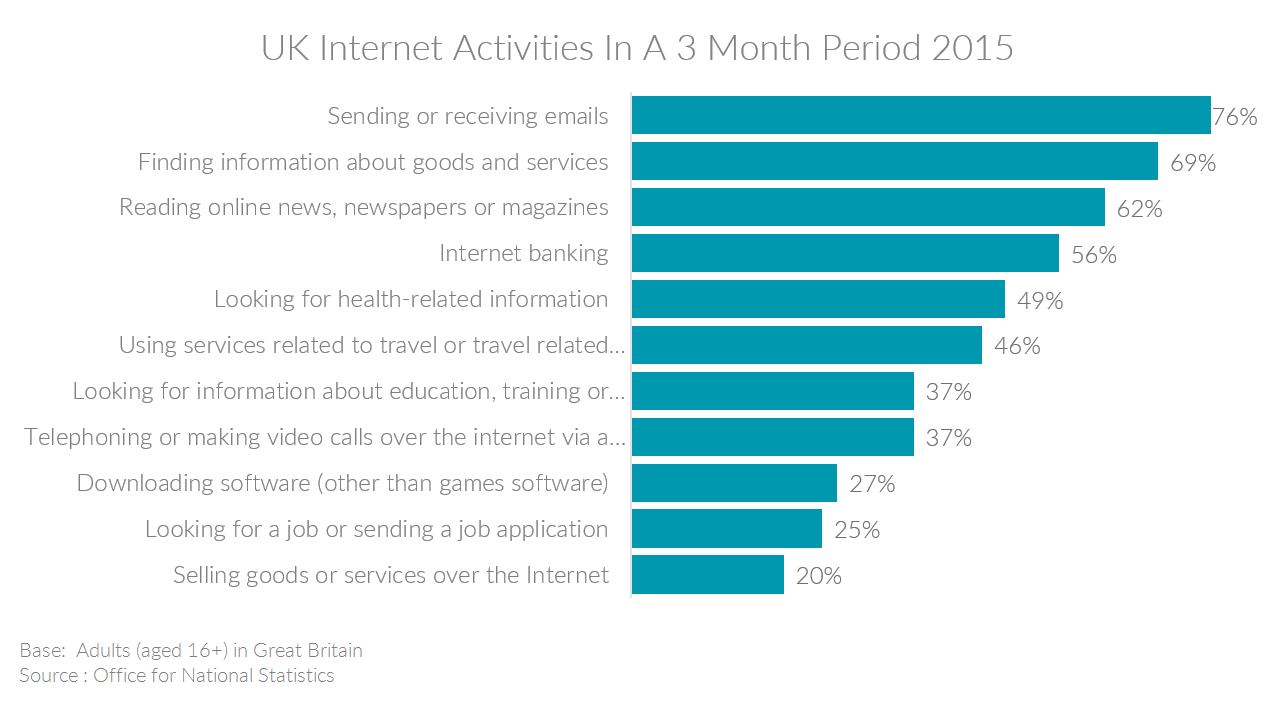 Mobile usage in the UK
Smartphones are ubiquitous in the United Kingdom, with mobile connections/population standing at 117% at the end of 2014 per GSMA Intelligence Q4 2014. Ownership is high in all age groups except the 55+ range.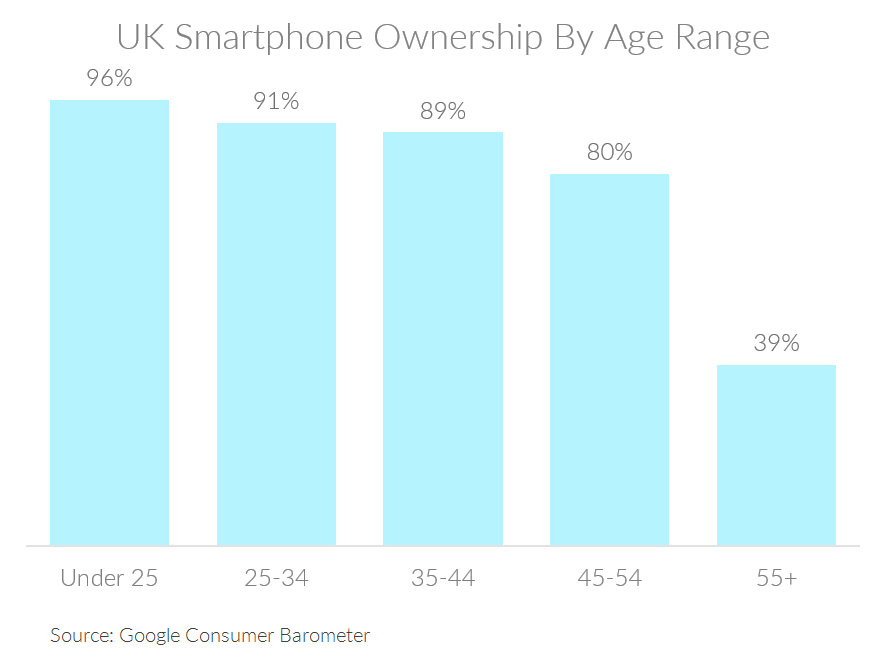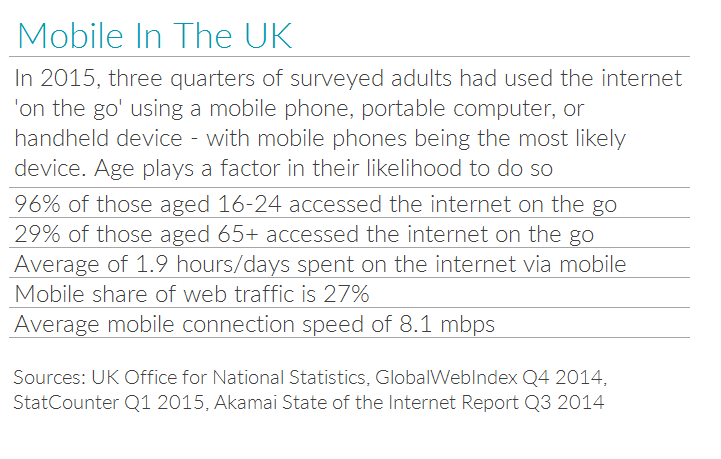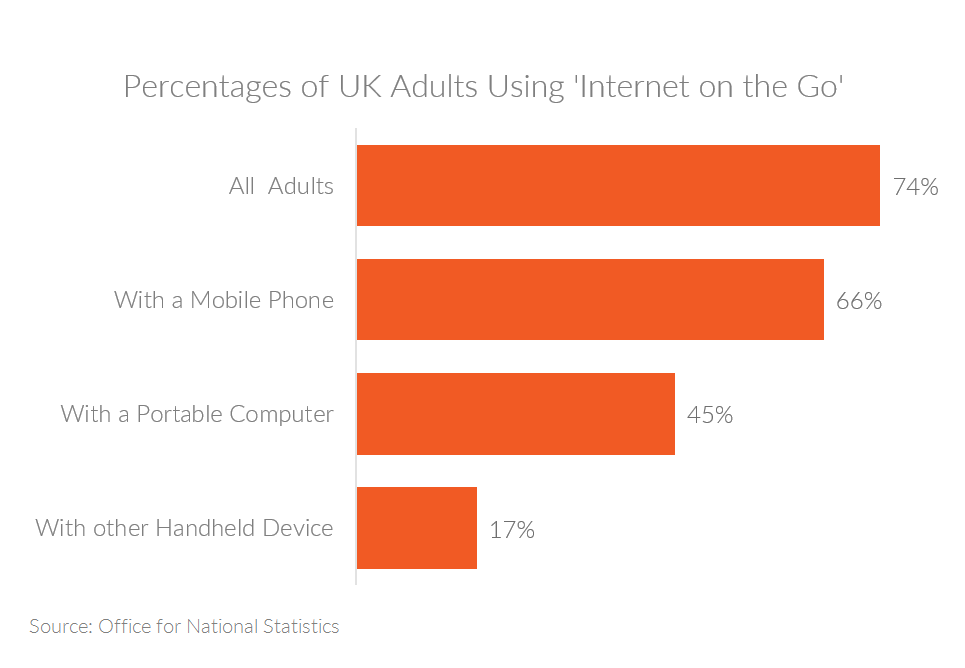 Social Media usage in the UK
More than half of British adults are using social networking and spending just under the world average number of hours on it per day.

Facebook tops the charts by nearly double for the most-used social media platform.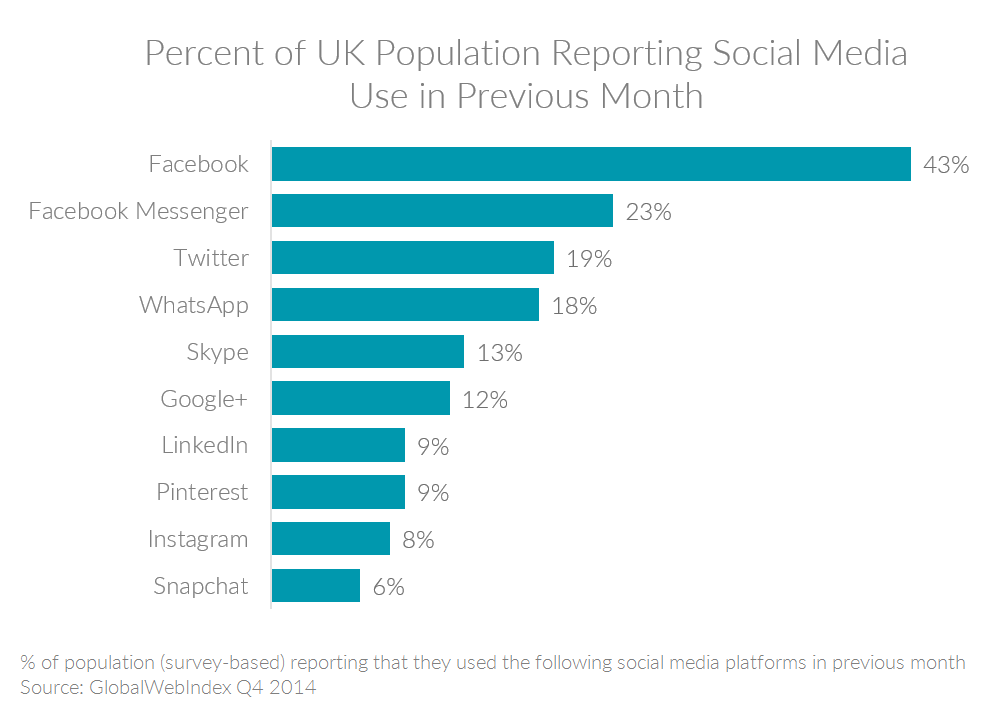 Online Purchase Behavior in the UK
The British are buying goods online. In 2015, 76% of adults in the UK reported buying goods or services over the internet in the previous 12 months (up from 53% in 2008), with a difference in likelihood depending on age.
90% of those aged 16-24 purchased over the internet in 2015

42% aged 65+ purchased over the internet in 2015 - though this rose from 16% in 2008
In a survey done over a one-month period in 2014 by GlobalWebIndex, the UK had the highest percentage of its populace reporting that they had bought something online
While purchase rates vary by age group, as shown in the graphs below:
"Clothes or sports goods" were the most popular UK online purchase in 2015, bought by 55% of adults

"Household goods (for example, furniture, toys etc)" were the next most popular items, purchased online by 44% of the UK's adults

"Travel arrangements" and "holiday accommodation" were both purchased online by 37% of British adults

In 11 of the 15 categories surveyed, adults aged 35 to 44 reported the highest (or joint highest) rates of internet shopping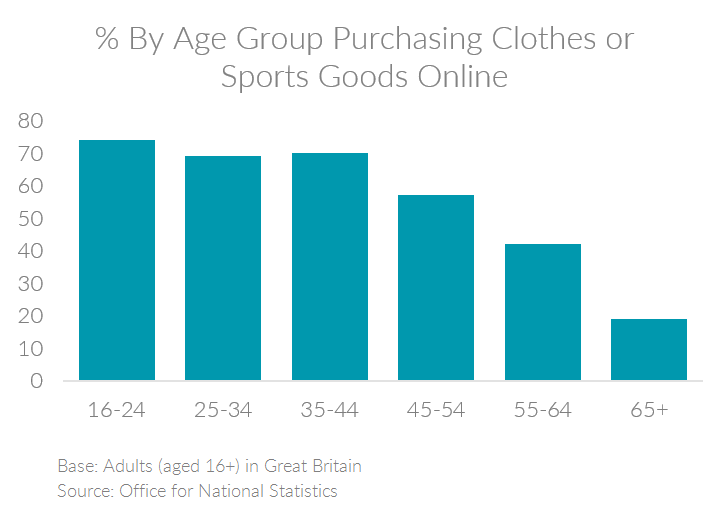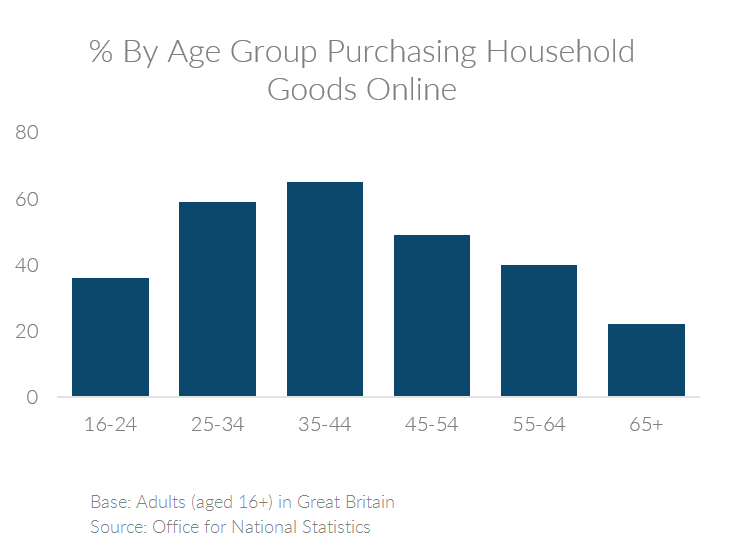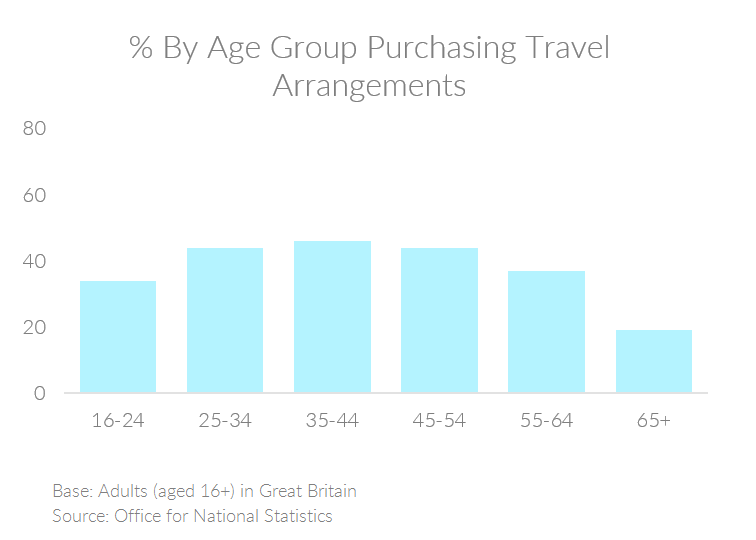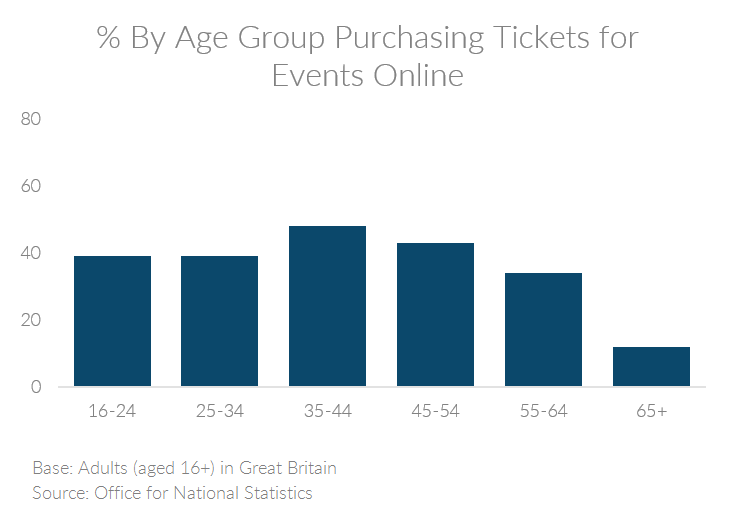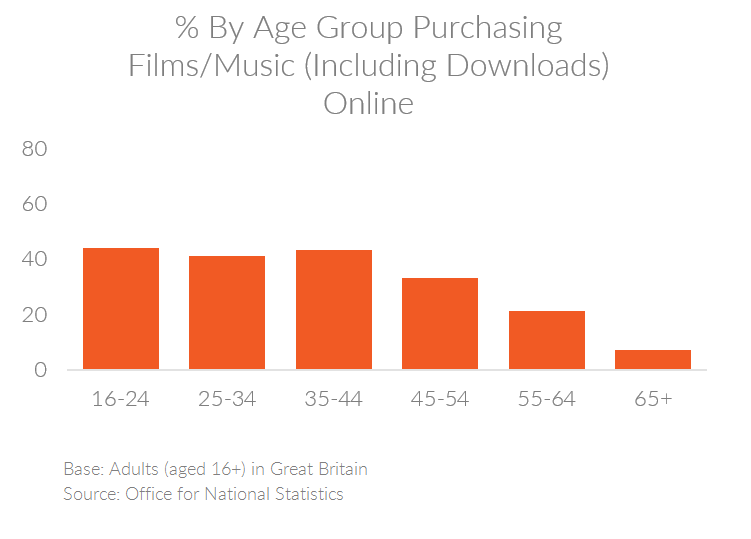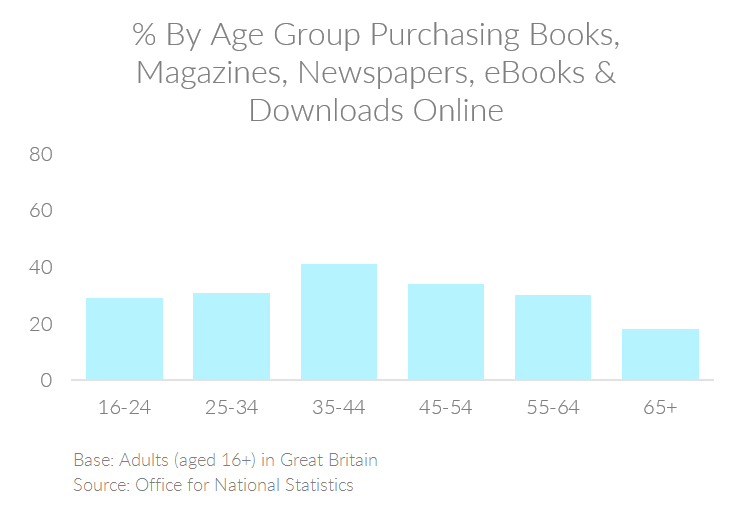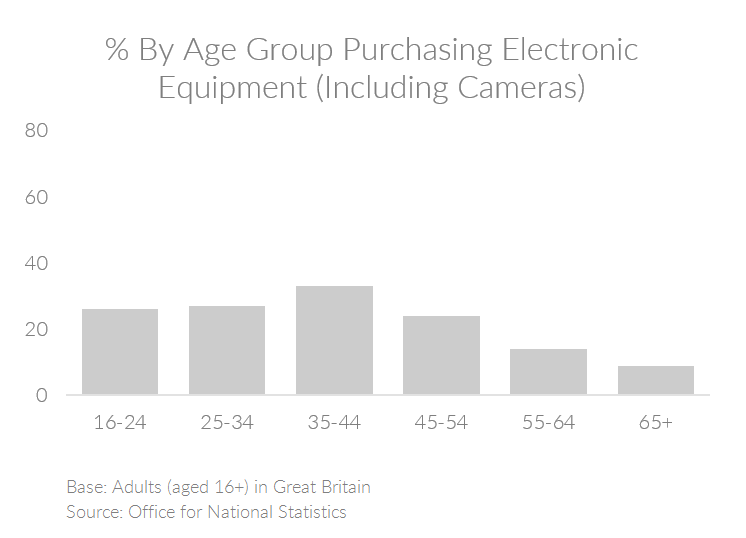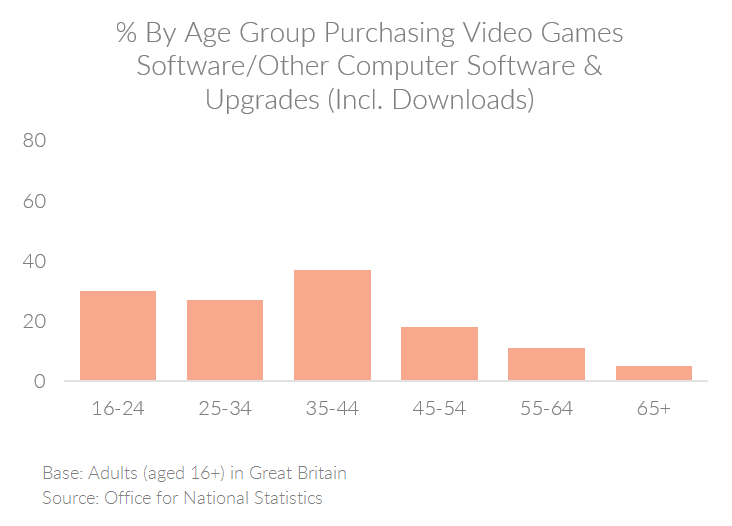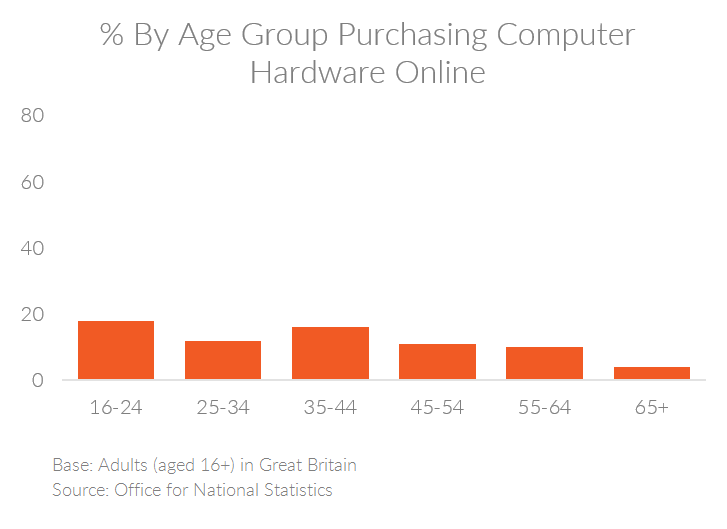 In 2015, estimates were collected by the ONS on the total value of respondents' internet purchases. Of those adults in the UK who had purchased online in the last 3 months:
42% made purchases totalling £100 to £499

12% made purchases of less than £50

9% made purchases of £2,000 or more.
Unlike many of the other comparisons across age groups that the ONS studied in 2015, there was relatively little difference between the age groups in the values of their internet expenditure. Of those aged 16 to 24, 49% spent on purchases in this range, compared with 42% of those aged 65 and over.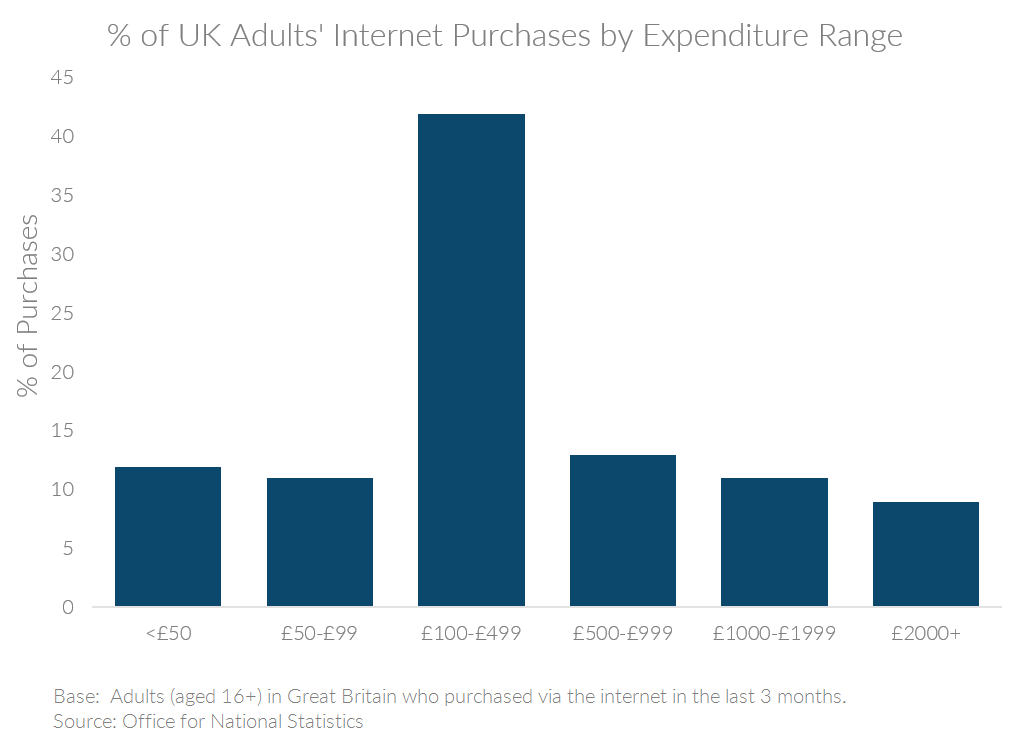 The ONS research also showed that of those British adults who had bought over the internet in the last 3 months, 28% had done so 11 or more times, while 22% had done so only once or twice. Adults aged 35 to 44 purchased most often, with 42% buying online 11 times or more in the last 3 months.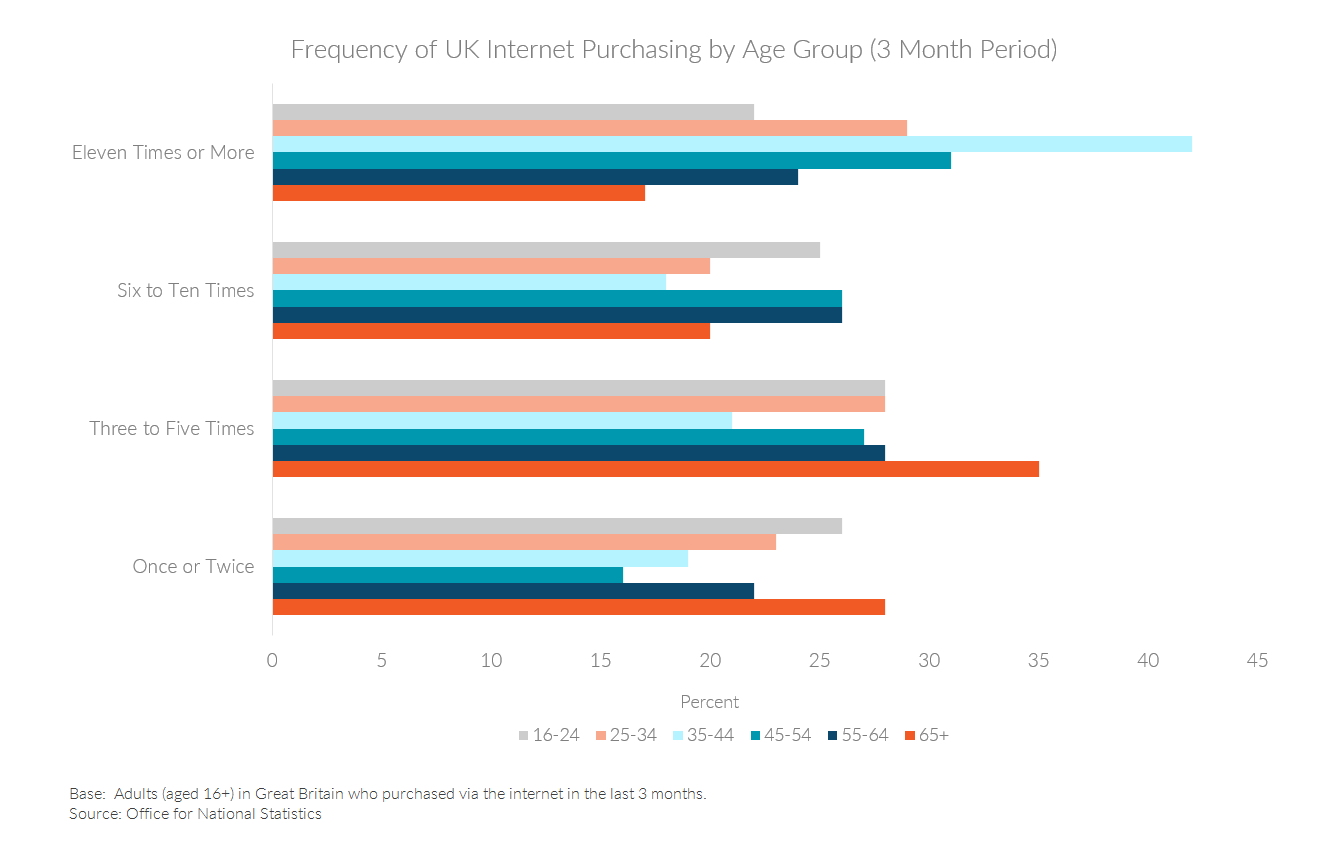 Resources for doing your own research
Google has also compiled a great deal of searchable information regarding the online world in its Consumer Barometer research from 2014 and 2015. Google provides a wealth of information in the use of devices and the internet and how the British use them to research and make purchase decisions. There are many ways to analyze and interpret the information, much of which can be useful in guiding your online strategy.

You can use the Google Consumer Barometer research to further analyze UK mobile device and internet usage behavior, both for key insights and option to use their graph builder. For instance, on a weekly basis here's an idea for what devices the British use for certain online activities: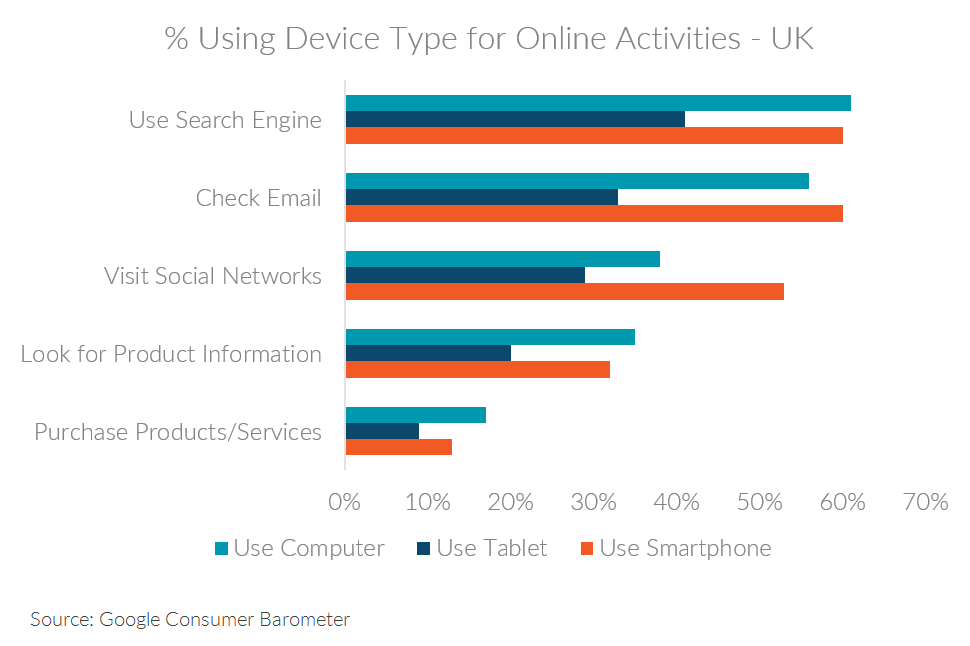 Here is some additional interesting information about UK online activities taken from the Google research:
28% have 5 or more connected devices, with another 18% having 4, and 18% having 3

85% of internet users go online every day for personal usage

71% have smartphones

75% have computers (desktops, laptops, and netbooks)

51% have tablets

94% have TVs

Of those who learned about a product via pre-purchase research, 70% first learned about a product that they later purchased online via websites or apps

24% first learned about a product they later purchased through online advertising

46% made their purchase online, with 81% using their computer, 7% using their smartphone, and 9% using their tablet
The Google Consumer Barometer site is very straightforward and you can use it to search on parameters such as:
Internet usage and segmentation

Connected devices and device usage

Online shopping behaviors

Online video viewing

Apply filters for demographics groups
Google Consumer Barometer has also created some visual insights for the UK data. As you'll see, an online presence is important for your go-to-market strategy, as well as for your ongoing sales and marketing.
People in the UK use the internet to get information for upcoming purchases, and use all of their devices to do so

77% computer

23% smartphone

18% tablet

And they use their smartphones at all phases of the online purchase process in the UK, so plan on having a mobile -friendly strategy

46% inspiration

32% comparison

28% advice

24% purchase preparation
You can also find number of statistics gathered by UK Office for National Statistics.
UK Office for National Statistics (ONS) reports on Internet Access - Households and Individuals
All tables related to UK Internet Access for Households and Individuals
Your site's reliability and your online commitments matter
In the ONS's 2015 survey, adults who had bought or ordered goods or services online were asked about problems they may have encountered. While 50% said they hadn't encountered any problems with Internet purchases, the most common problems that were encountered were "technical failure of website during ordering or payment" and "speed of delivery slower than indicated", both at 27%.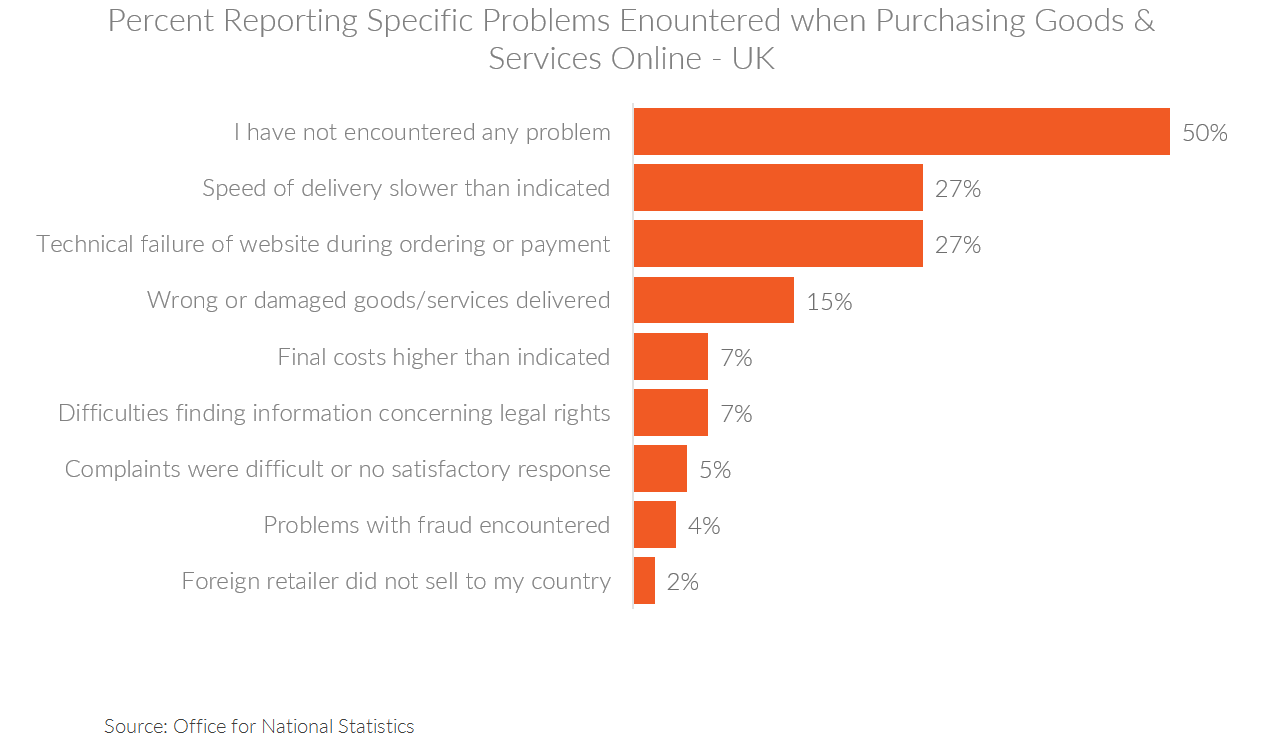 British adults who had not bought over the internet in the last 12 months were asked why this was. The most common reason, given by 58%, was that they "preferred to shop in person". "Payment security or privacy concerns" were cited by 27% of these adults and "lack of skills or knowledge" by 19%.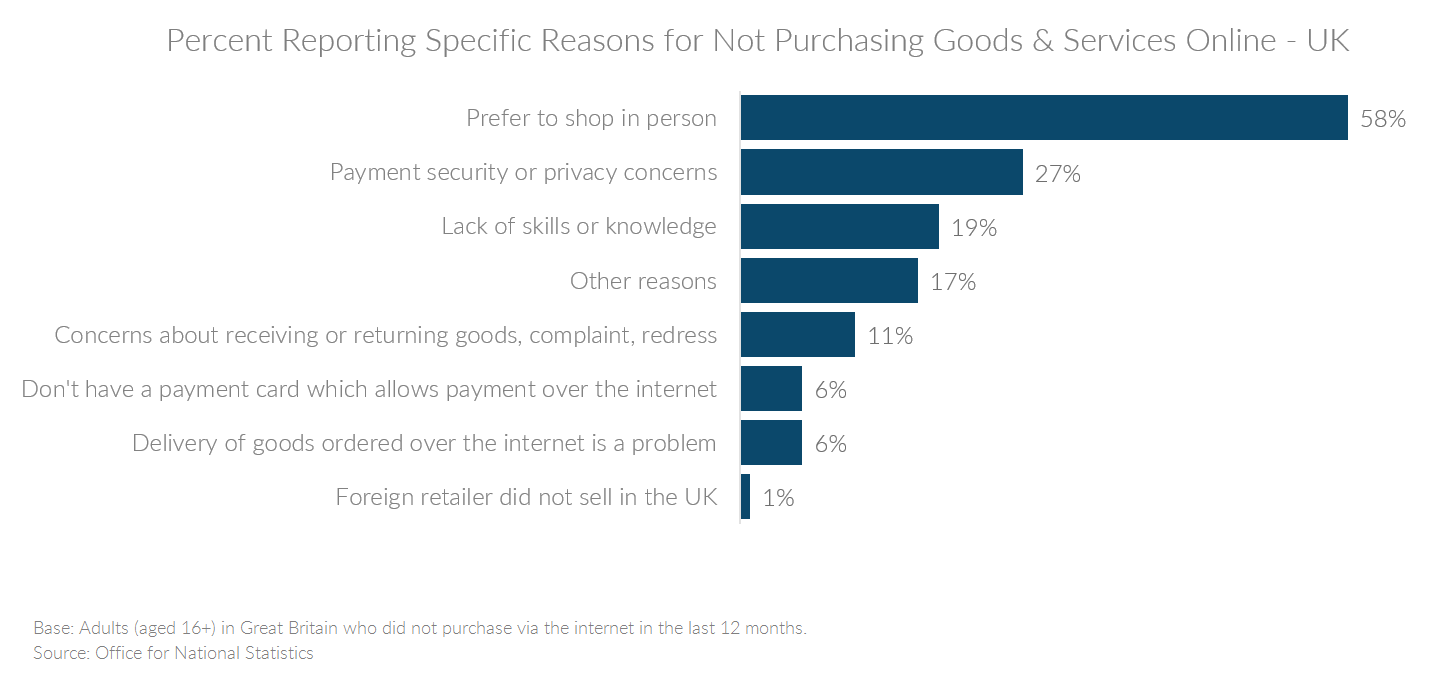 Online security concerns in the UK
Most of those surveyed in 2015 reported that they did not have any major security concerns. The largest number (17%) said that they had caught a virus which resulted in a loss of information or time. Very few experienced the other problems in the other categories that were surveyed, though they are aware of internet security issues. Though most had not experienced security problems, of those who had used the internet in the last 12 months, their online activities were affected by security concerns:
17% reported that security concerns had limited their providing personal information to online communities for social and professional networking

14% limited their internet banking activities

12% limited their internet purchasing
Cookies in the UK
65% of internet users are aware that cookies can be used to trace online activity. There has been some back and forth in the UK regulatory space around cookies. The latest position is that cookies fall under the rule that "implied consent" is sufficient. In other words, by using a website, the user is agreeing to accept the cookies they are given because they are told in the privacy policy. What does this mean for you? You can read in detail about the regulations around cookies in the UK and learn how to make sure your site is compliant in the Globig Data Protection Regulations in the UK section.
Internet storage space in the UK
The availability of internet storage space has grown in recent years with services such as iCloud, Dropbox, and Google Drive available for free, and the British are aware and using it.
in 2014, 67% of adults were aware of services to store information and data on the internet

In 2015, 40% of adults had used internet storage services

In 2015, 52% had made backup files to an external storage device or to internet storage space

16-24 year olds were the most likely to use internet storage space, at 55%

47% of 25-34 and 35-44 year olds used internet storage space

Source: UK Office for National Statistics Internet Security and Internet Storage
It's clear that a savvy online and mobile-friendly presence is key to your success. There are great resources to help you understand your market, some of which are available online and others through a subscription. Having a mobile-ready version of your site, being on top of technical issues, and delivering on your promises will help you succeed.

Global Information Technology Report - UK
Global Information Technology Report - Full Report
UK Government's Digital Transformation program
UK Office for National Statistics (ONS)
Google Consumer Barometer for UK View UK insights and filter on a number of questions to build your own graphs
Statcounter Global Stats to filter on a number of factors such as type of platform, browser, and operating system
Akamai State of the Internet Report
Internet Live Stats users by country
UK Office for National Statistics (ONS) reports on Internet Access - Households and Individuals
All tables related to UK Internet Access for Households and Individuals
KNOWLEDGE BASE Mobile - Internet Usage In The UK