KNOWLEDGE BASE Holidays In The UK - Festivals
The information on this page was current at the time it was published. Regulations, trends, statistics, and other information are constantly changing. While we strive to update our Knowledge Base, we strongly suggest you use these pages as a general guide and be sure to verify any regulations, statistics, guidelines, or other information that are important to your efforts.

January 31st, 2020 Update: On March 29, 2017, UK Prime Minister Theresa May triggered Article 50, which formally started the process whereby the UK would leave the European Union. The original plan was for the UK to leave the EU on March 29th, 2019 but on October 28th, 2019, the EU agreed to push the extension deadline to January 31, 2020.
The council agreed to conclude the withdrawal, and it took effect at midnight on January 31st, 2020. After this date, the UK is no longer an EU member state. This will obviously shift how business is done in the UK. We will keep updating this page to reflect these changes.
Learn more about Brexit here.
Holidays In The UK - Festivals
Religion in the UK
The two largest religious groups in the UK are Christians and "none". But based on a survey done by YouGov in 2014, there appears to be a 'Census Effect' in the UK, which means that people report what their 'official' religion' is when filling out official forms, such as the 2011 UK Census. They may report their religion in this way for reasons of tradition rather than what they truly believe. In the YouGov survey, fully 77% of respondents reported they were 'not very religious' or 'not religious at all'. And 50% said they did not regard themselves as belonging to any particular religion.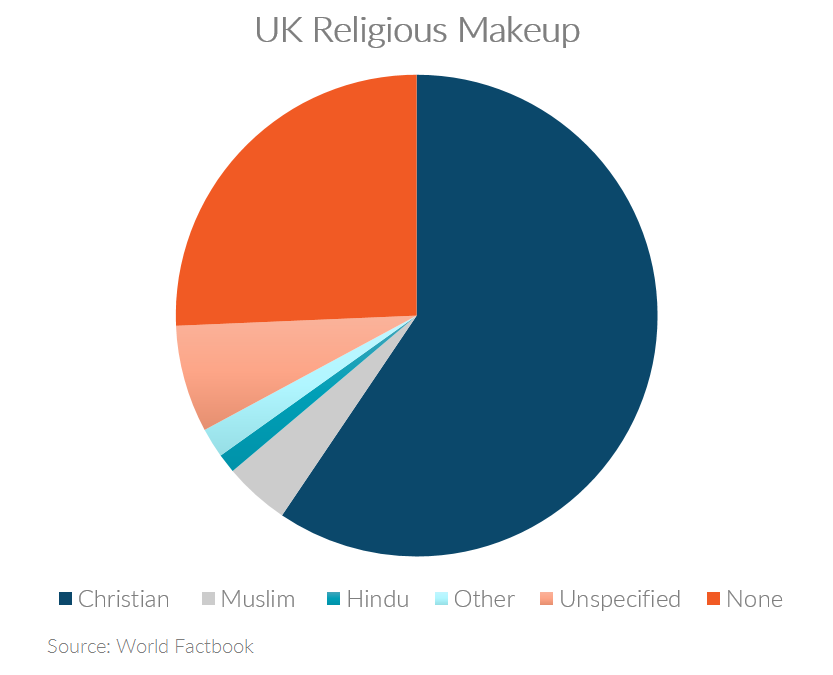 Holidays in the United Kingdom
Public holidays in the United Kingdom, commonly referred to as bank holidays, are days where most businesses and essential services are closed although an increasing number of retail businesses (especially the larger ones) do open on some of the public holidays, in accordance with trading laws.
Only four holidays are observed in all countries of the United Kingdom. They are: New Year's Day, May Day or Early May Bank Holiday, Christmas Day and Boxing Day. Most other holidays are decided upon each of the four nations in the UK, which do not always coincide with bank holidays, and instead observe traditional local custom and practice for their public holidays.The United Kingdom has no national day holiday marked or celebrated for its formal founding date. Increasingly, there are calls for public holidays on the patron saints' days in England, Scotland and Wales (Northern Ireland already has St. Patrick's Day as a holiday). Here is the holiday schedule for the countries of the UK through 2016.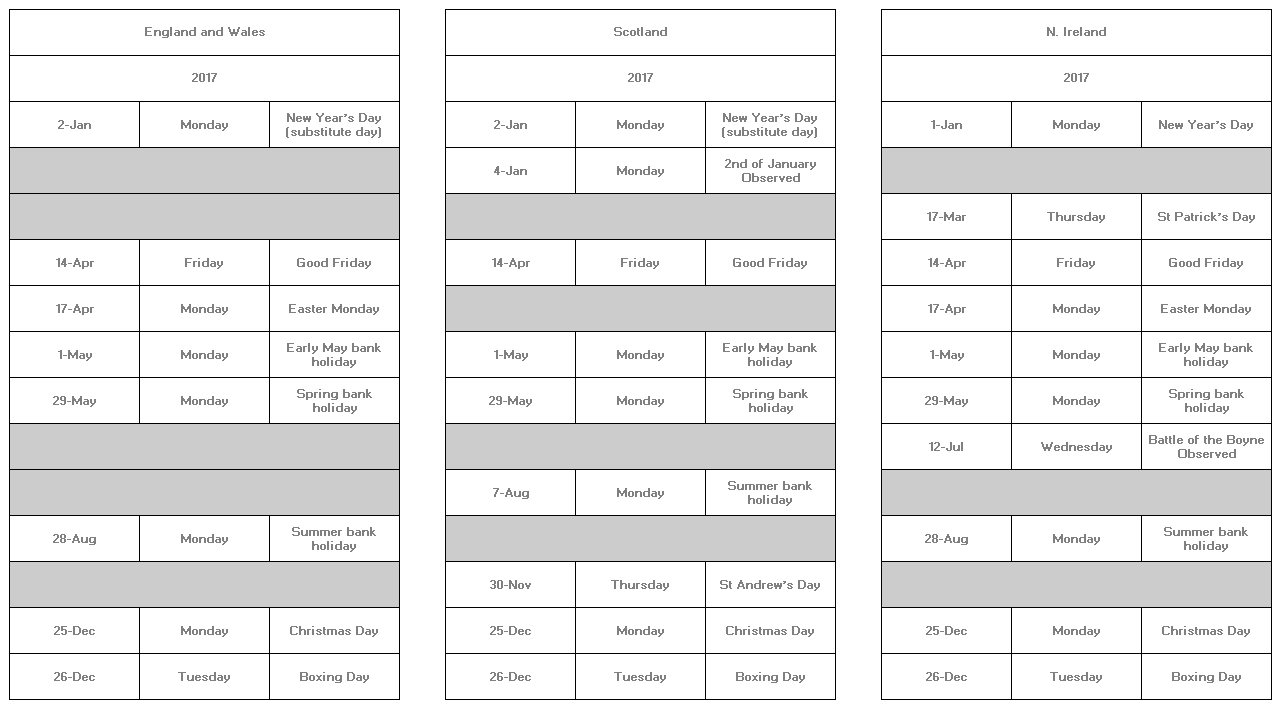 To help you keep track of the UK's public holidays and festivals, Globig has created a UK Media Calendar through 2017. With the holidays and festivals already loaded into the calendar, you can plan your activities around them.

UK Bank Holidays for England, Wales, Scotland, and Northern Ireland
KNOWLEDGE BASE Holidays In The UK - Festivals