KNOWLEDGE BASE Netherlands Fact And Figures
The information on this page was current at the time it was published. Regulations, trends, statistics, and other information are constantly changing. While we strive to update our Knowledge Base, we strongly suggest you use these pages as a general guide and be sure to verify any regulations, statistics, guidelines, or other information that are important to your efforts.
NETHERLANDS RESOURCES: EMPLOYMENT, VISAS, FDI, STATISTICS, AND GLOBAL RANKINGS
As a member of the European Union (EU), Dutch companies have easy access to the other member states of the EU, providing a much bigger market than just the Netherlands itself. Rotterdam is among the world's top ports in both cargo volume and container traffic, and the top port for Europe.
Amsterdam is a rising star among statup hubs, regularly hitting lists of top European startup cities to consider. The Startup Heatmap Europe published by the European Startup Initiative, reports a 31% increase in the Netherlands' startup population, fueled by a large startup inflow. Based on the responses of 700 startup founders, 10% reported that Amsterdam was among the top cities they would choose if they could start all over again. Amsterdam placed third behind Berlin and London.
Each company will have its own reasons for choosing a new country for expansion. We've compiled a number of facts and figures to help you better understand the Netherlands and how it fits with your global expansion strategy.
Country Info: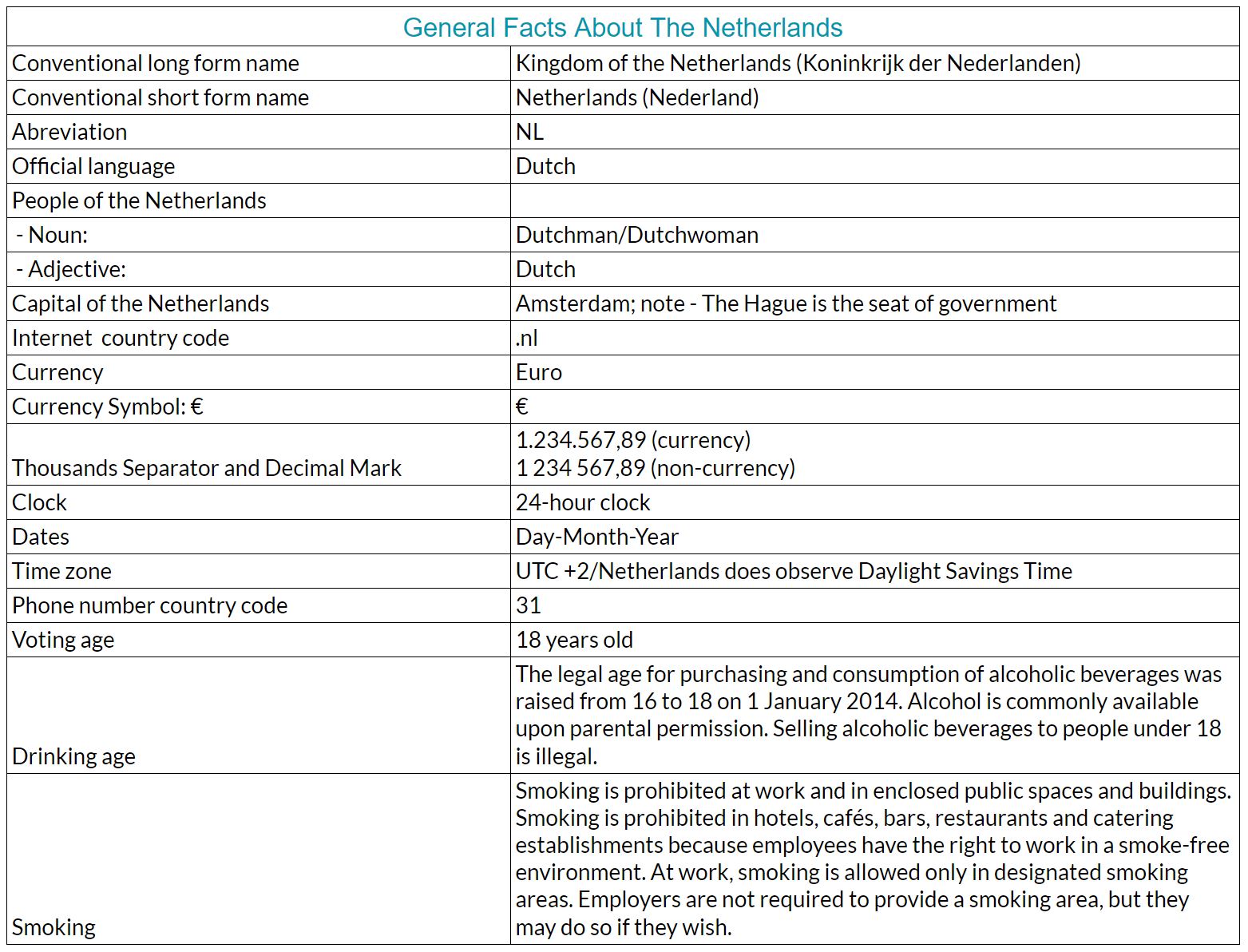 Government Resources
Government of the Netherlands - The official web portal of the Netherlands' government
Central Bureau of Statistics - Official site for Netherlands' national statistics
NOM - NOM Foreign Direct Investment (FDI) operates as a sort of marketing & sales organization for the Northern Netherlands. We pay visits to many entrepreneurs and companies in the region every year. During these visits, we discuss their success factors, their role in the supply chain, their vision of the future and the obstacles they face. We use this information to come up with propositions for the important sectors with the aim of enticing foreign companies to establish in the Northern Netherlands. It is here that they will find the conditions they need to achieve their ambitions.
Invest In the EU - Invest in EU is the essential resource for modern investors seeking to learn more about Europe's unique investment opportunities. Through the Invest in EU magazine, portal and weekly newsletter, we aim to market and analyse investment destinations, various industry sectors & investment opportunities in Europe(EU).
Trade Helpdesk - The European Commission's Export Helpdesk provides a free online service covering all import rules in force in the EU on a product-by-product and country-by-county basis.
Additional Information On The Netherlands
Data Privacy & Data Security Resources
KNOWLEDGE BASE Netherlands Fact And Figures