KNOWLEDGE BASE Population - Ethnicity - Language In The UK
The information on this page was current at the time it was published. Regulations, trends, statistics, and other information are constantly changing. While we strive to update our Knowledge Base, we strongly suggest you use these pages as a general guide and be sure to verify any regulations, statistics, guidelines, or other information that are important to your efforts.

January 31st, 2020 Update: On March 29, 2017, UK Prime Minister Theresa May triggered Article 50, which formally started the process whereby the UK would leave the European Union. The original plan was for the UK to leave the EU on March 29th, 2019 but on October 28th, 2019, the EU agreed to push the extension deadline to January 31, 2020.
The council agreed to conclude the withdrawal, and it took effect at midnight on January 31st, 2020. After this date, the UK is no longer an EU member state. This will obviously shift how business is done in the UK. We will keep updating this page to reflect these changes.
Learn more about Brexit here.
Population - Ethnicity - Language In The UK
The United Kingdom's total population and broken out by country
As of mid-2014, the population in all of the UK was estimated at 64,596,752, with 50.8% being female and 49.2% being male. The population breakdown of the constituent countries were:
Scotland's population: 5,347,600 (the highest ever)

Wales' population: 3,092,036

Northern Ireland's population: 1,840,498

England's population: 54,316,618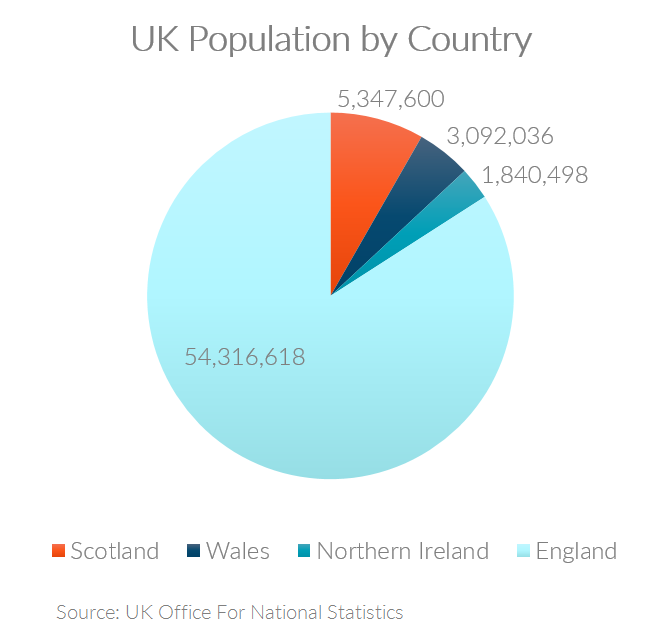 Never refer to someone in the UK as English unless you are absolutely sure they are from England! People from Scotland, Northern Ireland, or Wales will not appreciate being referred to as English!
Ethnicity in the United Kingdom
While the UK has a mix of ethnic groups and cultures, it is overwhelmingly white.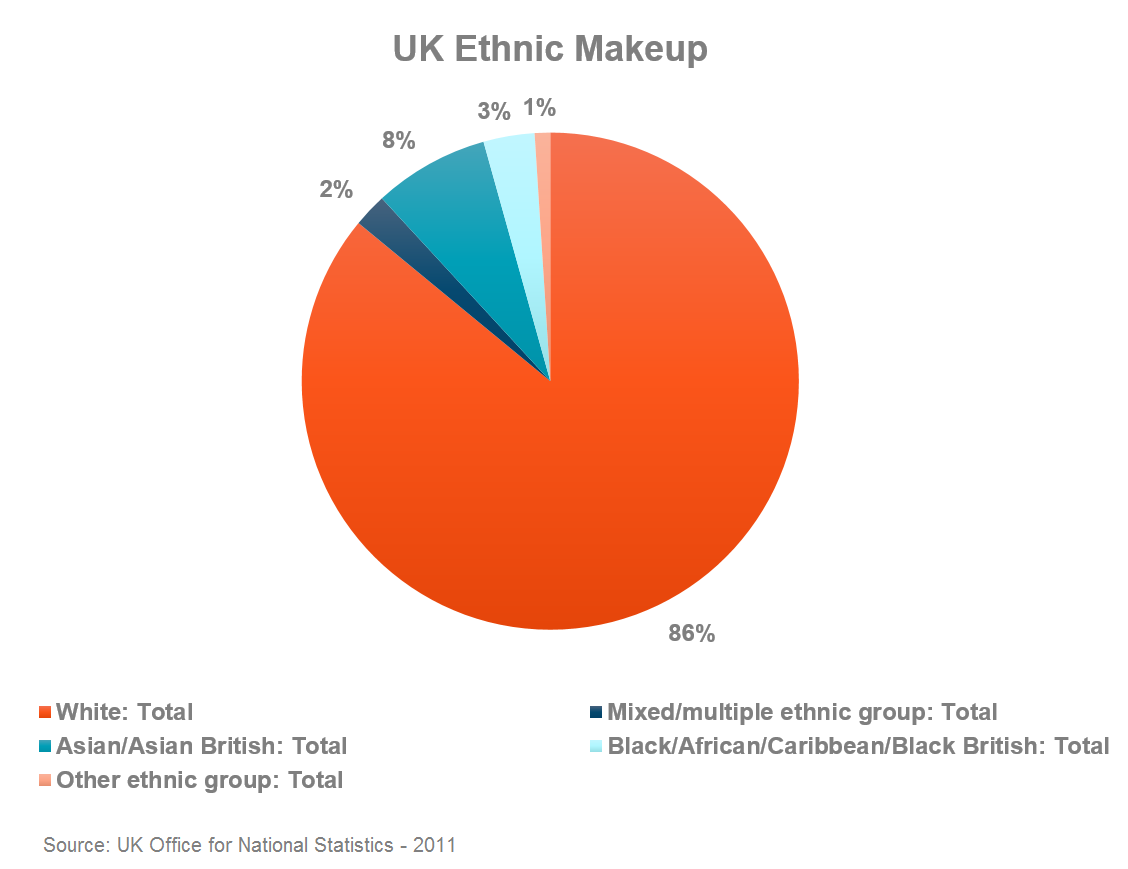 Language in the United Kingdom
The official language of the UK is English and there are few people as a percentage of its total who do not speak it. There are also recognized regional languages.
Scots (about 30% of the population of Scotland, or approximately 1.6M people)

Scottish Gaelic (about 60,000 in Scotland)

Welsh (about 20% of the population of Wales, or approximately 0.6M people)

Irish (about 10% of the population of Northern Ireland, or approximately 184,000 people)

Cornish (some 2,000 to 3,000 in Cornwall)
Source: The World Factbook 2012 estimates
And as this entertaining video will show you, there are many accents across the United Kingdom.
According to UK 2011 census data, less than a million people (864,000, or less than 2%) out of the total population speak English 'not well', or 'not at all'.

For a summary of UK population statistics: Statistical Bulletin: Annual Mid-year Population Estimates, 2014
UK Population analysis tools, providing a number of ways to analyze the information
UK growth rate trends, average rates by region, and causes for changes, age distribution trends, including downloadable tables
Population information on Scotland from the National Records of Scotland
Population information on Wales from the Welsh Government
Population information on Northern Ireland from the Northern Ireland Statistics and Research Agency
The UK Office for National Statistics (ONS) infographic based on 2013 population information
UK employment rates, population, GDP, migration vs. other EU countries
UK population statistics from the Office for National Statistics
Office for National Statistics
KNOWLEDGE BASE Population - Ethnicity - Language In The UK