KNOWLEDGE BASE Social Media Marketing In The UK
The information on this page was current at the time it was published. Regulations, trends, statistics, and other information are constantly changing. While we strive to update our Knowledge Base, we strongly suggest you use these pages as a general guide and be sure to verify any regulations, statistics, guidelines, or other information that are important to your efforts.
January 31st, 2020 Update: On March 29, 2017, UK Prime Minister Theresa May triggered Article 50, which formally started the process whereby the UK would leave the European Union. The original plan was for the UK to leave the EU on March 29th, 2019 but on October 28th, 2019, the EU agreed to push the extension deadline to January 31, 2020.
The council agreed to conclude the withdrawal, and it took effect at midnight on January 31st, 2020. After this date, the UK is no longer an EU member state. This will obviously shift how business is done in the UK. We will keep updating this page to reflect these changes.
Learn more about Brexit here.
Social Media Marketing In The UK
The people in the UK are active online and on social media, especially those between 16-34 years old. Although the UK has a higher Internet use of 89%, their time spent online for both web 4 hrs and mobile 1.9 hrs are lower than the average of 4.4 web and 2.7 mobile according to GlobalWebIndex 2014 statistics.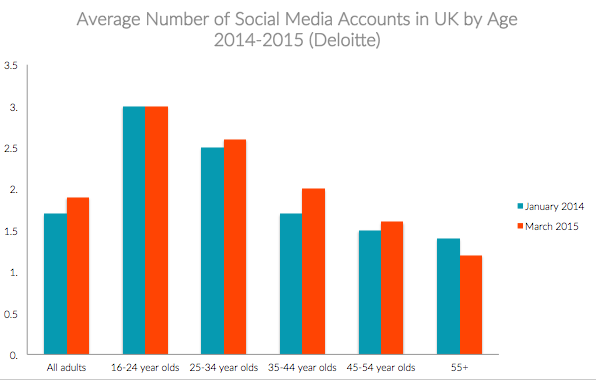 59% of Internet users, or 38 Million people, in the UK have an active account on the larger social media platforms. (We Are Social 2014) yet they spend just slightly less time 2.2 hrs than the global average 2.4 hrs on social media every day.
50% of the population, or 32 million people, use their mobile phone to access social media in UK, 30% of them use social media mobile apps.
The top social media platforms according to GlobalWebIndex 2014 are: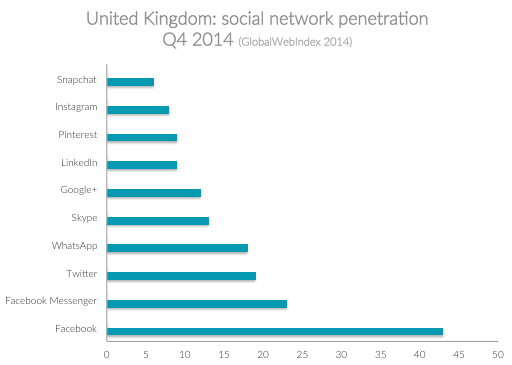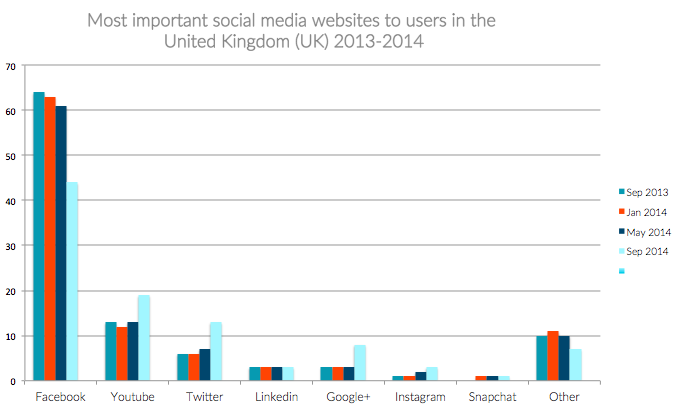 Of the top 10 websites visited most frequently in the United Kingdom according to Alexa.com, most are search engines, ecommerce, or social media sites with Google.co.uk and Google.com at the top, Facebook, YouTube, Amazone.co.uk, Ebay.co.uk, Bbc.co.uk, Yahoo.com, Live.com, and Wikepedia.org rounding out the top 10. To see the broader list, visit Alexa.com.
Social Media Culture
It's helpful to get a sense of a culture by the media they consume and the brand interactions that are successful and those that are not. The most frequently shared content type among teens are photos, comments, status updates, reports, videos, questions, and their location.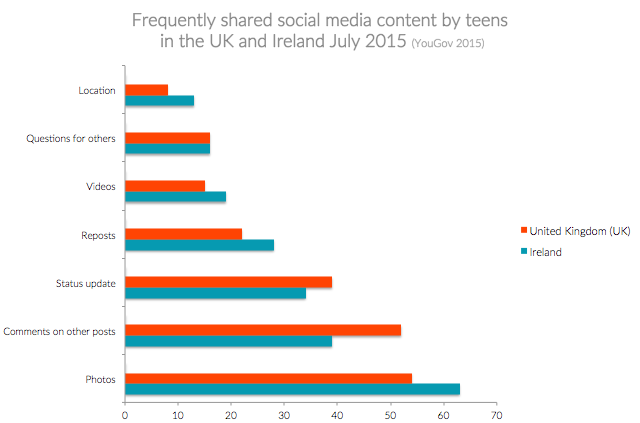 For brands, providing discounts or 'games' to win are the most popular types of content in the UK followed by humorous, dramatic, or heart warming stories.
To better understand British humor, you can learn more in our section on Cultural Localization.
The people of the UK as a whole like games such as contests, sweepstakes, different forms of gambling, and the gamification of tedious processes. Even video games are popular with men and women alike. Women now account for 52% of the gaming audience in the UK, primarily on their mobile phones according to an IAB 2014 study.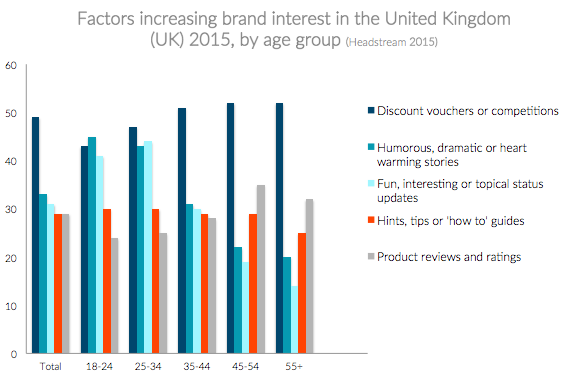 To get a better understanding of what resonates culturally, pay close attention to Facebook, Twitter, YouTube and other social media content and campaigns that are popular. The social media research site Social Bakers regularly reports on top sites in each market. In February 2015, some of the top UK social media brands were:
Facebook:
Top brands with number of followers: Amazon.co.uk, Skittles, Coca Cola, Cadbury Crème Egg, iTunes

Top brand for engagement on posts: Freederm

Most devoted brands: Virgin Media, Tesco
Not unlike other countries, most successful social media campaigns typically include some sort of fun sweepstakes, inspiration, aspirational content, or other relevant engagement with people. To learn more about sweepstakes in the UK visit the Sweepstakes section in the Knowledge Base Go-To-Market section.
Overall, from small to large organizations, both consumer facing and B2B, social media is an important component of the marketing mix to reach UK prospects.
KNOWLEDGE BASE Social Media Marketing In The UK