KNOWLEDGE BASE Demographics On Aging In The UK

On March 29, 2017, UK Prime Minister Theresa May triggered Article 50, which formally started the process whereby the UK will leave the European Union. Article 50 was just the beginning of the withdrawal process, as it allows the UK two years to negotiate its leave with the other EU member states. UK laws and regulations did not and will not change overnight. We will update our site with any relevant changes and information as it becomes available. You can learn more on the UK government site.
Demographics On Aging In The UK
Age structure in the UK
The UK's median age (the number at which half the population is older and half is younger) is 40.0, the highest it's ever been. In the past 40 years, that number represents an increase of just over 6 years. The median age varies across the UK countries, with a low of 38 in Northern Island to a high of 42.1 in Wales. There are over 11.4 million people aged 65 and over.
Age structure in the UK
0-14 years: 17.37% (male 5,706,871/female 5,424,654)
15-24 years: 12.41% (male 4,060,480/female 3,891,262)
25-54 years: 40.91% (male 13,344,087/female 12,873,234)
55-64 years: 11.58% (male 3,675,565/female 3,746,483)
65 years and over: 17.73% (male 5,086,919/female 6,278,667) (2015 est.)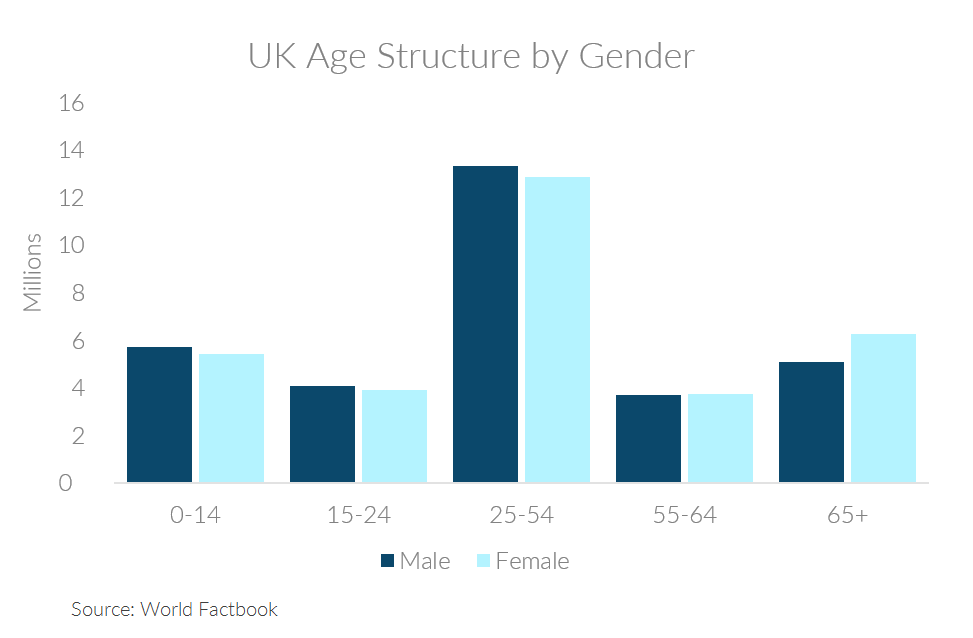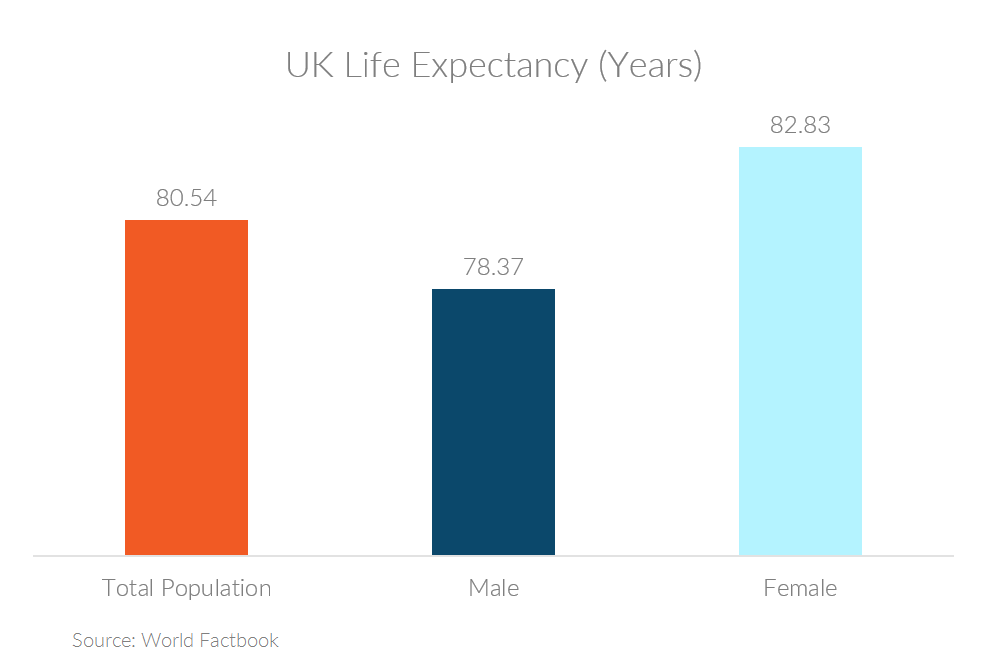 Aging and gender in the UK
Faster improvements in mortality rates for men than for women mean that the number of men aged 75 and over has increased by 149% since mid-1974 while the number of women in that age group has grown by 61%. The faster improvement in male mortality is largely driven by changes seen in tobacco smoking and advances in health treatments for circulatory illnesses. Male occupations over the same period have also become less physical and safer. Detailed explanation of this theme is available in the Office for National Statistics' National Life Tables release from September 2014.

The UK Office for National Statistics provides a number of resources for understanding demographics about aging in the United Kingdom.
For UK age distribution since 1984 and projected into 2044, scroll to the bottom of the linked page
For life expectancies at birth and age 65 by local areas in England and Wales, use the interactive table. Another table on that page ranks each area by life expectancy at birth and age 65
More detailed information on aging in the UK, along with more information on UK life expectancies
Age pyramid by gender: Download the Population Estimates Analysis Tool and click on the Population Pyramid tab
Information on Median Age in the United Kingdom
KNOWLEDGE BASE Demographics On Aging In The UK