KNOWLEDGE BASE Advertising in Singapore
The information on this page was current at the time it was published. Regulations, trends, statistics, and other information are constantly changing. While we strive to update our Knowledge Base, we strongly suggest you use these pages as a general guide and be sure to verify any regulations, statistics, guidelines, or other information that are important to your efforts.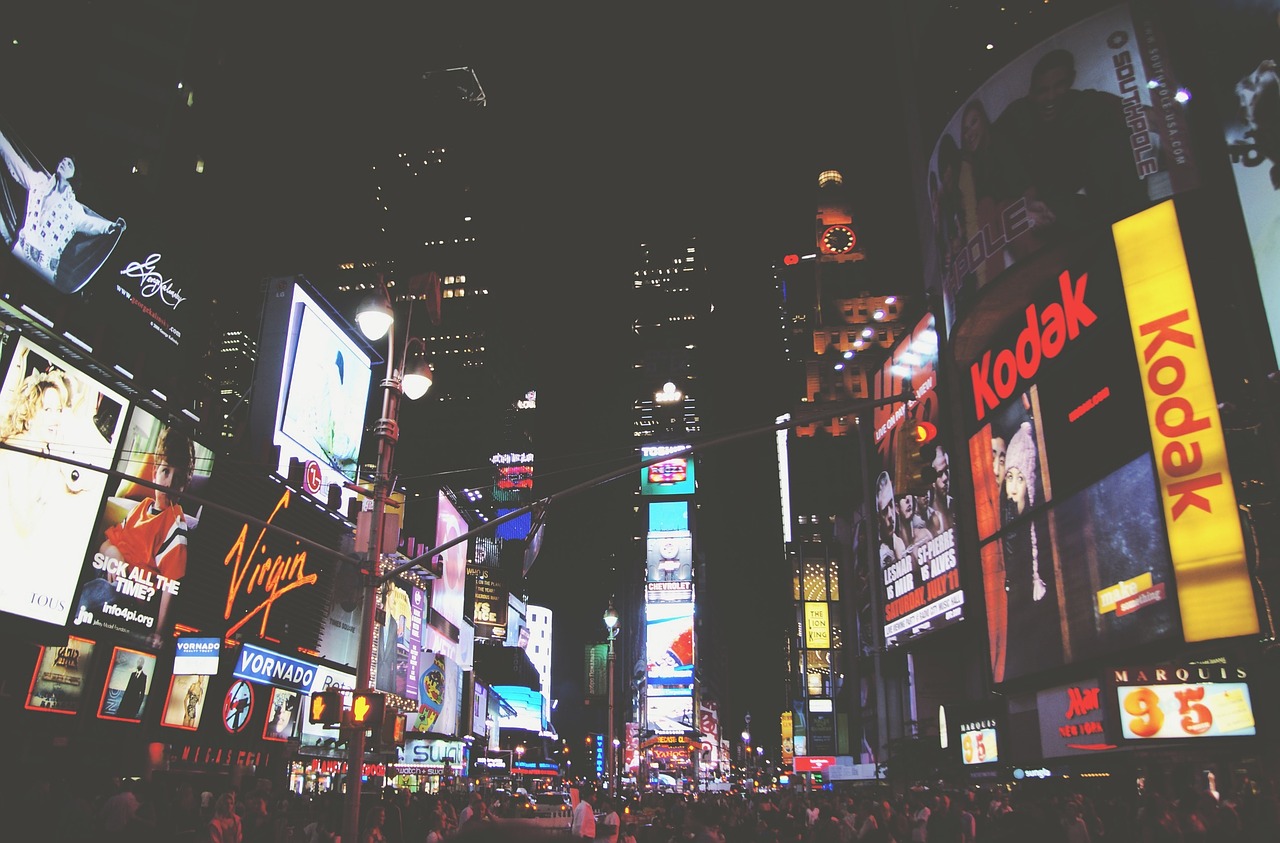 Advertising in Singapore
Overview
Here's the most important thing you can understand about the advertising market in Singapore: this market is comprised of sophisticated media consumers and many major brands compete for the attention of a relatively small nation. Singapore is the gateway to Asia for many companies and a perfect test market for companies to try out new advertising concepts and test new products because there are significant pools of Chinese, Indians, and Malaysian people to reach and prove out ideas prior to launching in larger markets within other Asian countries. The people in Singapore are technology savvy, modern in what they wear, but also traditional in their cultural values and family focus. Playful, friendly, clean humor is often the best approach for ad creative. Edgy is much riskier to execute well and it's hard to find the right balance.
Advertising in Singapore, especially TV, radio, or print advertising is expensive to create and expensive to place. Even digital advertising can eat up a smallish marketing budget rather quickly, but it's still an important marketing tactic for companies looking to reach general consumers in Singapore.
TV viewership and radio listening in Singapore continue to be strong according to Nielsen Media, the leading source for measuring consumer media consumption. Singapore is also the broadcast hub of Asia overall. Many major international cable and broadcast networks have their regional headquarters in Singapore, and other Asian countries will watch the channels from Singapore so their reach is significantly more than only one country. You'll find ESPN, Star Sports, Discover, HBO, MTV, Sony Pictures Entertainment, NBC Universal and CNBC based in Singapore.
Media Consumption

Television
On average, the Singapore people will watch five days of television. Nine out of ten people watch MediaCorp's terrestrial TV non-paid channels. Media Corp's Channel 8 has the highest weekly reach and Channel 5 reaches slightly more than half of the Singapore population for English speaking channels. Almost half (48%) of the daily viewers are housewives.
Channel U is the leading Chinese language channel at 40% penetration weekly and Channel NewsAsia is right behind at 32% weekly with professionals, managers, executives, and businessmen (PMEBs) making up 41% of it's viewers. Their online site, ChannelNewsAsia.com reaches 58% PMEBs weekly on average.
For Pay-TV, close to two in five adults (37 %) watched StarHub TV weekly, and 19 per cent of adults watched SingTel TV weekly.
Radio
Over 90% of adults tune into radio stations weekly. Class 95 FM is the top English station and Y.E.S. 93.3 FM leads for Chinese stations.
Digital advertising
More than 2 in 5 Singaporeans shop both online and offline. Almost 8 in 10 of those shoppers are Millennials and Gen-X'ers. Many of them shop using multiple channels. Singaporeans first become aware of many products they purchase online prior to buying them.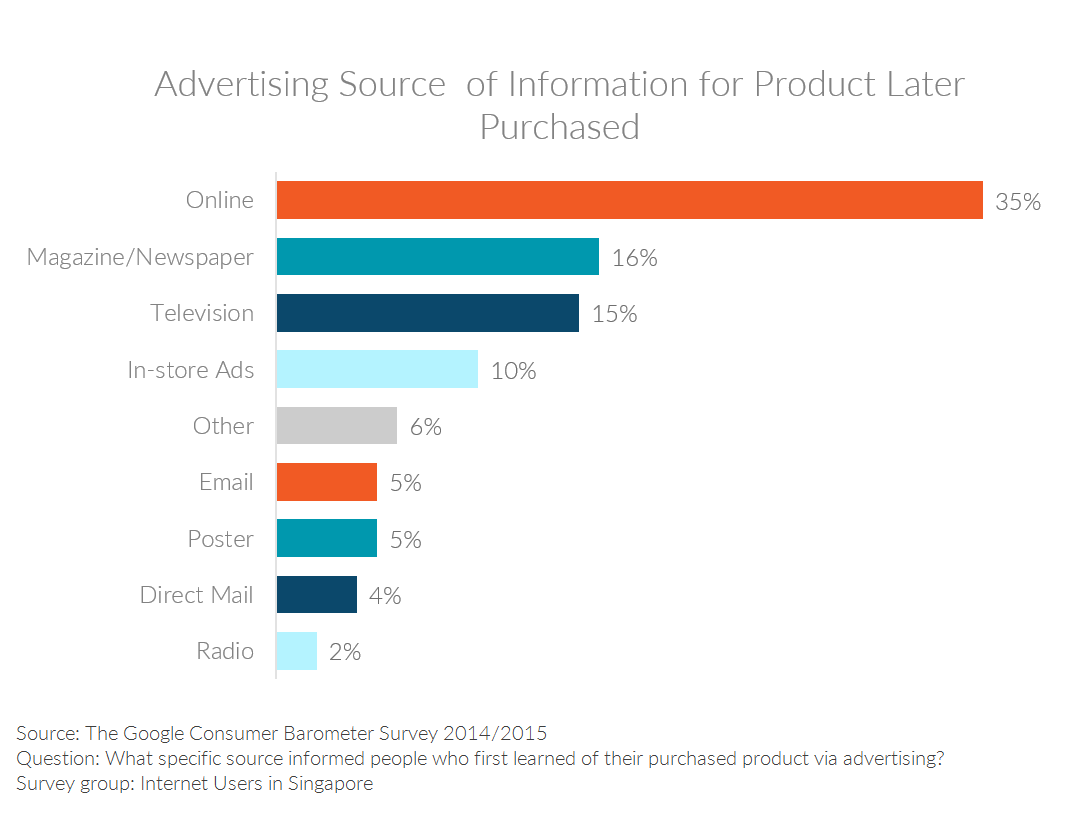 The top media sites online are MediaCorp's TODAYonline.com which has the highest readership at 97,000 people, up 28 percent from 2013. While the weekly reach of xinmsn and channelnewsasia.com remained fairly constant at 7 and 10 percent respectively.
Cultural localization for advertising
A major part of creative advertising, and one of the harder aspects to 'get right' when localizing advertising, is in the meaning and interpretation of symbols and cultural norms - also called Semiotics.
Semiotics is the study of signs and their associated interpretation or meaning, it's the primary way that we understand concepts familiar to us within a culture and an important part of creative advertising and marketing. Having local specialist helping with developing relevant and effective campaigns in new markets is important because it's not easy to communicate the meaning of images, text, and sounds from one culture to another without changing the meaning.
This video does a nice job of explaining semiotics at a higher level.
Looking at examples of advertising that succeeded and failed in the interpretation from global brands will give you a good idea of how localization can play into advertising creative.
Ad Localization Fails
Here are some examples of localized advertising that didn't resonate with the culture. It was an interpretation of what the culture was, but the meaning was lost. Advertising is always hard but it's especially difficult when trying to take a brand into other countries. Finding the true essence of a people group within a country is not easy.
Subway Ad
Compilation of Ad Fails
Ad Localization Successes
These are some of the ads that were considered effective and memorable. They will give you an idea for how international brands have localized their messaging and yet have still kept true to their brand persona.


McDonalds Localization
Singlish
While English is the formal business language in Singapore, you'll find a lot of people in casual environments speaking what's called Singlish. Singlish is a mix of English, Malay and other languages in a sort of 'Pigeon-like' slang. Singlish can be used in advertising but it's very hard to be authentic as a foreigner.
Concept Testing
Singapore is often used for testing new products by larger brands because it is an Asian market that speaks English and is considered the gateway to China, Malaysia, and India.
Whichever country you live in, you'll find advertising campaigns that resonate with an audience and those that under-deliver, Great advertising is hard to create and execute well, even when you understand the market. It's especially hard to create good advertising when you don't fully understand the market. It's typically easy to spot international ad campaigns that miss the mark. It's obvious the creators don't understand the market and their advertising is not culturally localized.
By engaging local creative agencies in Singapore, you will have the assistance of people who do understand the audience and can guide your advertising efforts. See our agency recommendations below in Resources, or visit the Globig Marketplace to find an agency that works for you.
We strongly recommend that you become familiar with a market prior to jumping into advertising and work with local creative agencies to create ad campaigns that resonate with the local market and meet your business goals. Many of the larger advertising agencies have offices throughout Asia. Here are some boutique agencies that have excellent track records in Singapore.
Applicable Advertising Regulations
Internet Code of Practice
The Internet Code of Practice, issued by the Media Development Authority of Singapore, requires best effort to be made to ensure that prohibited material is not broadcast via the Internet to users in SIngapore. Prohibited material means anything objectionable on the grounds of public interest, public morality, public order, public security, national harmony, or is otherwise prohibited under applicable Singapore laws. The Internet Code of Practice lists factors to be considered when determining whether material is prohibited. When in doubt, the Authority can be contacted to issue its decision.
Indecent Advertisements Act
Section 5 of the Indecent Advertisements Act prohibits the public publication of any picture, printed, or written matter of indecent or obscene nature.
Restriction on the use of photography, drawings, or designs of currency notes and coins in advertisements and on merchandise and products
Currency Act
Section 20 of the Currency Act prohibits the use of photographs, drawings, or designs of currency notes or coins in advertisements and on merchandise or products. Any person in violation of this section is liable upon conviction for a fine not to exceed S$ 2,000 or imprisonment up to three months or both.
Internal Security Act (Subversive Publications)
Section 20 of the Internal Security Act gives the Minister the power to prohibit the printing, publication, sale, issue, circulation, or possession of any document or publication that:
contains incitement to violence;

counsels disobedience to the law or any lawful order;

is calculated or likely to lead to a breach of the peace, or to promote feelings of hostility between different races or classes of the population; or is prejudicial to national interest, public order, of the security of Singapore.
Undesirable Publications Act
How do I comply with the Undesirable Publications Act?
The Undesirable Publications Act prohibits the importation, distribution, reproduction, sale, publication, or circulation of undesirable publications. Undesirable publications include material of an obscene or objectionable nature.
What are the important terms to understand?
Obscene - For purposes of the Undesirable Publications Act, a publication is obscene if its effect tends to deprave or corrupt persons who are likely to read, see, or hear it.
Objectionable - A publication is objectionable if, in the opinion of any controller, it describes, depicts, expresses, or otherwise deals with:
matters such as sex, horror, crime, cruelty, violence, or the consumption of drugs or other intoxicating substances in such a manner that the availability of the publication is likely to be injurious to the public good; or

matters of race or religion in such a manner that the availability of the publication is likely to cause feelings of enmity, hatred, ill-will or hostility between different racial or religious groups.
What are the risks of noncompliance?
Under Section 11, a person convicted of violating the publication of obscene material prohibition faces a fine of up to $10,000 or imprisonment for up to two years or both. Under Section 12, a person convicted of violating the publication of objectionable material prohibition faces a fine of up to $5,000 or up to 12 months in prison or both.
Singapore Code of Advertising Practice
The Singapore Code of Advertising Practice, published by the Advertising Standards Authority of Singapore, sets high advertising standards for industry self-regulation in Singapore. The Code considers and reflects national law and international law and practice, including the International Code of Advertising Practice, published by the International Chamber of Commerce. The Code has been revised twice since its first publication to address, among other changes, the advances in media and technology. The 65-page Code includes the general principles, guidelines, and appendices with guides on advertising to specific markets and industries. The Code aims to ensure all advertisements are legal, decent, honest, and truthful.
To whom and what does the Code apply?
The Code is broad in context and application. It applies to all advertising platforms e.g., telephone, fax, internet, newspaper, etc., and all people involved in the advertising industry, e.g., advertisers, agencies, media, etc. The Code applies to all advertisements appearing in Singapore, regardless of their place of origin.
How do I comply with the Code?
The Code lays out general principles, guidelines, and includes in the appendices industry specific guidelines. Compliance requires only an understanding and recognition of the Code. The Code is a short and easy read. The general principles touch on the following topics: legality, decency, honesty, fear, superstition, violence, truthful presentation, safety, portrayal of persons, children and young people, social values, family values, non-denigration, non-exploitation of goodwill or intellectual property, non-intimidation, and national symbols. The guidelines address: matters of fact, the use of research results, the use of testimonials, expression of opinion, quotation of prices, associated purchases, use of the word "free," use of the word "discount," comparisons, availability of products, bait advertising, switch selling, protection of privacy and exploitation of the individual, guarantees, identification of advertisers, charitable causes, and legibility of disclaimers.
What are the risks of noncompliance?

It is important to understand that ASAS relies on voluntary compliance of the Code to ensure high ethical advertising standards and practice in Singapore. Although compliance with the Code is voluntary, ASAS does have rather effective sanction methods, which include the withholding of advertising space and time from advertisers, the withdrawal of trading privileges from advertising agencies, and adverse publicity through the publication of investigation outcomes with offending organisations named.
Building Control (Outdoor Advertising) Regulations
The Building Control (Outdoor Advertising) Regulations control outdoor advertising in Singapore. With few exceptions, licenses must be procured for any outside advertising. There are also very particular location, size, and aesthetic controls.

Singapore Internet Advertising Bureau
Singapore Code of Advertising Practice
Advertising Standards Authority of Singapore
Building Control (Outdoor Advertising) Regulations
Creative Agencies
Social Agency
Digital Agency
Marketing Agency
KNOWLEDGE BASE Advertising in Singapore