KNOWLEDGE BASE Hiring And Visa Options
The information on this page was current at the time it was published. Regulations, trends, statistics, and other information are constantly changing. While we strive to update our Knowledge Base, we strongly suggest you use these pages as a general guide and be sure to verify any regulations, statistics, guidelines, or other information that are important to your efforts.
Hiring and Visa Options in Germany
There are different options available for expanding your workforce into Germany. Each has its own considerations, including the employment laws and regulations that cover it. If you want to jump into Employment Law first, you can get an overview of the regulations that will govern your employer-employee relations. The first decision you will need to make is whether to bring your employees from home or hire employees in Germany. Below you will find a discussion and the resources to help you determine your visa requirements if you decide to bring your workforce (all or part) with you to Germany and the resources to help you hire local talent if you decide not to bring your employees with you.
Bringing Your Employees With You
For many companies, having someone who has been employed at the home office and transfers that culture and experience to a new foreign office, sets up the office, and hires the first team abroad, is the preferred approach for setting up overseas. Those employees from home can begin to establish the important relationships in Germany and hire people in Germany who will help make the business a success. Today, most work visas are issued together with residence permits. However, Germany immigration law is strict and work permits are hard to get.

If you are caught working without a work permit, you and your employer are subject to heavy fines and you will not be covered by insurance against workplace accidents or occupational diseases.
Hiring employees from the EU/EEA, Iceland, Liechtenstein, Norway, and Switzerland
If you hire or bring an employee into Germany from the EU, EEA, Iceland, Liechtenstein, Norway, or Switzerland, as long as she has a valid passport or ID card, she does not need a visa to go to Germany or a work permit to work in Germany. However, when your employee goes to Germany and changes her permanent address to a German address, she must register her new address in line with the legal requirements on registration that apply in the federal state where she is going to live.
Hiring employees from other countries
Acquiring a work permit in Germany will generally depend on your country of citizenship. In most cases, you will be required to apply for your work permit and residence permit, in the form of a visa, at the same time, before you enter Germany. Citizens of the United States of America, Australia, Canada, Israel, Japan, New Zealand, Switzerland, the Republic of Korea, as well as EU citizens may apply for their residence permit for work purposes after entering Germany, even if they enter without a visa.
Visas For Self-Employment
In Germany, there are two ways of setting up your own business: you can either set up a business as a self-employed entrepreneur (Gewerbe) or work as a freelancer (Freiberufler). A residence permit for the purpose of self-employment will allow you to set up a self-employed or freelance business in Germany.
Citizens from the EU, Iceland, Liechtenstein, Norway, and Switzerland do not need a visa or residence permit to set up a business in Germany.
If you are already in Germany and hold a resident permit for another purpose or a visa that was granted explicitly for the purpose of self-employment (Visum zum Zweck der selbständigen Tätigkeit), you have already planned your business, and have a written business plan, you can apply for a residence permit for the purpose of self-employment.
If you are still a resident of your home country, you will need to apply for a visa for the purpose of self-employed occupation. This application process normally takes two to four months. If you are granted an entry visa, it will be valid for three months and must be converted to a term residence permit once you get to Germany. You are not required to have an entry visa if you are a citizen of Australia, Canada, Israel, Japan, the Republic of Korea, New Zealand or the USA. Citizens of these states can enter Germany without a visa, and will then need to apply for a residence permit within three months.
Business trips to Germany
Citizens of most countries do not need a visa for a business trip to Germany for any trip with a duration of up to 90 days. Except in rare instances, you must submit your application in person through an embassy or consulate. Required documents include:
a fully completed application form (only German and English versions are accepted) and required declaration;

two passport photographs;

a valid national passport and one copy (your passport must be valid for at least three months after your departure date, contain at least two blank pages, and must have been issued within the previous 10 years);

an original, valid US alien registration card or a valid resident visa and one copy;

your current bank statements from the previous three months and one copy;

a letter confirming your health insurance stating coverage for emergency medical, hospitalization, and repatriation with a minimum of €30,000 for trips outside the United States and one copy;

business references (a letter from your employer or an invitation from a German company or organization stating that it will bear all expenses;

proof of your hotel and airlines reservations and one copy;

your driver's license and/or a utility bill in your name as proof of residence in the consular district where you plan to apply; and

visa fees.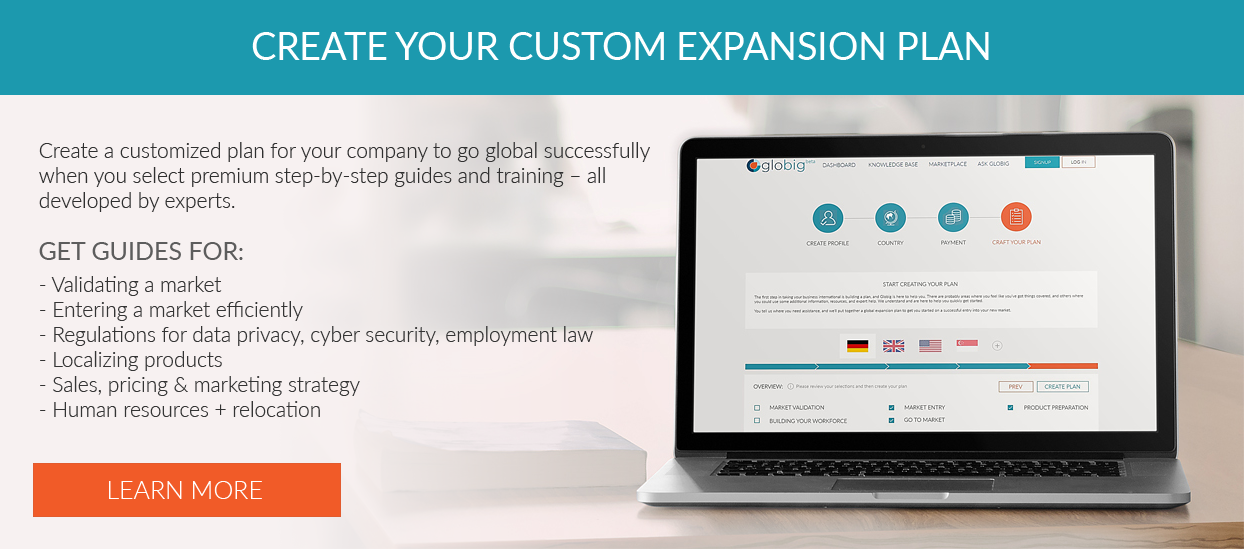 In Globig's Germany Expansion Plan you'll find step-by-step guides for relocating your company and employees to Germany, along with information on visa options and the steps you'll take to apply for them. The Germany Expansion Plan includes Company Relocation To Germany, Employee Relocation To Germany: For Employers And HR Professionals, and Visa & Work Permit Options In Germany, each designed to walk you through the process.
Hiring Local Talent
You have many different options for hiring local talent in Germany, including: hiring your own employees (full-time, part-time, and fixed-term), hiring through a recruitment agency, and hiring freelancers, consultants, and contractors.
Hiring Your Own Employees
Hiring your own employees in a foreign country can be a daunting task. You will want to target the right candidates and not have too narrow of a pool of applicants. Consider looking for employees in the following places:
local schools or colleges;

Government employment agencies;

local newspapers; and

online recruitment, such as job websites and social media.
Where do jobseekers look for jobs in Germany? To find employees in Germany, you may need to put yourself in the shoes of the jobseekers. Here are some places to find jobs in Germany.
Online Resources:
Newspapers: Many local and online newspapers have jobs posting on the weekends. Some of the most popular national newspapers include: Frankfurter Allgemeine Zeitung, Suddeutsche Zeiting (Munich and the south), Die Welt, Handelsblatt (Düsseldorf), Frankfurter Rundshau, and BerlinOnline.
Job Fairs: There are a number of job fairs throughout Germany that you could attend to meet potential employees. These job fairs can be very general or industry specific. EURES, the European Job Mobility Protal is a great place to find job fairs on a weekly basis throughout the EU.
Recruitment Agencies
You can use a recruitment agency to help you hire permanent or temporary employees in Germany. Many recruitment agencies specialize in a particular industry or sector, such as IT, finance, retail, etc. Recruitment agencies are generally well connected.
Most reputable German recruitment agencies are members of the Federal Employer's Association of Personnel Service Providers or Bundesarbeitgeberverband der Personaldienstleister (BAP). You should be aware, many recruitment agencies will charge you hefty fee of up to €2,000 to find employees on your behalf.

German Healthcare System Overview
KNOWLEDGE BASE Hiring And Visa Options