KNOWLEDGE BASE Holidays In Germany - Festivals
The information on this page was current at the time it was published. Regulations, trends, statistics, and other information are constantly changing. While we strive to update our Knowledge Base, we strongly suggest you use these pages as a general guide and be sure to verify any regulations, statistics, guidelines, or other information that are important to your efforts.
Religion, Holidays, and Festivals in Germany
Religion in Germany
Germany is largely a Christian country, with over 60% identifying themselves as such, though as you'll learn, identifying as a Christian and being an active Christian can be two different things.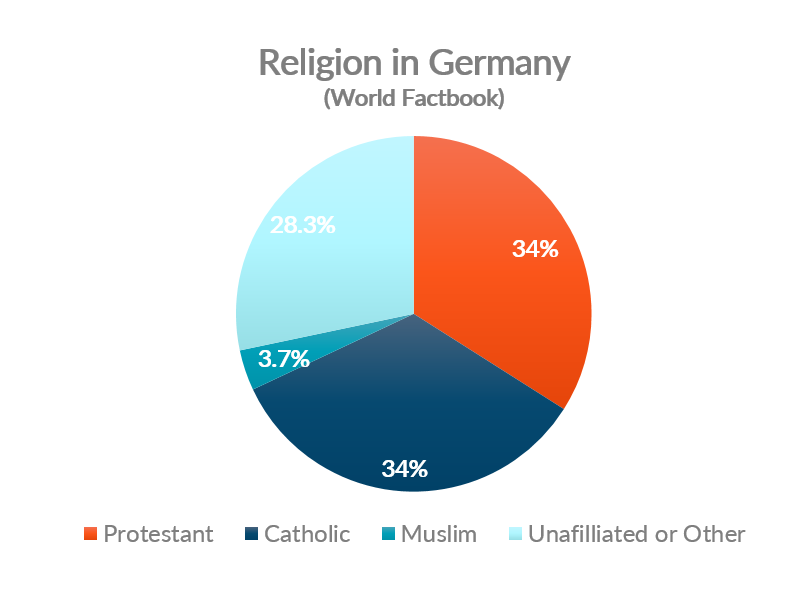 Christianity in Germany is split roughly 50-50 between Protestantism and Catholicism. Due to the historical development of Christianity in the country, the South and West are more Catholic and the North and East are more Protestant. The exception is the former German Democratic Republic (DDR), where there is a higher percentage of people who identify as atheists. As a former communist country, religion was frowned upon.
While Germans may identify with a particular religion, the majority do not regularly attend religious services. Through World Values Survey research, 19.7% of Germans reported that they attend once a month or more, while 34.4% said "never" or "practically never". And only 14% said that they were active in a church or religious organization. Americans answering the same survey reported much higher church attendance, with 43% reporting that they go to church once a month or more. 30% of Americans said they never or practically never go to church, which is similar to Germans, but a third of Americans report being active in a church or religious organization.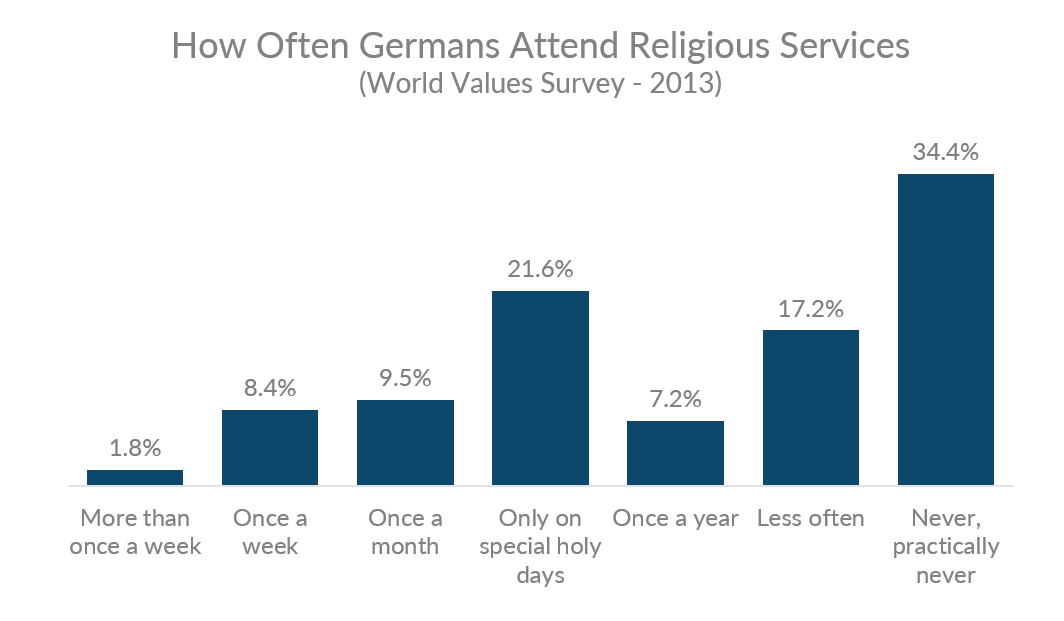 In the same World Values Survey, when asked what qualities were important for children to learn at home, 87.9% did not mention "religious faith" when given a list of possible characteristics from which to select.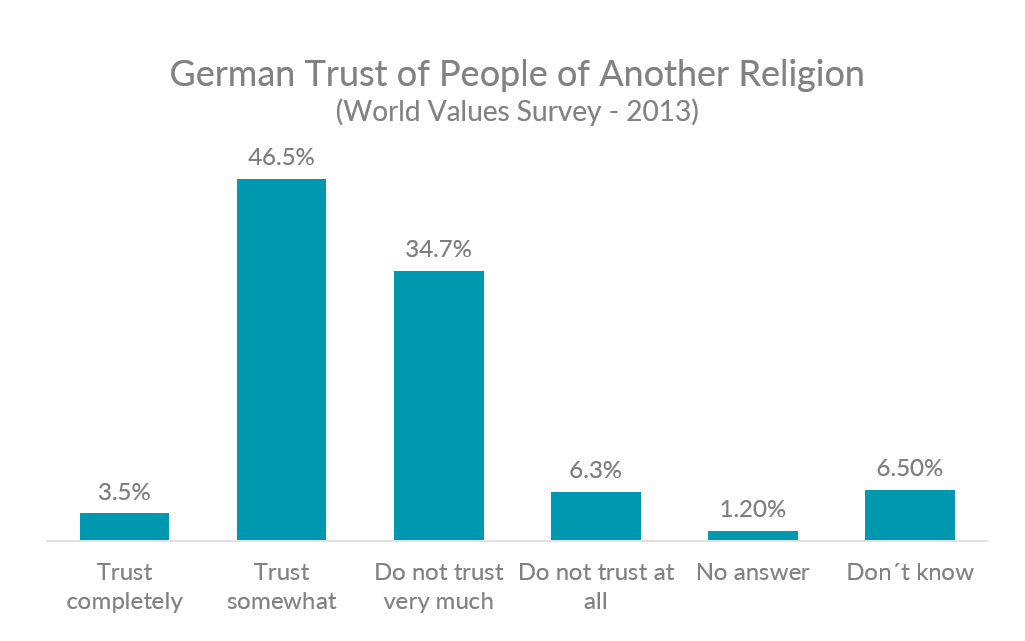 Half of Germans show a level of trust in people of other religions, but a full third say they do not trust people of another religion very much. In response to another question, 61% of Germans disagree or strongly disagree that the only acceptable religion is their religion.
Globig Insights

It is risky to assume that since 70% of Germans identify as Christian, it is a nation of devout church-goers. If your business is religion-based, dig deeper into where your target audience resides and understand the role that religion plays in their lives. Remember that there are areas of Germany that are more heavily Protestant and others that are more heavily Catholic.

There have been Jews in Germany for hundreds and hundreds of years, though the Jewish population is relatively small and just a fraction of what it was before World War II.

Islam is relatively new to Germany, having come with the post-war guest workers, or 'Gastarbeiter'. As refugees seek asylum in Germany, that number should grow.
Holidays and festivals in Germany
With the exception of Unity Day, observed in all German states every year on October 3rd, public holidays are determined by each federal state. Many of the holidays are celebrated in all of the states, making them essentially national holidays.
It's useful to know the calendar for these annual holidays as you plan your media activities. Your product may take on special appeal at certain times of year, and there are holidays that you can target as well as others that you'll avoid in your campaigns.

KNOWLEDGE BASE Holidays In Germany - Festivals