KNOWLEDGE BASE Mobile - Internet Usage In Germany
The information on this page was current at the time it was published. Regulations, trends, statistics, and other information are constantly changing. While we strive to update our Knowledge Base, we strongly suggest you use these pages as a general guide and be sure to verify any regulations, statistics, guidelines, or other information that are important to your efforts.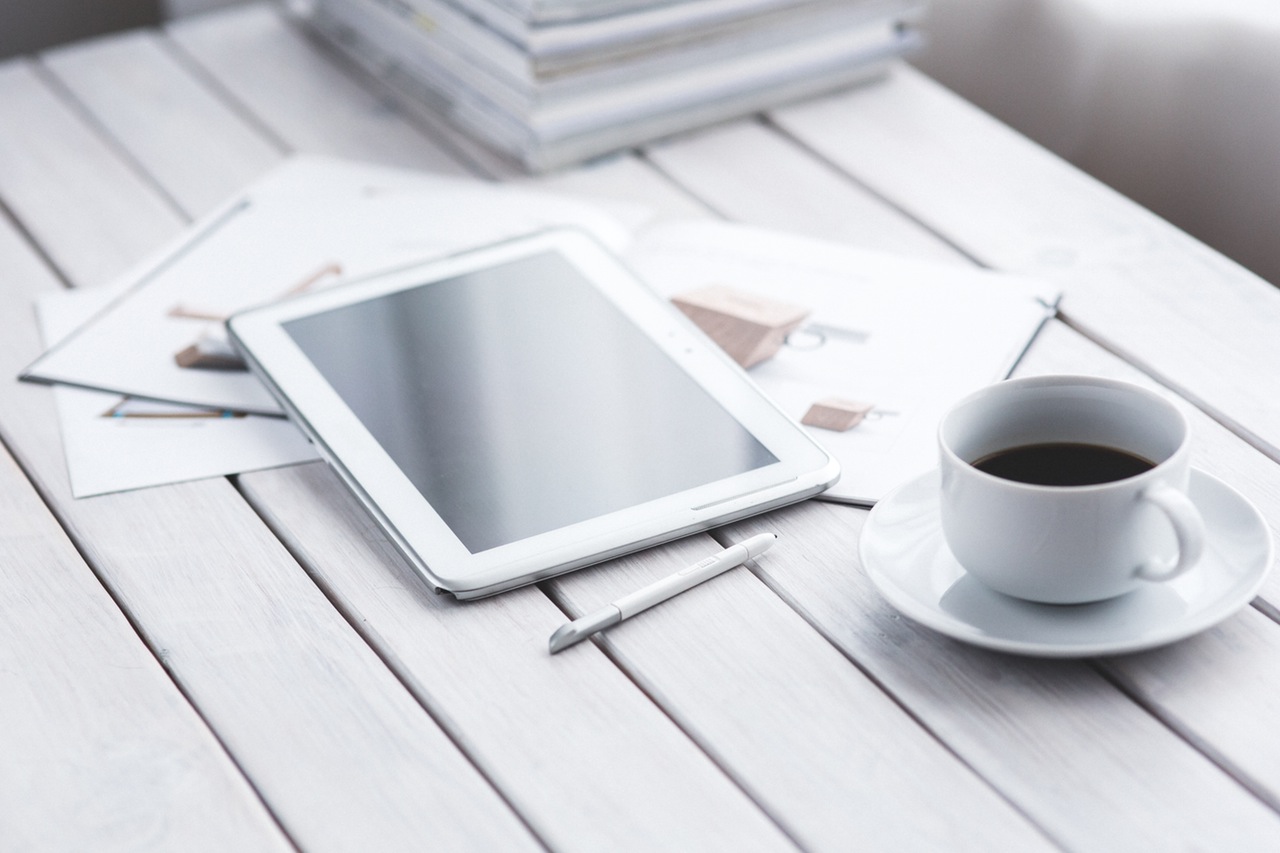 Mobile and Internet Usage in Germany
With an 86% internet penetration rate, Germany is wired and online. Most Germans go online regularly, use all of their devices to do so, and have made the internet part of daily life. Four out of 10 Germans have social media accounts, and active users are on their accounts several hours per day. Almost a third of Germans have 4 or more connected devices, and 65% have smartphones.
There is plenty of data available to you to understand how your target customers can be reached, and what your online strategy should be. Learn more about the Germany's mobile and internet usage and get started on determining how you can most effectively reach the German market.
Germany ranked #15 out of 139 countries in Networked Readiness Index
The World Economic Forum's Global Information Technology Report 2016 features the latest iteration of the Networked Readiness Index, which assesses the factors, policies, and institutions that enable a country to fully leverage information and communication technologies (ICTs) for increased competitiveness and well-being. The Networked Readiness Index (NRI) reveals the correlation between a country's level of ICT uptake and the economic and social impacts ICTs have on its economy and society. On a 7 point scale, with 7 being the best, Germany was at an overall 5.6.
World Economic Forum's Global Information Technology Report - Germany
World Economic Forum's Global Information Technology Report - Full Report
Internet and Mobile Usage, Purchase Behavior, and Social Media in Germany
Internet usage in Germany
The internet has been embraced by the Germans, with laptops garnering 75% in share of web traffic and Google dominating as the preferred search engine. Most houses have internet, and not surprisingly, more young Germans than old are online, and do so more frequently.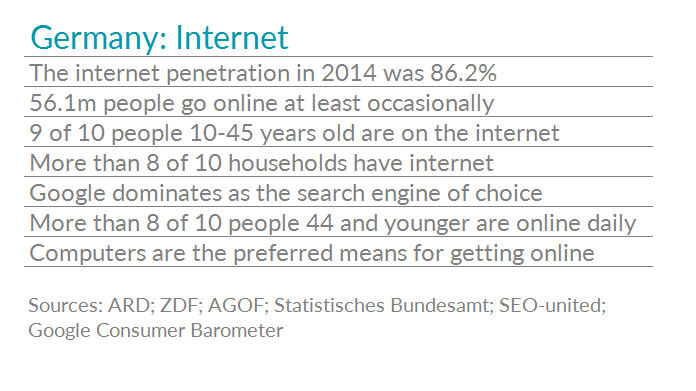 Most households in Germany have internet access. The number of internet users continues to grow, with nearly all people ages 10 to 39 online. And while the penetration rate is still high for people up to the age of 59, there is a significant dropoff after age 60. Not only do more young people go online, but the frequency with which they do so is higher at younger ages. Within any age group, the majority of German internet users goes online daily, but that percentage drops off with age.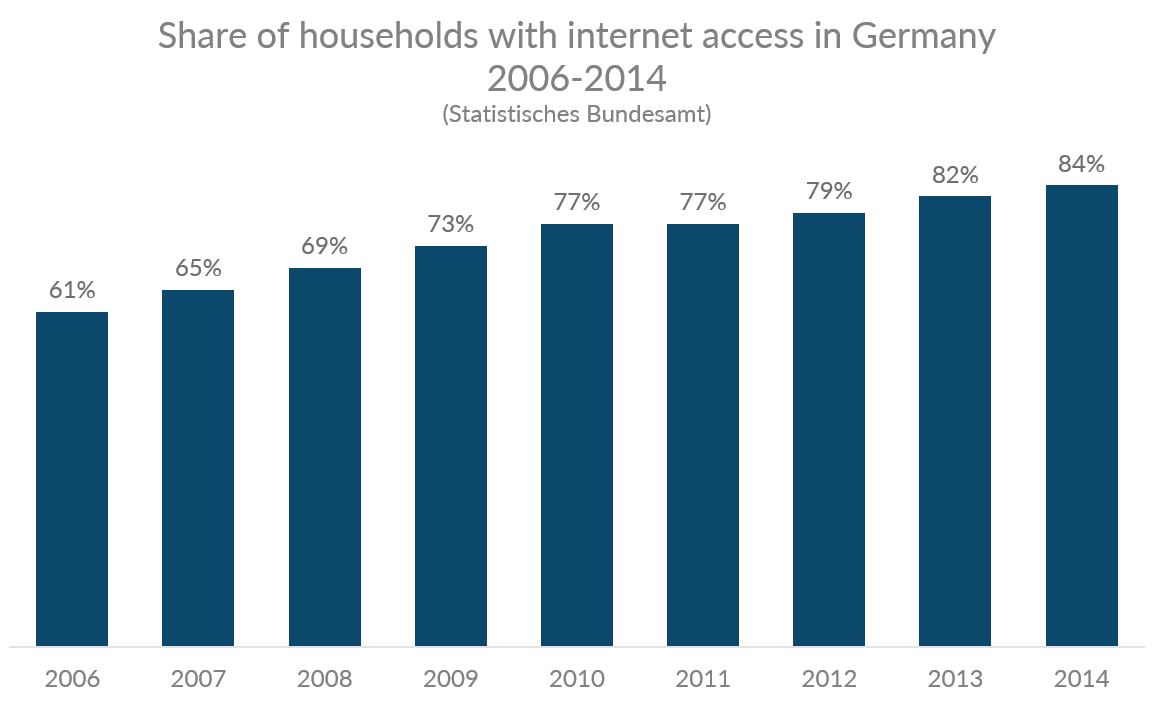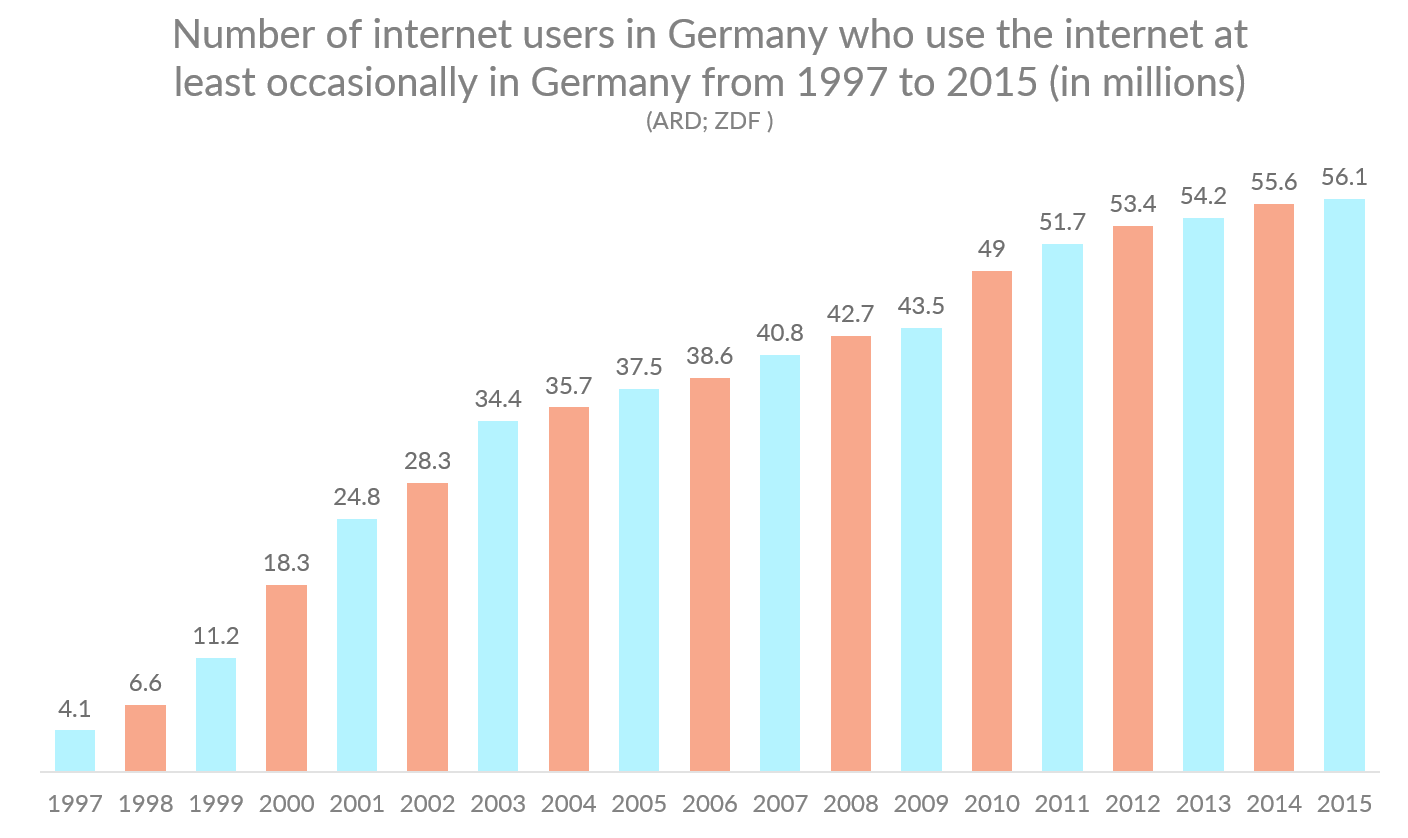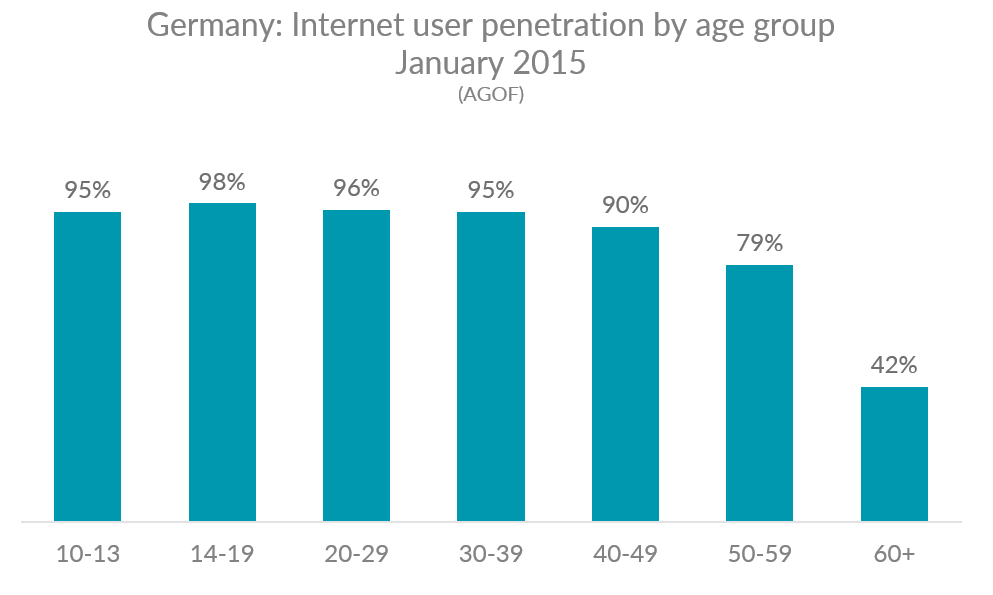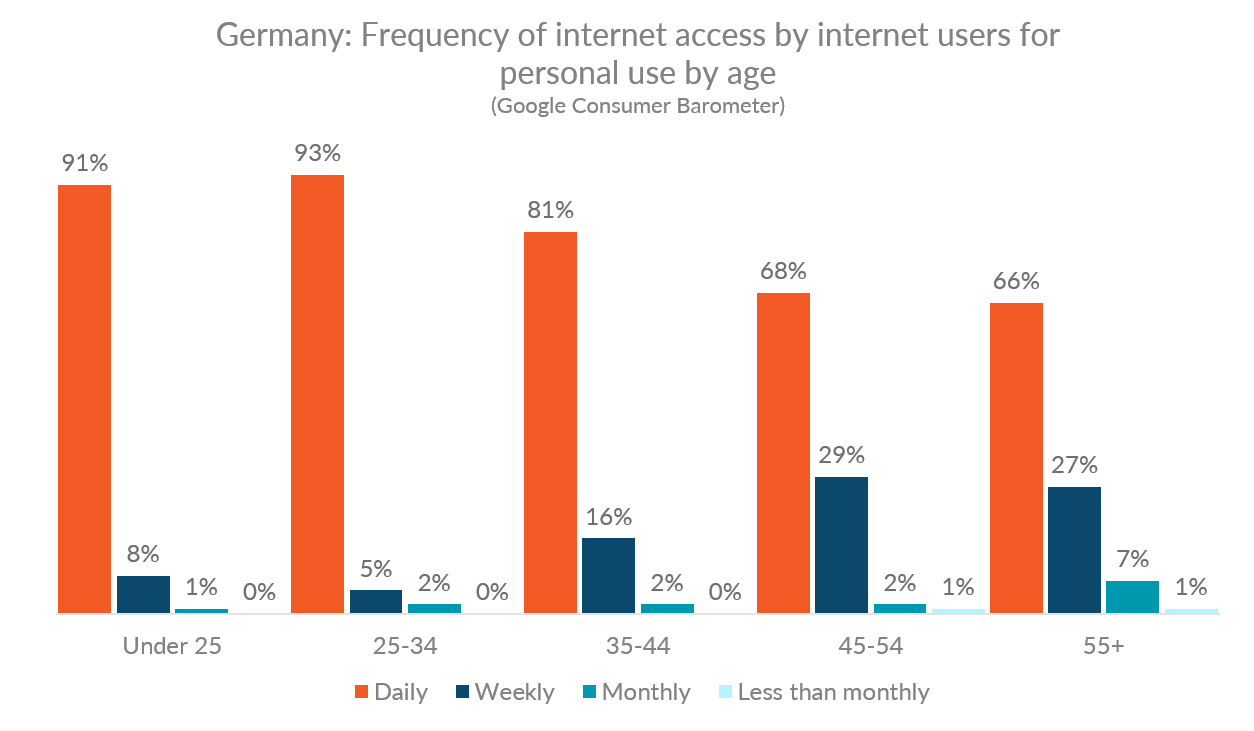 In Germany, using search engines and checking email are the most common online activities, and there is a preference to do so with laptops and desktops. In fact, laptops and desktops are used in 75% of page views in Germany. Google essentially owns the search engine space, handling nearly 95% of searches. As you'll see later on, this provides us with rich analytics to understand online behavior.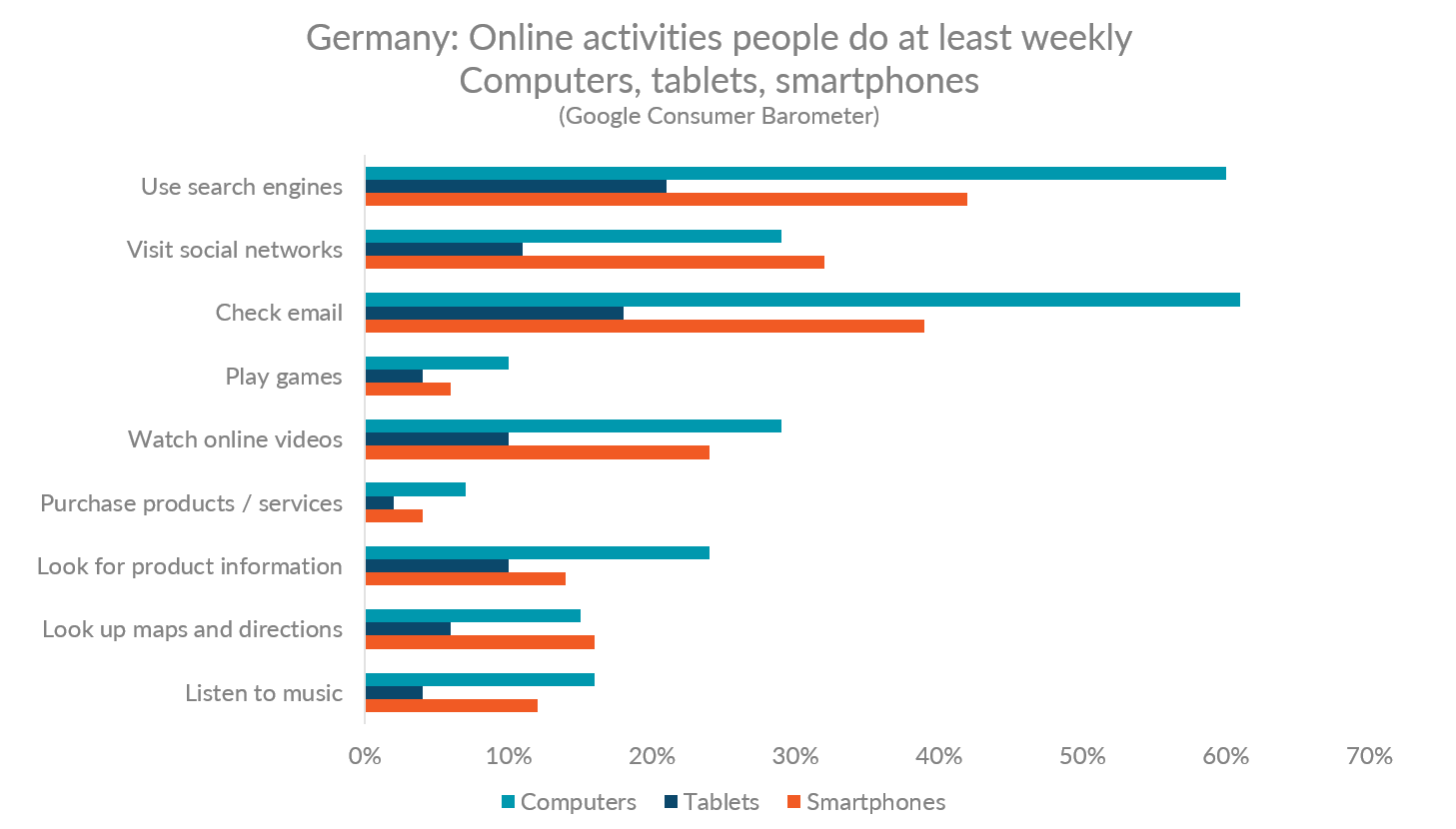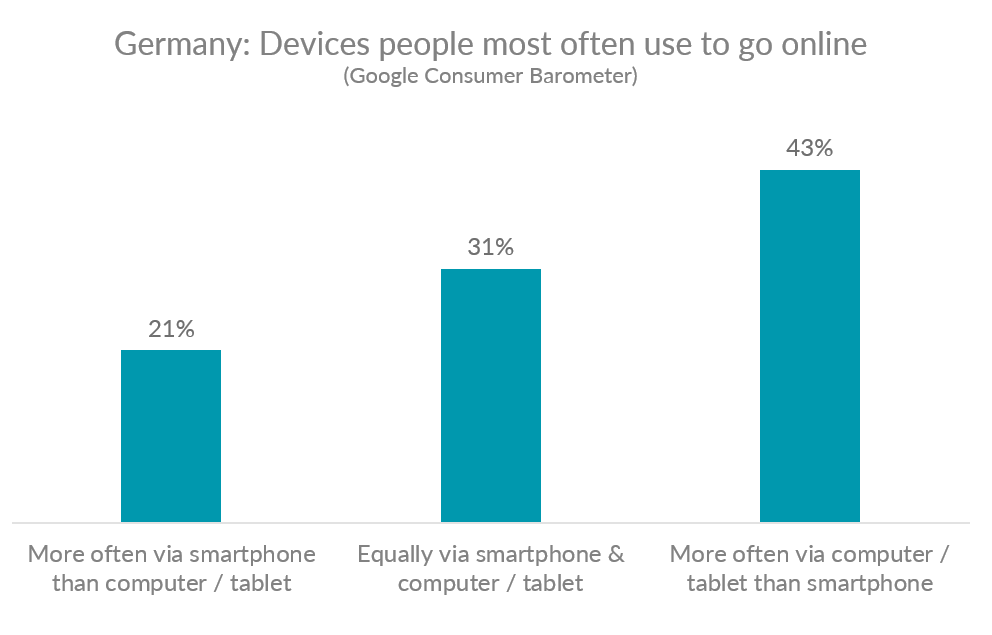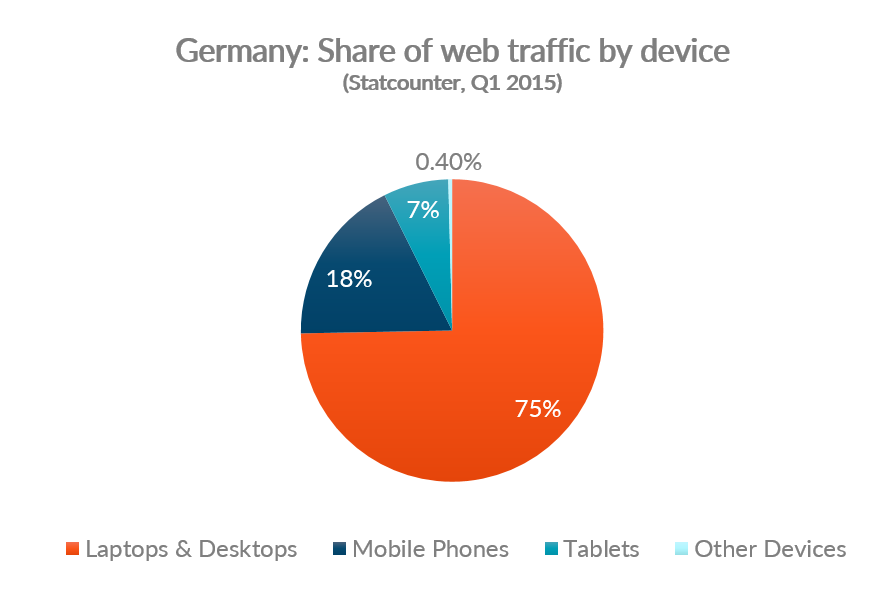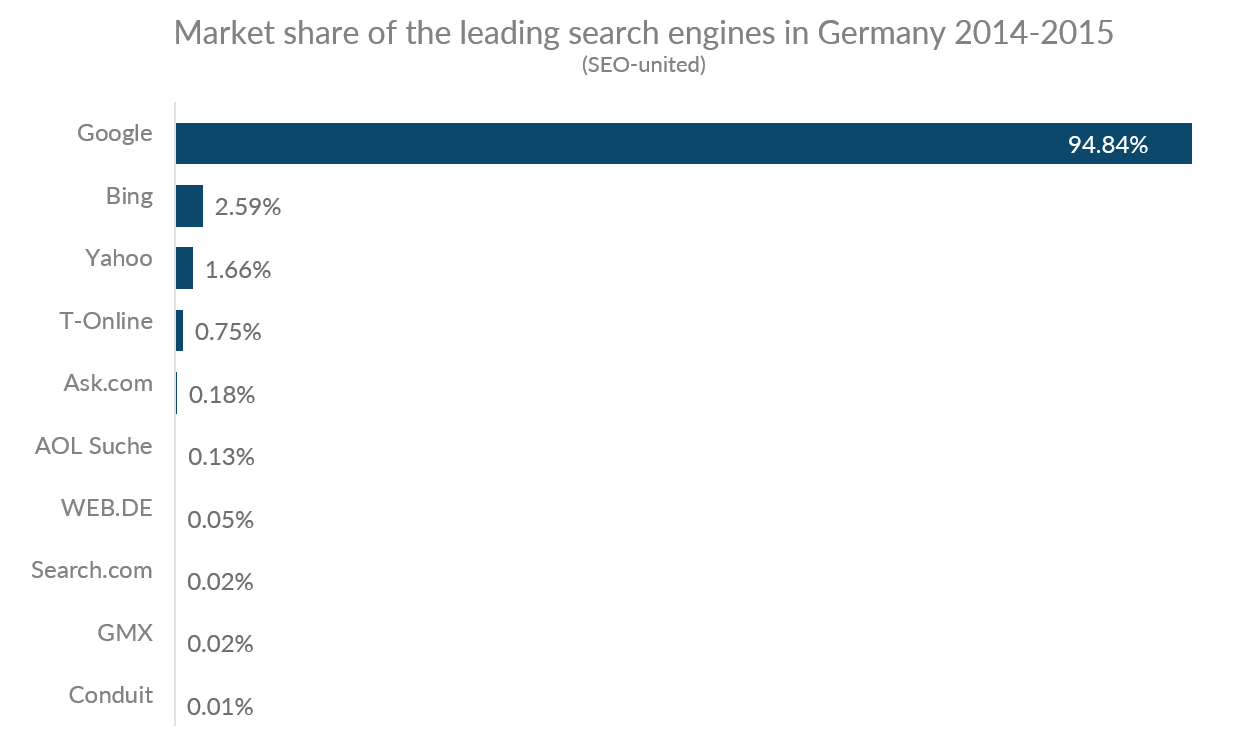 Firefox is the top browser in Germany, followed by Chrome. Between the two, they hold nearly 70% share. Chrome is on the rise, while Firefox and IE are losing ground. Be sure to test your site in the top browsers to ensure it presents well.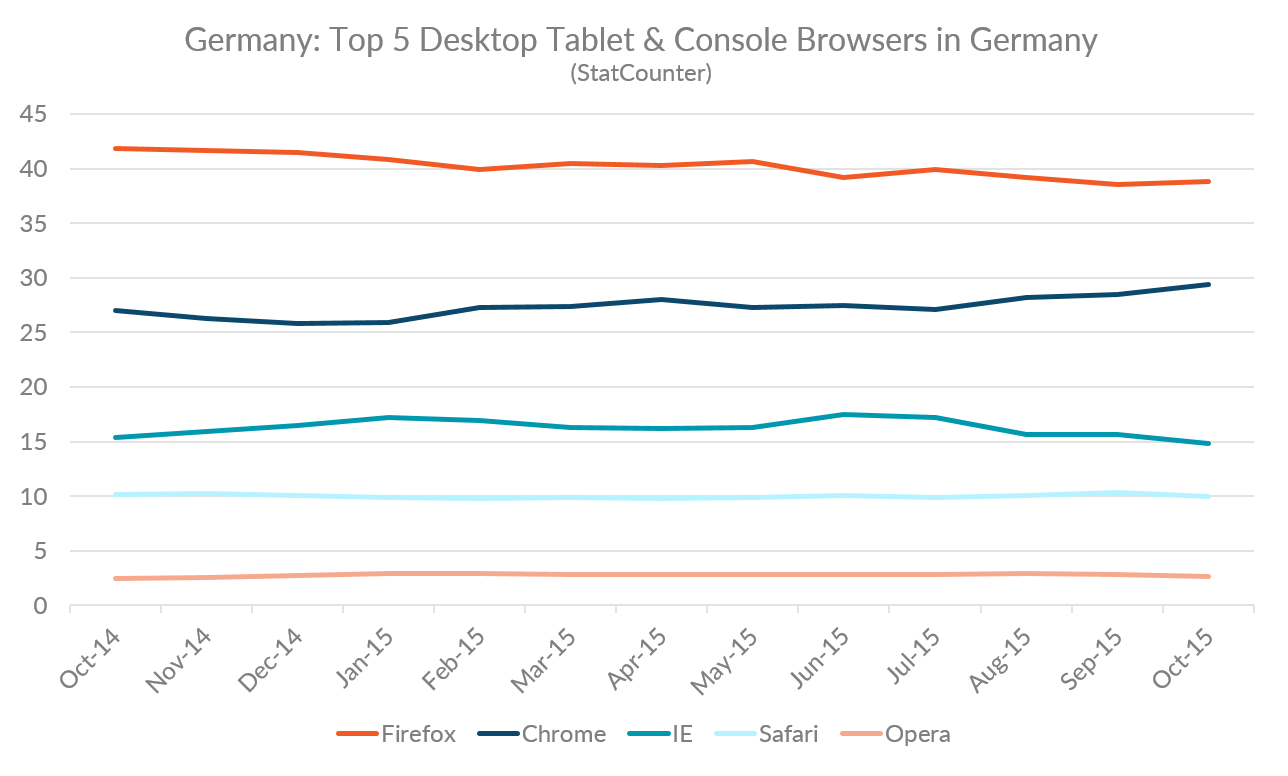 Germany and its connected devices
Nearly 3 out of 10 Germans have at least 4 devices with which to go online, and 87% have at least one. With 77% owning computers and 65% owning smartphones, you'll want to make sure that your sites present well for different screen sizes and consider having a mobile-friendly version or app for your site.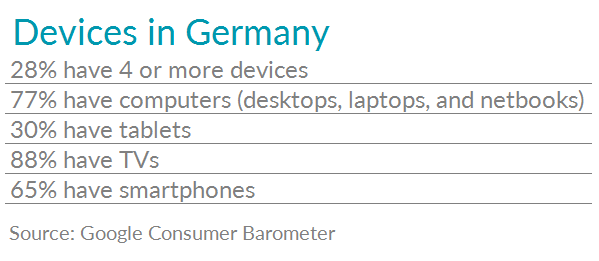 For German teenagers at all ages, smartphones and sound systems are their most owned devices. And as you've already seen, they are definitely going online.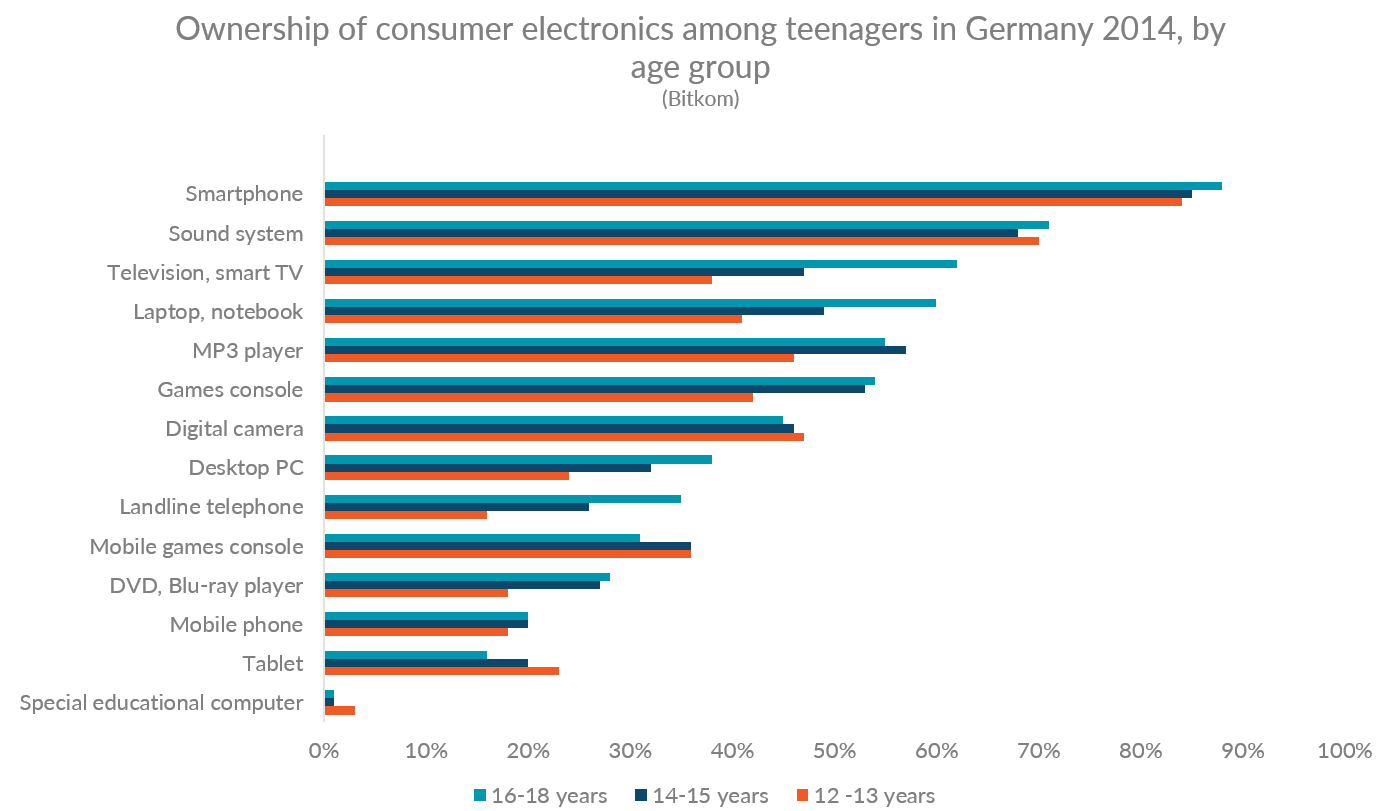 The biggest differences in ownership by gender were for the gaming devices, most notably stationary games consoles (+13% for boys) and games consoles (+12% for boys). There was a 5% difference favoring boys for portable games consoles, with the same percentage difference favoring girls for MP3 players.
Mobile usage in Germany
There are more cell phones than people in Germany, with 139 mobile connections for every 100 people. And the younger they are, the more likely they are to own a smartphone. All age groups tend to own some sort of mobile phone, but the older people get, the more likely they are to have a regular mobile instead of a smartphone.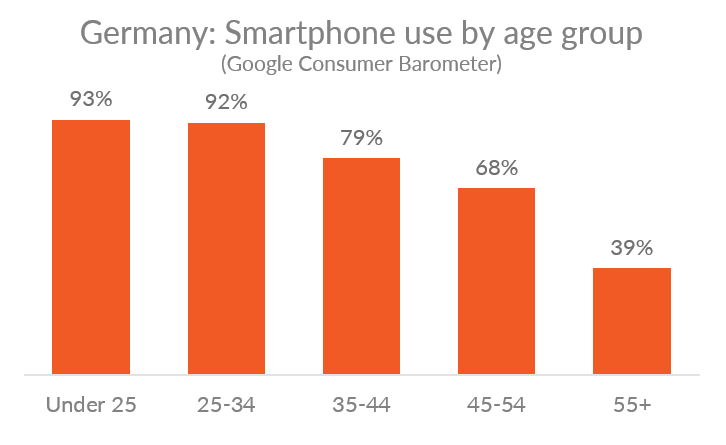 With 17% of web traffic in Germany taking place over smartphones, most people are using their phones for social networking and accessing news. Less than half as many Germans accessing social media use smartphones for online banking or shopping. And compared to Americans, the only thing that Germans do more online with their phones is read the news. When it comes to online banking and online gaming, the penetration rate in the US is twice as high as in Germany.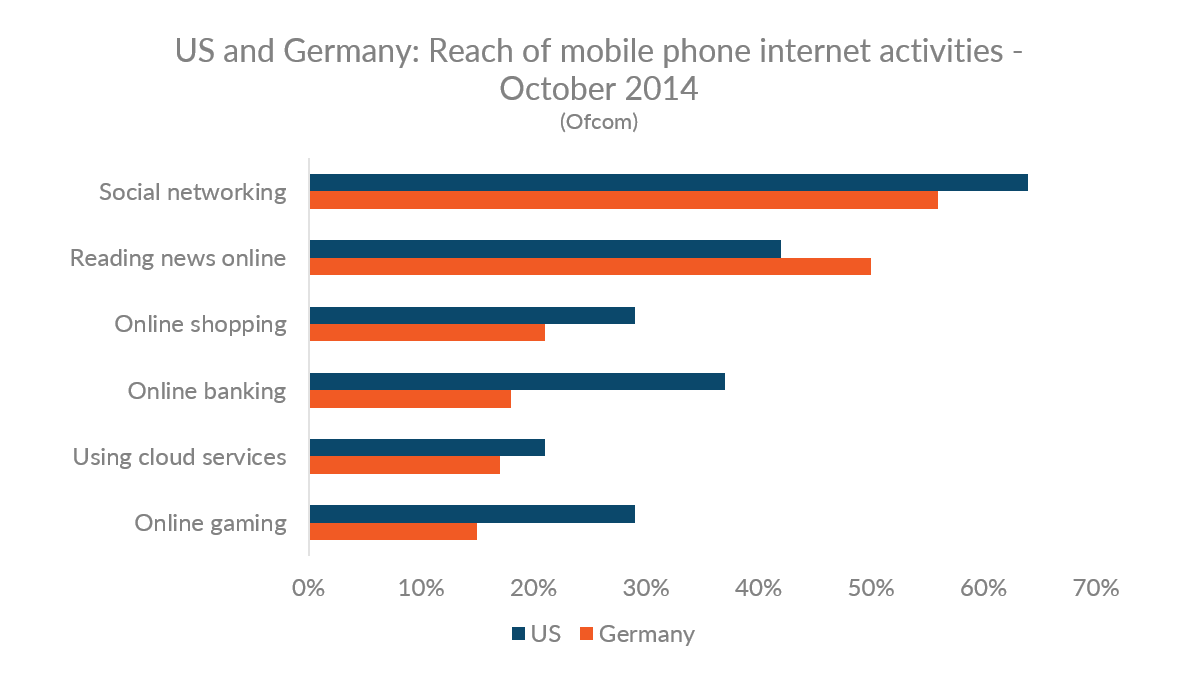 Chrome is gaining ground as the leading mobile browser, now at 50%. Safari comes in at close to 27% and Android close to 16%.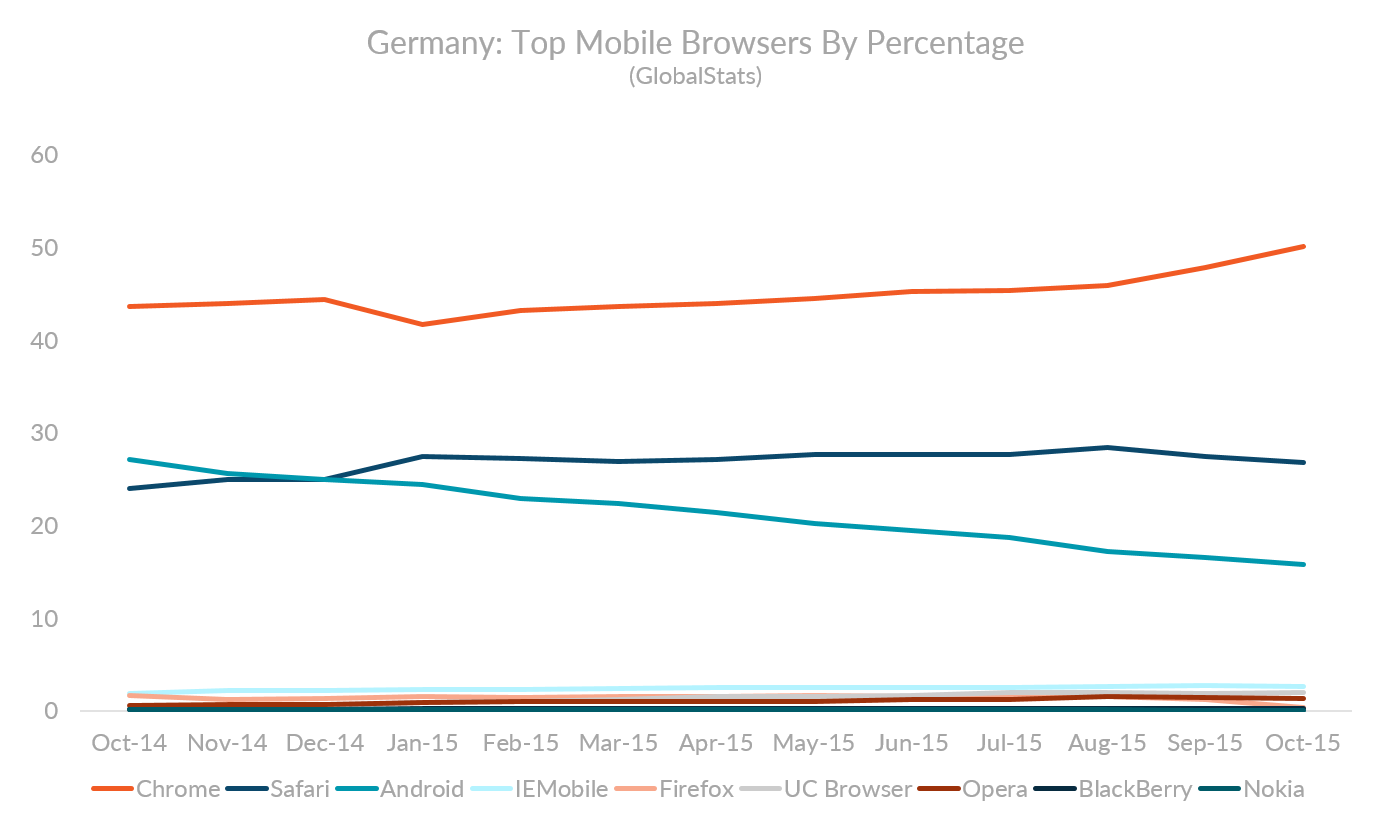 Social media usage in Germany
Nearly 41% of the German population has a social media account and they spend several hours per day accessing their accounts. Facebook is far and away the most popular social media platform, with nearly four times as many users as the next most popular, Blogger. Just over a third of the population has an active Facebook account, and just under a third has an active mobile Facebook account.
Not only does Facebook have the most users, but it also has the most activity, with more than double the next most active platform type, 'forums'. Youtube came in third, with just over a third as much activity as Facebook. Be aware that Germans are much more protective of their privacy, personal data, and online personas than Americans. They are not as free with sharing information as Americans are, and keep their more personal postings and pictures for family and close friends.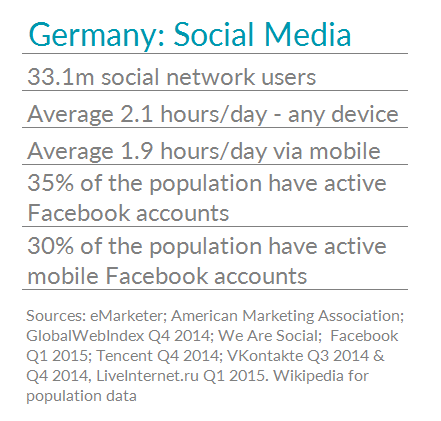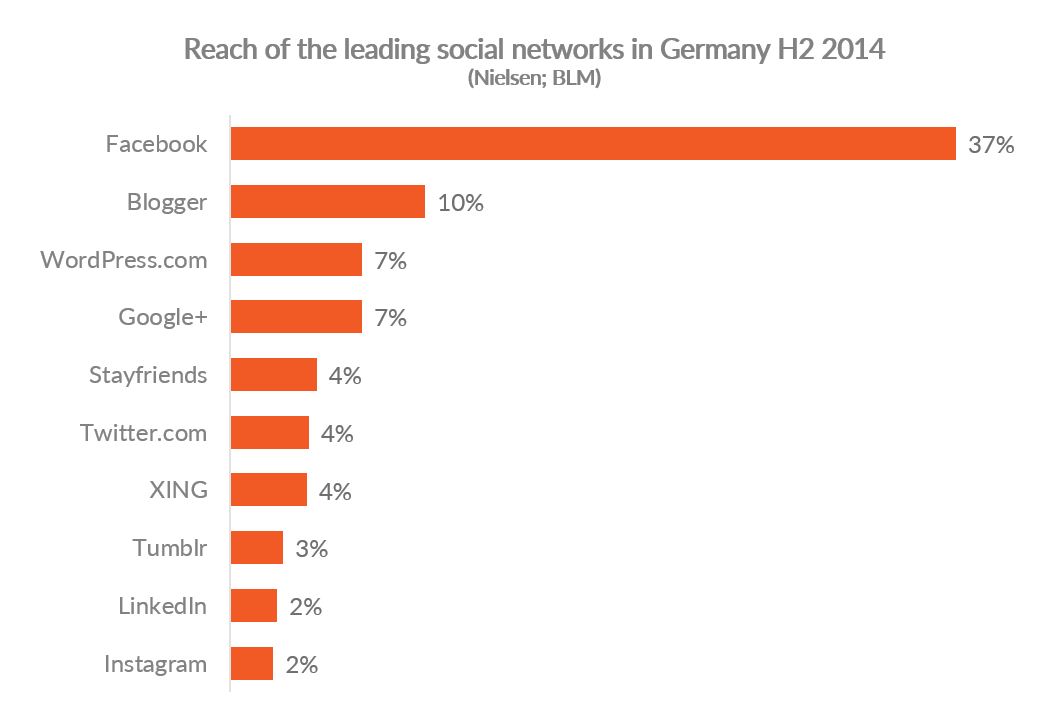 Not surprisingly, the social media platforms with the most activity in Germany have users who are visiting several times per day. For instance, half of Facebook users do so. But because Facebook has such a commanding lead on reach and frequent visitors, it's bound to be in its own category.
In comparison, YouTube doesn't appear on the top 10 sites for reach, but 75% of its users visit at least once per week, and 38% of its users visit at least once per day. And Twitter tells a similar story, with just a 4% reach and nearly a third of its users essentially inactive with less than even one visit per month. But of its users who are active, 40% visit at least once per day, with another 18% visiting at least once per week. And there are 3.2 million Twitter users.
It does matter to determine the kinds of social media your target audience uses. By simply looking at the top sites, you may miss the fact that your group could very well be active on a platform that will specifically reach them and align with their usage behaviors. So even though Twitter has a 4% reach, of the 3.2 million people who have Twitter accounts, 1.3 million visit it at least once a day.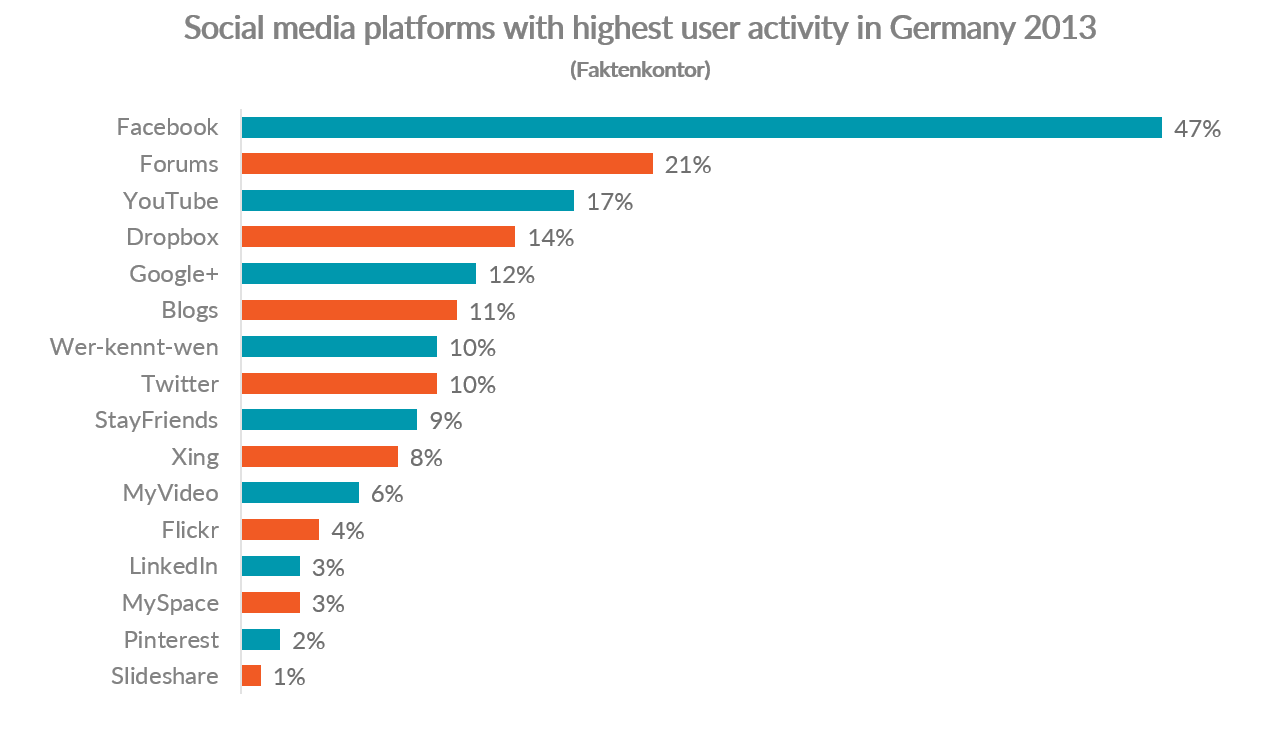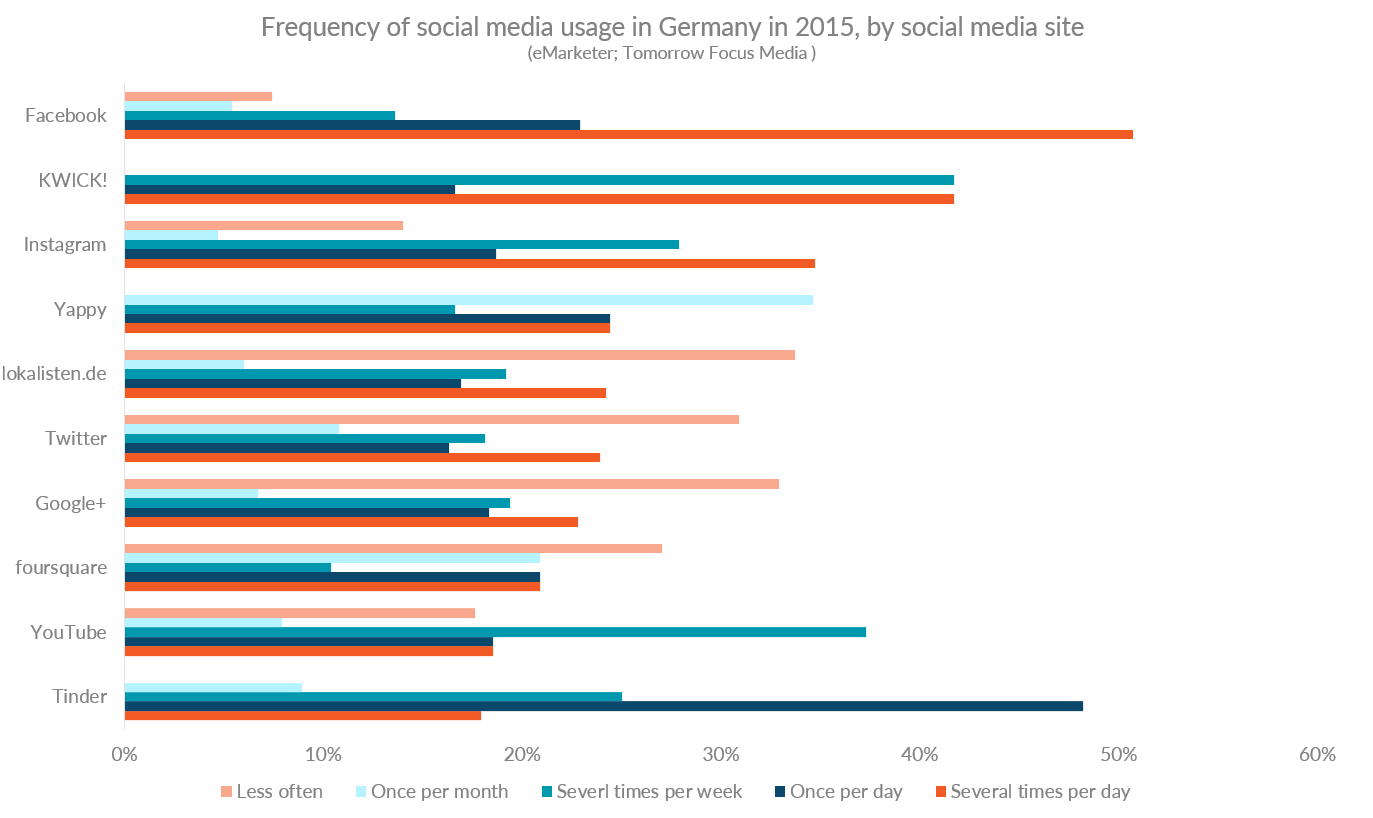 Online purchase behavior in Germany
Germans are going online to do research for purchase decisions as well as to make purchases. The primary connected device they use to do their research is their computer, by a pretty significant margin.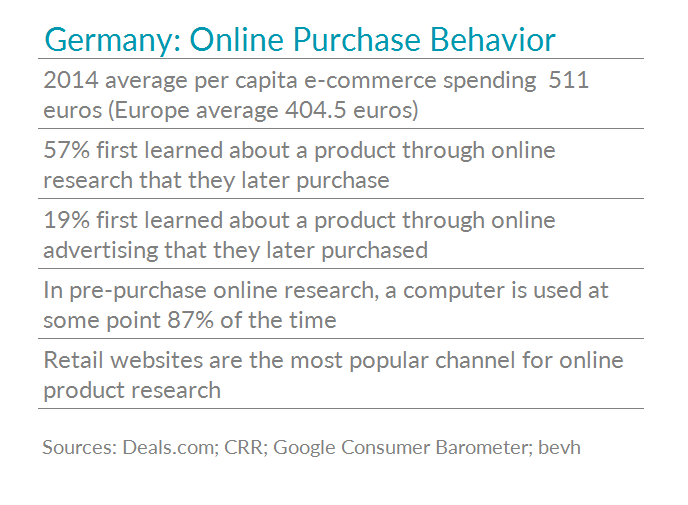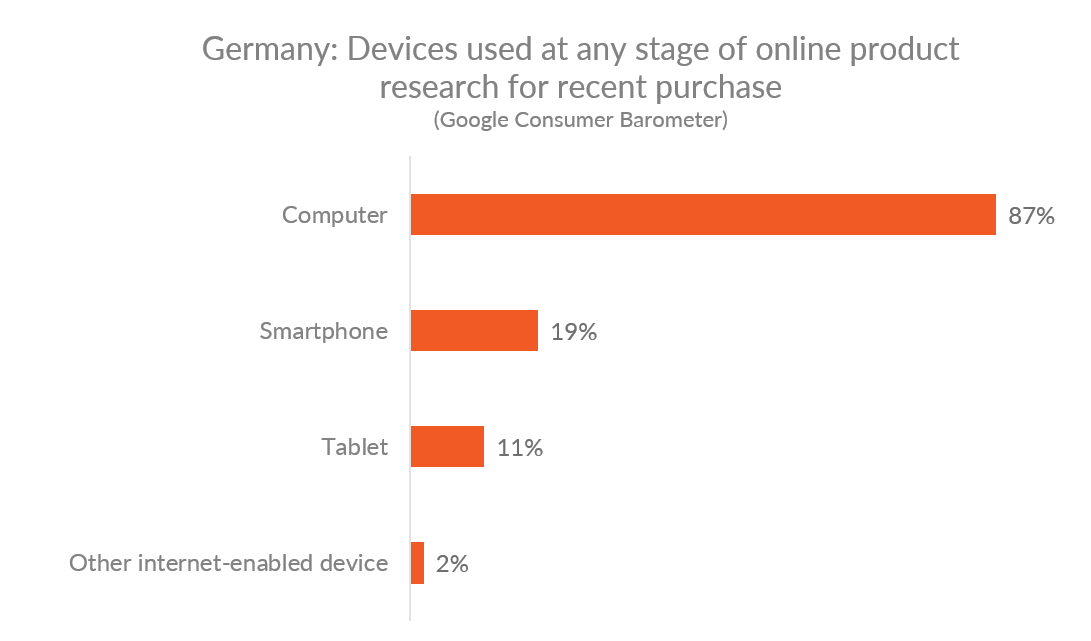 When Germans do their research online, they are using the internet at all phases of the purchase process, mostly to look for inspiration and to compare options. They also like to go directly to a retailer's site for information.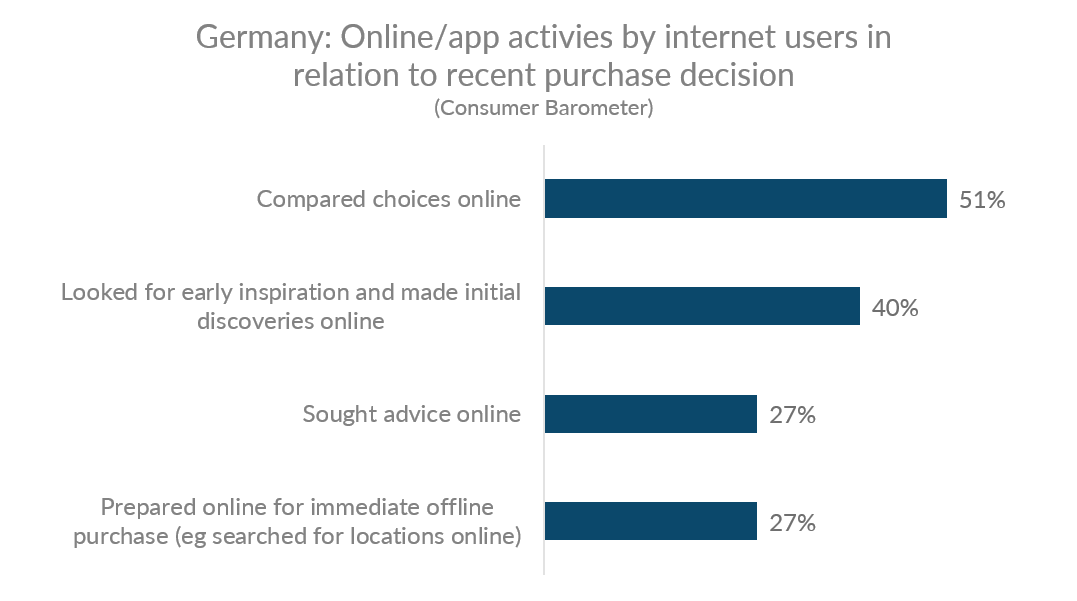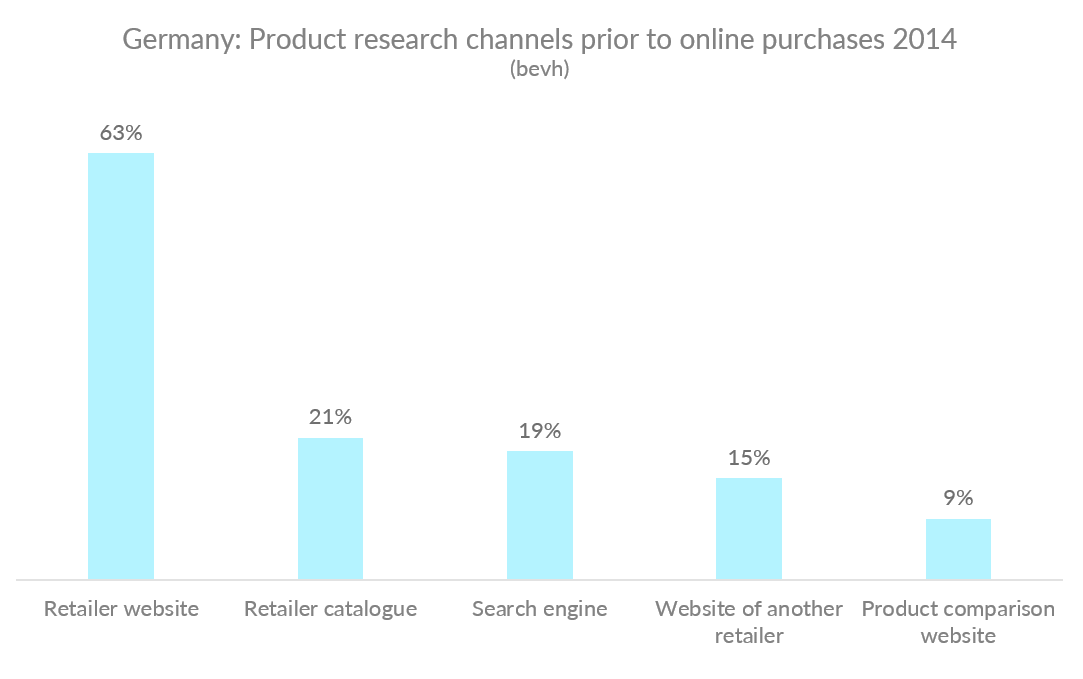 The frequency of online purchases in Germany is going up year by year, with people shifting from fewer purchases to more and more purchases - and millions of people are buying things online.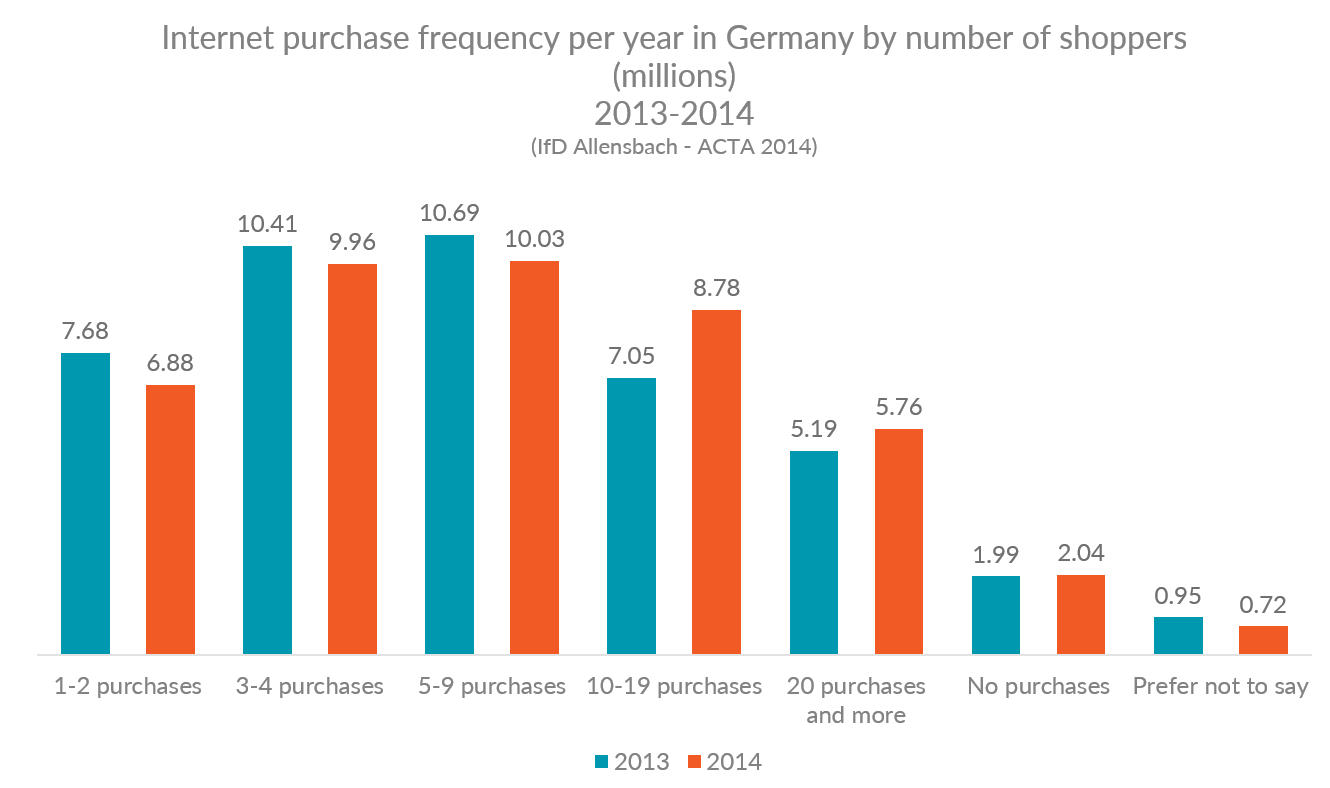 There is a preference for the sorts of things German people prefer to buy online versus through traditional retail.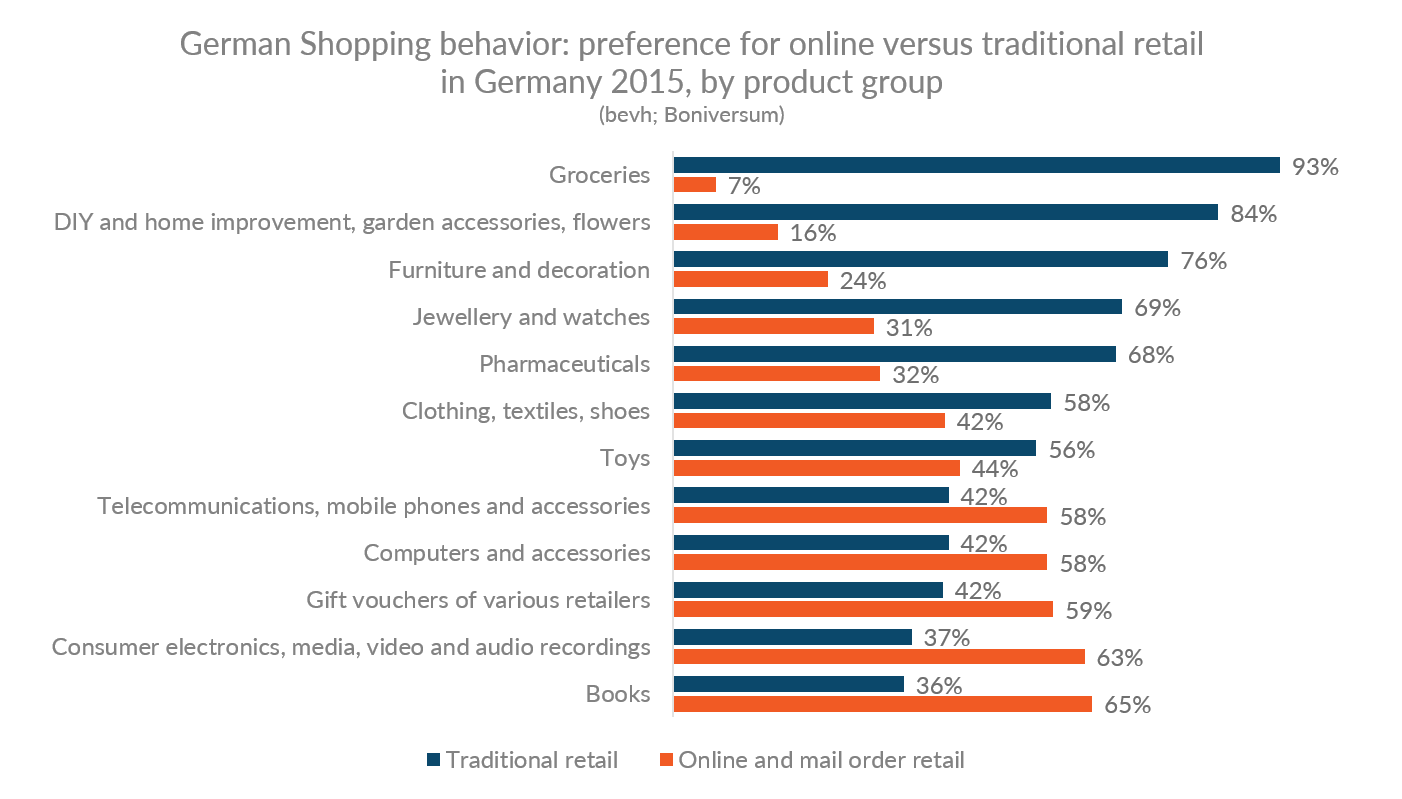 And Germans do learn about products online, and of those who purchase online, 9 out of 10 use a computer to do so.
Of those who learned about a product via pre-purchase research, 57% first learned about a product that they later purchased online via websites or apps

19% first learned about a product they later purchased through online advertising

35% made their purchase online, with 91% using their computer, 3% using their smartphone, and 5% using their tablet

World Economic Forum's Global Information Technology Report - Germany
World Economic Forum's Global Information Technology Report - Full Report
Statistisches Bundesamt (German Federal Office of Statistics)
KNOWLEDGE BASE Mobile - Internet Usage In Germany