KNOWLEDGE BASE Population - Ethnicity - Language In Germany
The information on this page was current at the time it was published. Regulations, trends, statistics, and other information are constantly changing. While we strive to update our Knowledge Base, we strongly suggest you use these pages as a general guide and be sure to verify any regulations, statistics, guidelines, or other information that are important to your efforts.
Population, Ethnicity, and Language in Germany
Germany's p

opulation
The population of Germany in 2014 was approximately 80.8m. This represents nearly 16% of the total European Union (EU) population. It has the largest population of all of the EU countries, with the next being France at 66.4m.
Germany's population is overwhelmingly German, with just 1 out of 10 being foreign.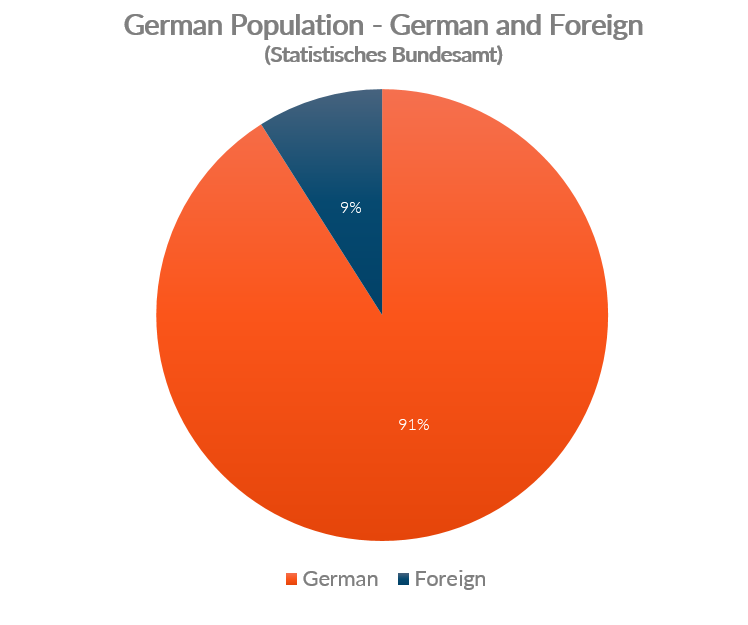 Of the people who live in the country, 49% are male and 51% are female.
The most populous German states are Baden-Württemberg and Bayern (Bavaria). The states with the highest population density are Berlin (the capital of Germany) and Hamburg - both often referred to as city-states - as well as Bremen, a commercial and industrial city with a major port on the River Weser, leading to the North Sea. Berlin is Germany's startup hub, and Hamburg is also considered a tech center.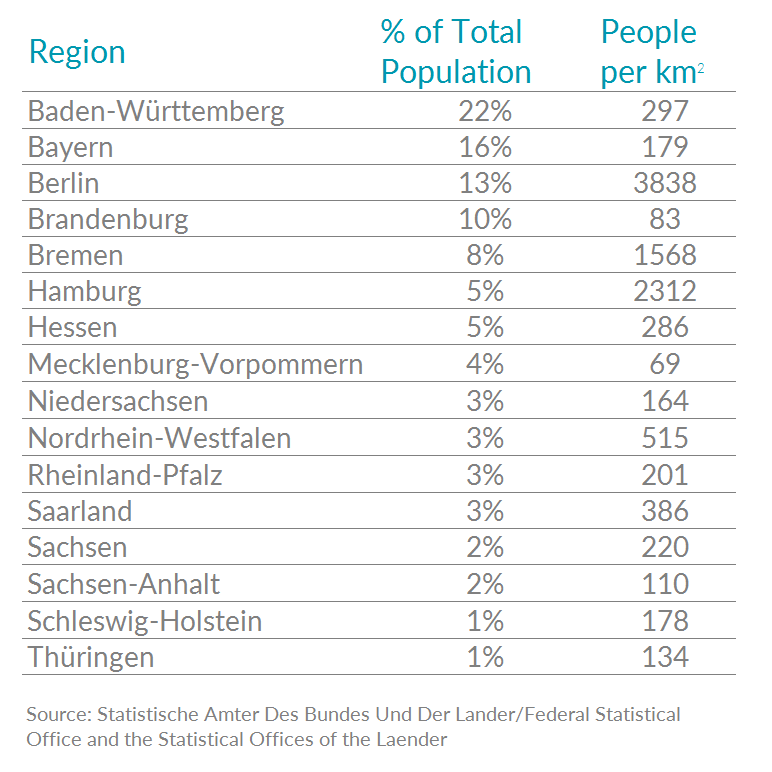 German ethnicity
The ethnic makeup of Germany aligns with the reported nationality, with 91.5% being German. As reported by Reuters, this year, however, Germany expects approximately 800,00 refugees to seek asylum in Germany, many of them Muslims from Syria, Iraq, and Afghanistan. While less than 1% of the population, a successful integration of the refugee population could have a positive impact on the aging population and low birth rate. As discussed in the Globig section, Demographics On Aging In Germany, Germany's aging population is a concern to the country and its citizens.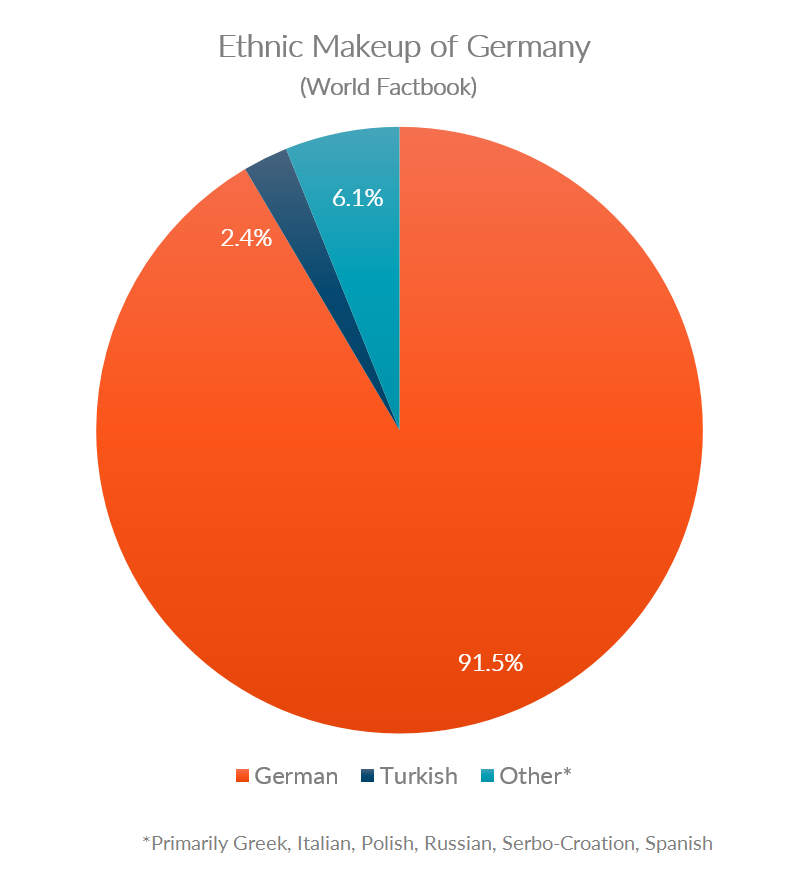 Germans tend to 'trust somewhat' or 'not trust very much' when it comes to people from other nationalities. Much smaller groups either 'trust completely' or 'do not trust at all'. This general outlook is similar to that of people in the US, with the US tending a bit toward lower trust. This indicates that you will have to work to gain trust with the Germans when entering their market as a foreigner. They are unlikely to immediately embrace you and your business.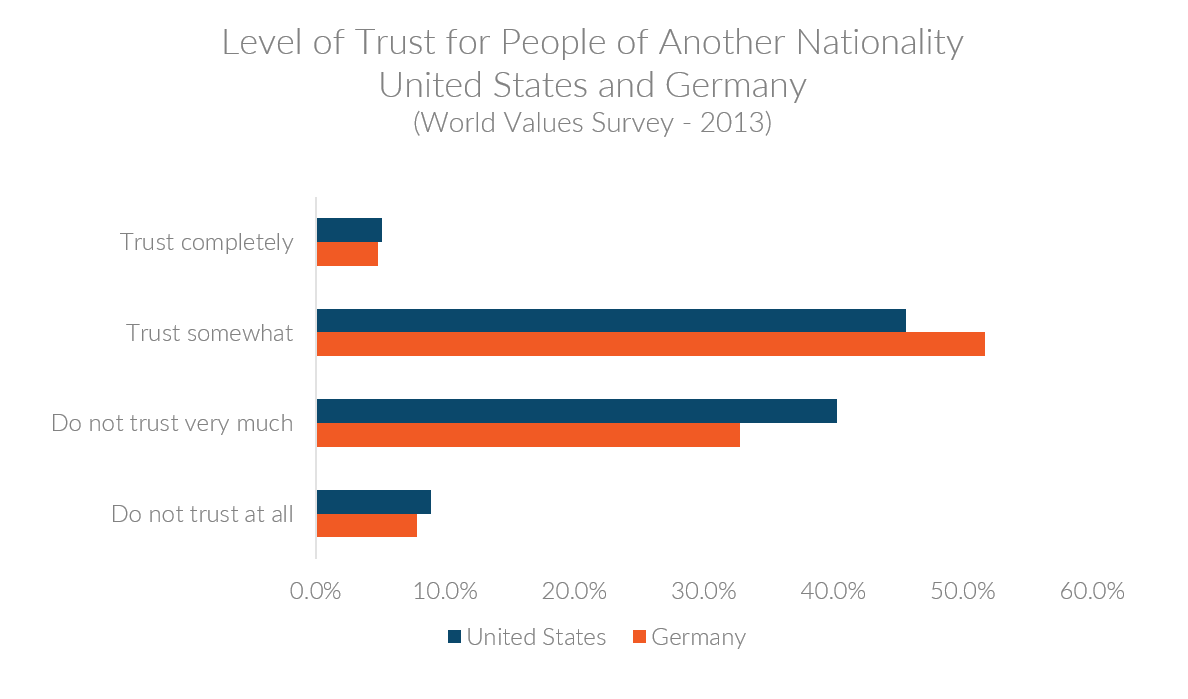 In a 2012 European Quality of Life study by Eurofound, only 14% of respondents said there was no perceived tension between different racial and ethnic groups.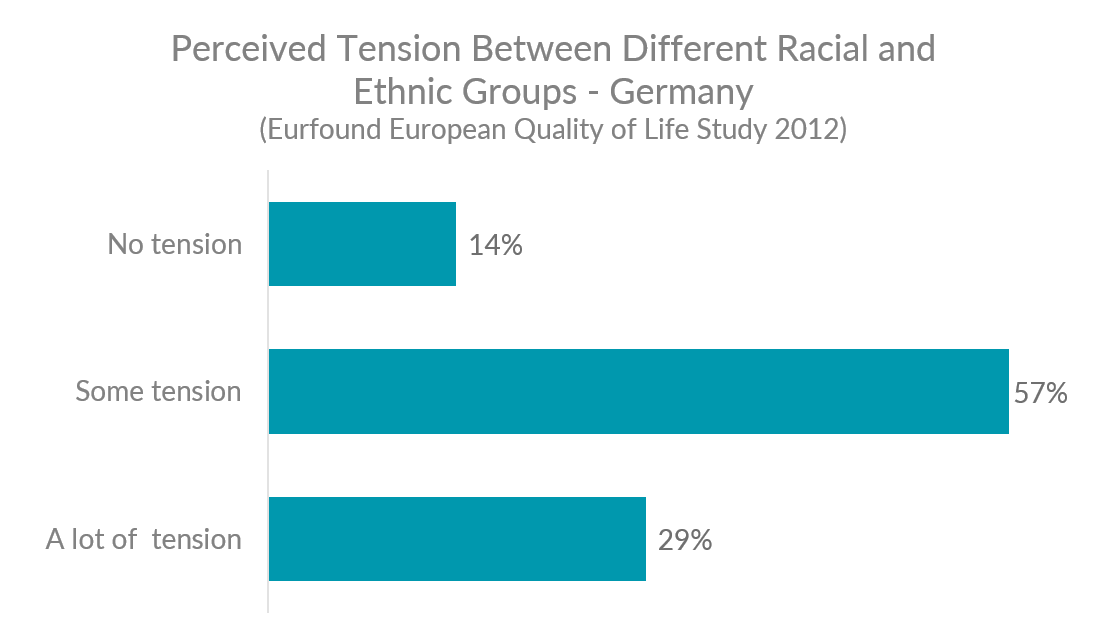 When responses were separated out by age group:
18-24 year old Germans had the highest value for 'a lot of tension' (34%)

25-34 year old Germans had the highest value for 'some tension' (58.9%)

>64 year old Germans had the highest value for 'no tension' (19.5%)
Language in Germany
The official language of Germany is German. Danish, Frisian, Sorbian, and Romany are official minority languages; Low German, Danish, North Frisian, Sater Frisian, Lower Sorbian, Upper Sorbian, and Romany are recognized as regional languages under the European Charter for Regional or Minority Languages.
Like students from many European countries, students in Germany do study foreign languages. Per Eurostat, in 2013, 86.8% of students in upper secondary education in Germany were studying English and 55.6% were learning 2 or more languages. And nearly two thirds of German students in primary education were studying English.
Nearly two thirds of the German population (64%) speak English, though according to a 2011 survey by Eurostat, only 16% of of German adults said they could do so proficiently. This could be influenced somewhat by the German discomfort around appearing inexpert or proficient in something. Oftentimes, German's English is quite good.
In Germany, while you can generally conduct at least initial B2B business in English, for B2C you will need to use German.
World Values Survey provided a number of options to Germans when asked which of the groups they would not like to have as neighbors. They were asked to choose any option that applied to them. One option was 'someone who speaks a different language living next door', and almost 90% did not mention this as a concern of theirs. Interesting, when compared to the general trust levels for foreigners. That, of course, is equating speaking another language with being foreign, but with more than 95% of Germans speaking German and greater than 90% identifying as German and native to Germany, there is a correlation.
Globig Insights

Germans are heavily ethnically German and German speakers. While there are other races and spoken languages within Germany, there is still some level of tension - like in most of the world. With you as a foreigner, it's important that you build trust and credibility, and plan on showing that you are dedicated to the market. And remember, for B2C, plan on conducting business in German.

In our section on HIring Options in Germany, we give you advice on how you can build your staff in Germany. In the Product Localization for Germany area, you'll find advice on how to ensure your product or service feels local to the Germans - a key ingredient to your success. The Language Localization for Germany section provides guidance on how to make sure you are using the German language correctly in your products and communications.

Find vendors through the Globig Marketplace to help you navigate the German market.

Statistiches Bundesamt - government statistics on population
Eurostat overview of foreign language learning statistics
Eurostat statistics on foreign language study rates for European upper secondary students
Eurostat statistics on foreign language study rates for European primary students
KNOWLEDGE BASE Population - Ethnicity - Language In Germany