KNOWLEDGE BASE Demographics For Women In Germany
The information on this page was current at the time it was published. Regulations, trends, statistics, and other information are constantly changing. While we strive to update our Knowledge Base, we strongly suggest you use these pages as a general guide and be sure to verify any regulations, statistics, guidelines, or other information that are important to your efforts.
The Status of Women in Germany
The gender gap in Germany
The World Economic Forum's Global Gender Gap Report for 2016 ranks Germany 13th out of 144 countries for gender equality. The report evaluated gender gaps in four main areas: 'economic participation and opportunity', 'educational attainment', 'health and survival', and 'political empowerment'. A score of parity between men and women is represented by 1.00. Germany scored 0.766.
Women lag behind men in nearly all aspects of Economic Participation and Opportunity with a score of 0.691. They exceed parity in 'professional and technical workers' (1.06).

Women in Germany have nearly achieved Education Attainment equality (0.966).

Women are very near parity with men in Health and Survival, and have a slight advantage in life expectancy

The lowest score is for Political Empowerment, with a score of 0.428.
Take a closer look at Germany's scores for the 2016 Gender Gap Index.



Women and education
German women enter the sciences in tertiary education more than in other OECD countries and earned 44% of the degrees in 2012. In fact, they actually earned a higher percentage than men in math and statistics degrees. Between 2000 and 2012, the proportion of of degrees earned by women in the sciences (including life sciences, physical sciences, mathematics and statistics, and computing) grew by at least 10%. This growth rate puts Germany in the company of just 4 other countries, including Czech Republic, Portugal, the Slovak Republic and Switzerland.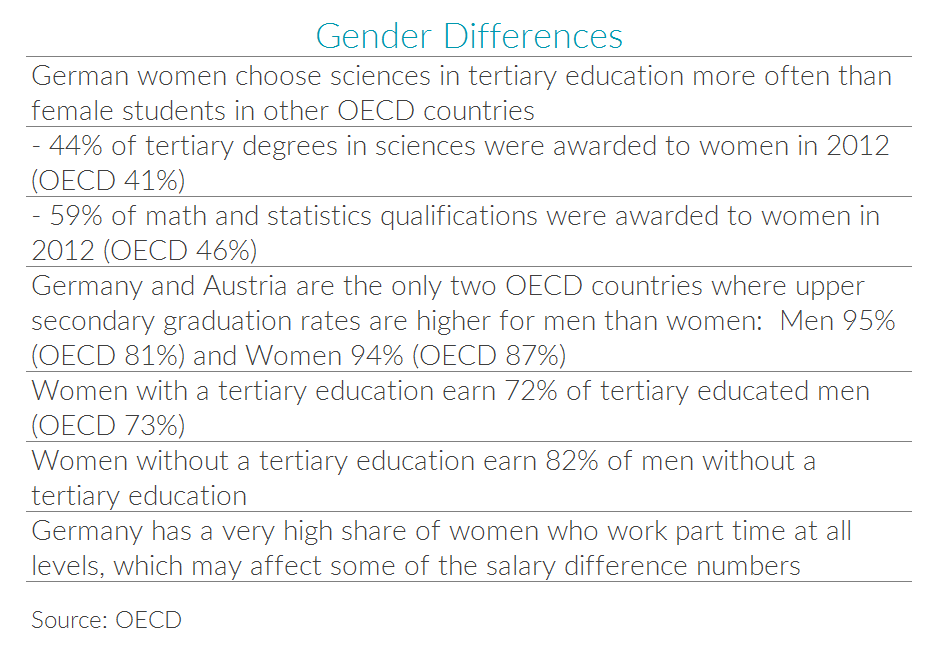 Though they have educational parity, women with similar levels of education are earning less than men. And while they may have a greater share who are working part-time, other indicators suggest that they are not being paid equally for equal work. The World Economic Forum's Global Gender Index 2016 reports that there is still a gap in wage equality for similar work.
What do the people think?
The Global Gender Index shows where women have parity with men, and where there is room for improvement. How do these results align with how German's perceive the role of women?
In their 2013 research, the World Values Survey asked Germans a number of questions related to women. Their responses indicate that there is still some ambiguity around the role of women in German society.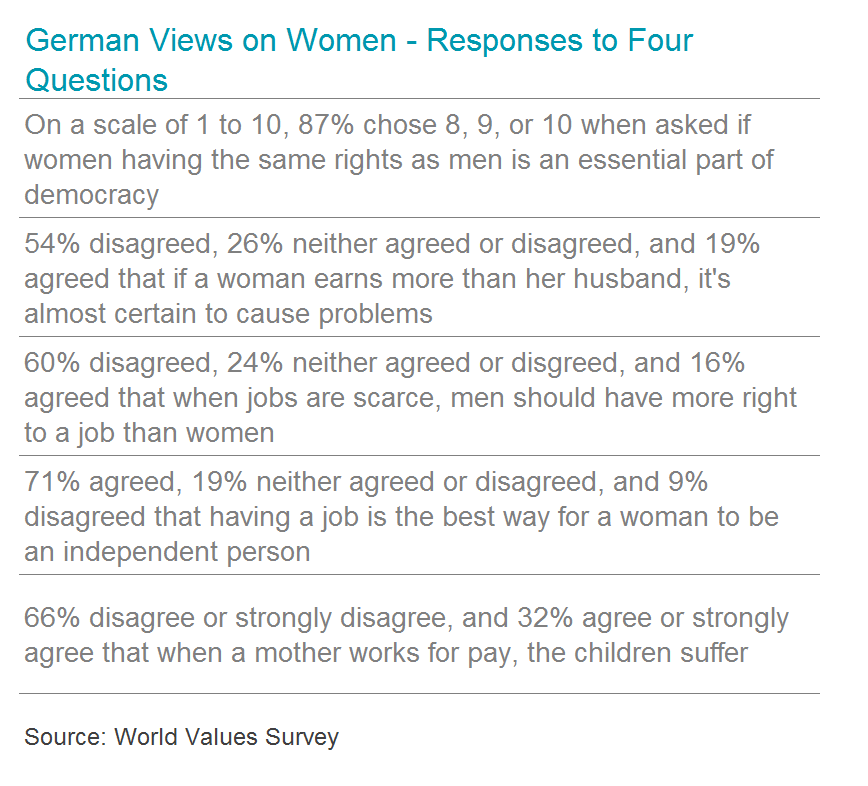 World Economic Forum's Global Gender Gap Report
KNOWLEDGE BASE Demographics For Women In Germany