KNOWLEDGE BASE Email Marketing In Germany
The information on this page was current at the time it was published. Regulations, trends, statistics, and other information are constantly changing. While we strive to update our Knowledge Base, we strongly suggest you use these pages as a general guide and be sure to verify any regulations, statistics, guidelines, or other information that are important to your efforts.
Email Marketing In Germany
Email is an important part of digital communications, prospect building, and customer management in Germany. It is one of the building blocks of a strong digital marketing strategy, as a significant portion of online users, over 80%, are subscribed to a variety of email lists.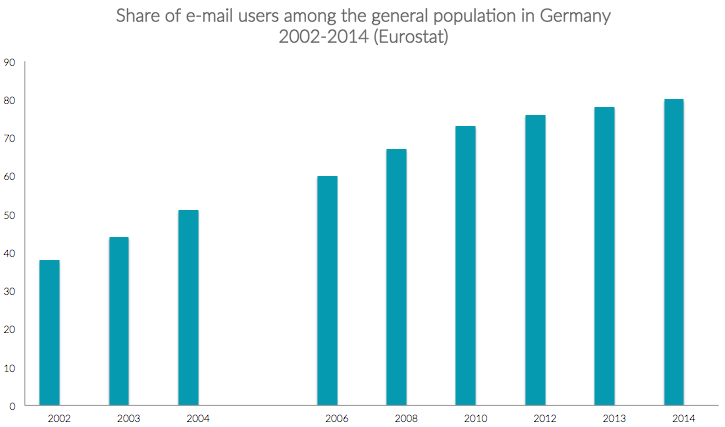 According to email statistics, 45% of German consumers have made a purchase as a result of an email-marketing message. Online commerce is significant in Germany, but there are some challenges to optimal email deliverability rates, including sensitive spam filters and blocking filters.

People typically subscribe to an email list for a variety of reasons, but most often to get some sort of a special offer or reward, to sign up for a sweepstakes or contest, and to keep informed and updated about products or services.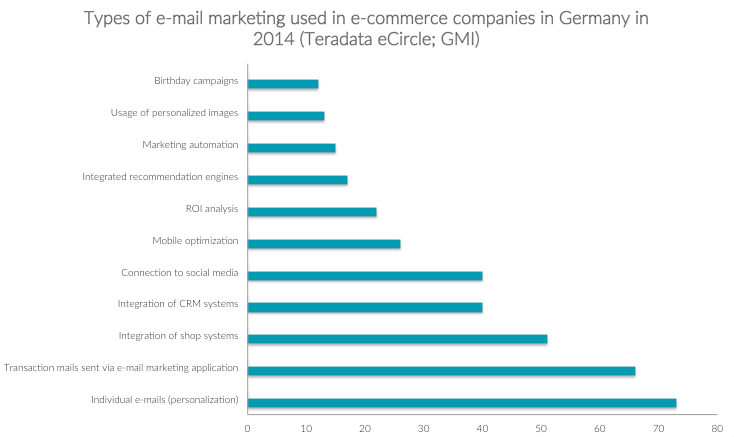 Average industry email open rates in Germany are generally quite high, provided the content is relevant and targeted.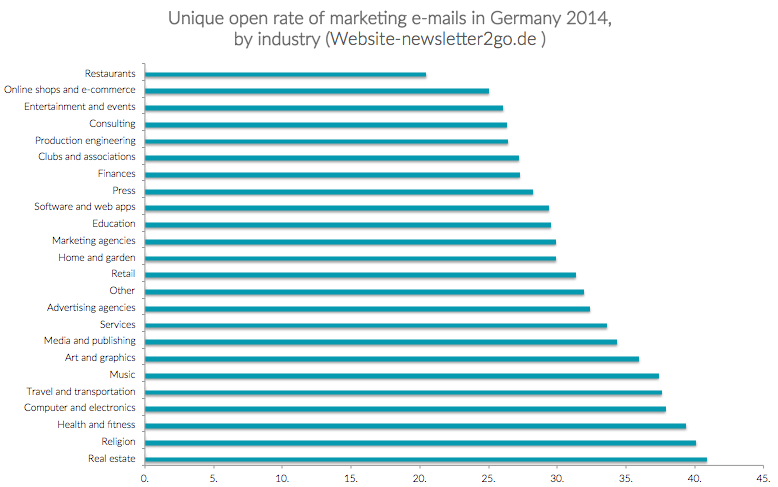 The top email services to optimize your email delivery and readability in Germany based on market share are United Internet and Deutsche Telkom.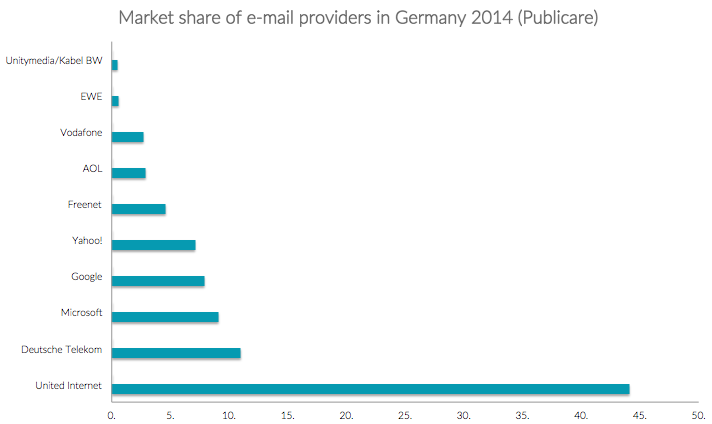 Email Marketing Regulations
The EU's General Data Protection Act (GDPR) and Germany's Federal Data Protection Act (Bundesdatenschutzgesetz (BDSG) are the primary legislation regulating data protection in Germany. The GDPR has strict rules for protecting the personal data of EU's citizens and those residing in the EU. This website, the GDPR Portal, is a resource to educate the public about the main elements of the GDPR. The Federal Data Protection Act addresses issues left open by the GDPR.
Germany takes data protection and privacy very seriously, email marketing especially has a lot of important regulations to follow. While they may be different and more strict than other countries, email marketing is alive and very healthy in Germany within the guidelines provided. We believe that more countries will be implementing GDPR- and German-style regulations in the future as privacy and data protection is gaining in importance worldwide.
When sending marketing emails you should consider the answers to the following questions:
has the recipient given his consent?

can consent be proven?

does the recipient know what he has consented to?

has the option to unsubscribe been pointed out to the recipient?

does the recipient receive an email confirmation of his consent?

can the recipient conveniently unsubscribe to the emails?

do recipient inquires receive a response?

is the subject misleading?

is the sender clearly discernible?

is the legal notice complete?

does it involve contract data processing, if so, have corresponding statutory regulations been complied with?
Consent
One of the most important requirements of email marketing is consent. Both the Federal Data Protection Act and the Act Against Unfair Competition require that you have the consent of your recipient before sending him marketing emails, unless he is your existing customer. Furthermore, consent must be carefully documented, so you must record the consent in detail and make it available upon request. Consent to receive marketing emails must be:
transparent;

voluntary;

conscious, unequivocal, express; and

separate.
Transparent Consent: The recipient must be informed in a transparent and easy-to-read manner about the content of his consent. Essentially, the recipient must know who will use his information and for what purposes it will be used. Germany does not allow a general (or blanket) consent for "partner companies," meaning, you cannot share email addresses with your partner companies, unless each company is explicitly listed in the consent given by the recipient.
The following is an example of valid consent check box:

I would like to receive advertising from ABC Co. (and from partner companies of ABC Co.) via email. I can revoke my consent at any time by emailing unsubscribe@abc.com. In addition, a link to unsubscribe to other information is included in each email from ABC Co.
Conscious, Unequivocal, and Express Consent: Consent must be explicitly given, not assumed, in a conscious and active manner. An example of clearly given consent is when a customer clicks a check box. Neither an opt-out check box nor a pre-selected opt-in check box is sufficient consent. Consent to receive marketing emails must always be given independently of any other acknowledgments, such as agreeing to and understanding a Privacy Policy and Terms of Service or confirmation of a purchase. Each brand (within a company) must provide a separate check box for consent to send marketing related emails.
Data Economy: Data collected must be limited to what a company requires to provide the service being signed up for. For many brands, only the email should be required. Additional data can be requested on a voluntary basis, but cannot be a requirement of the service. Required form fields should be limited to only what information is needed.
Co-registration and Purchase of Addresses: While it's not illegal to collect and share addresses with third party companies, each company must be named at the time of consent. The purpose for which the the information is collected and will be used must also be provided to the recipient at the time he consents. The size of the list must not exceed 10 companies.
If you purchase opt-in lists or receive email lists, you must verify the consent of each person and obtain the documentation of the specific consent for each email address acquired. Given how important data privacy is for Germans, you may also have delivery and brand reputation issues when using these lists.
Double Opt-in: In order to demonstrate that you received explicit consent for your company to send marketing emails to a particular recipient, and that the consent came from the owner of the email address, you should use a double opt-in.

You do not have a statutory obligation to use a double opt-in procedure, but a double opt-in procedure is highly recommended to protect yourself from a lawsuit, or to help you prove consent to the court if a lawsuit is filed against you.
To correctly employ a double opt-in procedure, you should send a recipient a confirmation email to the address he used during registration and ask that he confirm his consent to receive marketing emails by clicking on a confirmation link. Under this procedure, the recipient would have given consent when he signed up, for a service, newsletter, etc., and then second time when you send the confirmation email. The saved email receipt is what you would then provide to authorities should you be required to demonstrate that the email recipient opted into your emails.
Confirmation emails must be specific to only the one email type they are opting into and must not contain advertising, promotions, or other offers. You cannot register someone for a prize promotion or competition in combination with opting into a marketing email.
Tell-a-friend and viral emails: Email campaigns that ask recipients to share your email with friends or that ask recipient to provide their friends' email addresses are no longer legal in Germany. Recently a court ruled that emails sent to recipients by means of tell-a-friend campaigns are in violation of the law because no consent was sought to receive those emails. Without prior consent, the only time you are allowed to send an email to someone is if they are an existing client and you have the documentation to prove it.
Unsubscribing
The unsubscribe procedure (check box) must be clear and obvious to your email recipients at all times. The process should be explained in the registration process. The process itself must be very easy and should not require significant effort. All emails should have an unsubscribe link in the footer of the email. After unsubscribing, an email recipient must receive a confirmation page acknowledging that that they have been unsubscribed successfully.
Design of content
The subject of every email you send should clearly reflect the content of the email and must not be misleading in any way. Email subject line requirements include:
the subject line is clearly associated with the copy in the email;

the subject line is brief and clear enough to allow recipient to decide if she wishes to open the email;

the subject line is not deceptive or concealing the commercial nature of the email and no false promises are made (see the Telemedia Act as well);

the sender must be easily recognizable;

the subject line should not use typical spam words such as 'free,' 'offer,' 'sex,' or German words like "umsonst—free,' 'kostenlos—no charge,' 'Geld—money,' or 'Gücksspiel—prize competition;'

It is recommended that emails contain descriptive copy instead of an image only, especially for those that have images 'off'. This is often the case for people using their mobile phones, to allow them to read emails, but save on data charges;

subject lines should be unique and relevant to each email sent so they are not recognized as spam; and

It is okay to customize the email to include the recipient's name.
Sender of email
There are several things about you, as a sender, must consider in order to avoid complaints and possible fines (see also the Telemedia Act).
It should be very clear who the sender of the email is and recipients should easily recognize the sender;

the sender email address should include the name of the company and the product or a person's name. Stay away of anything that looks like spam such as lucie123@freenet.com;

as with the subject line, the sender information may not be misleading or confusing;

avoid senders addresses like noreply@companyname.com;

the sender address should only email one person at a time instead of the bcc of a larger list;

you should only use company names you have legal rights to so you do not invoke third-party lawsuits for trademark infringements.
Legal Notice
All email marketers or, as they are known in Germany Telemedia, must include business and legal information about the sender in all marketing emails. It is preferred that the information be placed in the email itself, but adding a link to it is also legally acceptable. Many people will not be comfortable linking to a site that is not clearly identified, so your email may seem like spam if the legal notice is not contained in the email itself (see the Telemedia Act).
The legal notice must at least contain the following information:
the name of the sender and, if applicable, company name;

the authorized representatives for legal entities;

the postal address of the sender (a P.O. box is not sufficient);

the sender's telephone number, fax number, or an electronic contact form;

the sender's email address;

any applicable commercial, cooperative, association, or partnership register numbers;

the name of the publisher or person legally responsible for the content of the emali; and

if available, the sender's VAT identification number or business identification number.
All of this information must be easily discernible, directly accessible, and permanently available to your recipients.
Sample legal notice:

Anycompany Ltd

Represented by the managing director John Anyman

1 Any Street

Anytown, AB 12345

E-mail: sample@anycompany.com

Phone: 0123-45 67 89

Fax: 0123-65 43 21

VAT ID: DE 123456789

Sample Local Court, HRB 1234

Published by the Sample Communication division
Commercial and mandatory information
In Germany, an email could be considered a business letter, if so, there is some mandatory commercial information, such as the business entity, that must also be included in the email. Some industries have email additional requirements for business letters that you will need to follow.

Third-party Data Processing: If you contract with or are in the business of providing email-marketing services such as drafting, implementation, administration, optimization, and analysis of email marketing efforts, there are a number of additional regulations that apply. We strongly suggest you obtain German legal counsel for specific advice on regulations and compliance. (Regulations regarding contract data pro­cessing pursuant to Section 11 of the Feder­al Data Protection Act (BDSG))

General Data Protection Act
Act Against Unfair Competition
Certified Senders Alliance: eco Directive for Permissible e-Mail Marketing Guidelines
KNOWLEDGE BASE Email Marketing In Germany