KNOWLEDGE BASE Population - Ethnicity - Language In The US
The information on this page was current at the time it was published. Regulations, trends, statistics, and other information are constantly changing. While we strive to update our Knowledge Base, we strongly suggest you use these pages as a general guide and be sure to verify any regulations, statistics, guidelines, or other information that are important to your efforts.
Population, Ethnicity, and Language in the United States
United States Population
The US Census Bureau estimates the US July 1, 2015 population to was 321.4M, based on the 2010 census results. The estimated growth rate from April 1, 2010 to July 1, 2015 was 4.1%.
The five most populous states, in order, are California, Texas, Florida, New York, and Illinois. Based on the 2010 census, 26.5% of the country's population lived in the three most populous states - California (37.3M), Texas (25.1M), and New York (19.4M). California has been the populous state since the 1970 census.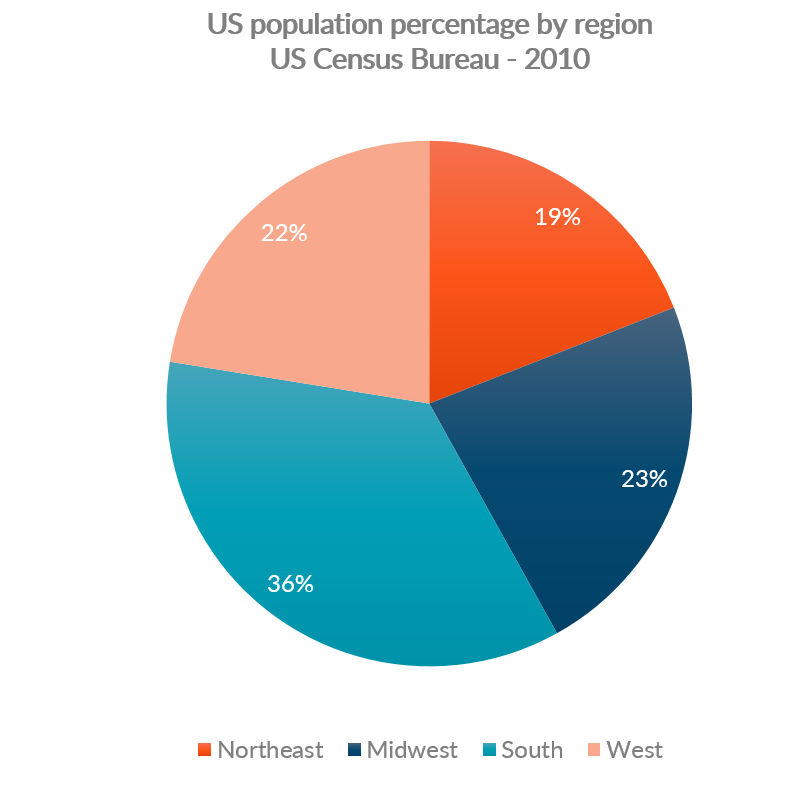 The US has wide open spaces and teeming cities. There are areas within the United States with very few people, while in some urban areas, the density is extremely high. Based on the 2010 census, population density in the US ranged from 9,856.5 people per square mile in the District of Columbia to 1.2 people per square mile in Alaska, with the average being 87.4.
Ethnicity
Nearly 8 out of 10 Americans identify as white, with the next most common being black, or African American. It is important to note that Hispanics may be of any race, so are included in the applicable race categories above. They also identified as 17.4% of the overall population, which would be a mix of the races.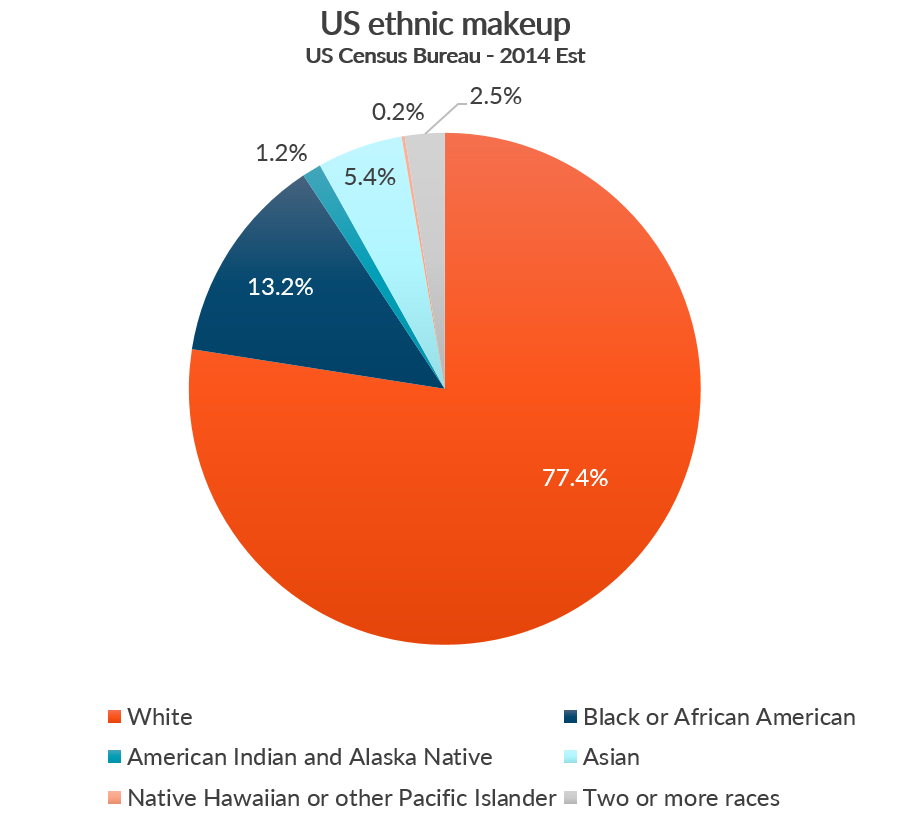 Lan

guage
The US Census bureau reports that at least 350 languages are spoken in US homes. But for nearly 8 out of 10 aged 5 years and older, the only language spoken at home is English. The next most common language, at nearly 13%, is Spanish.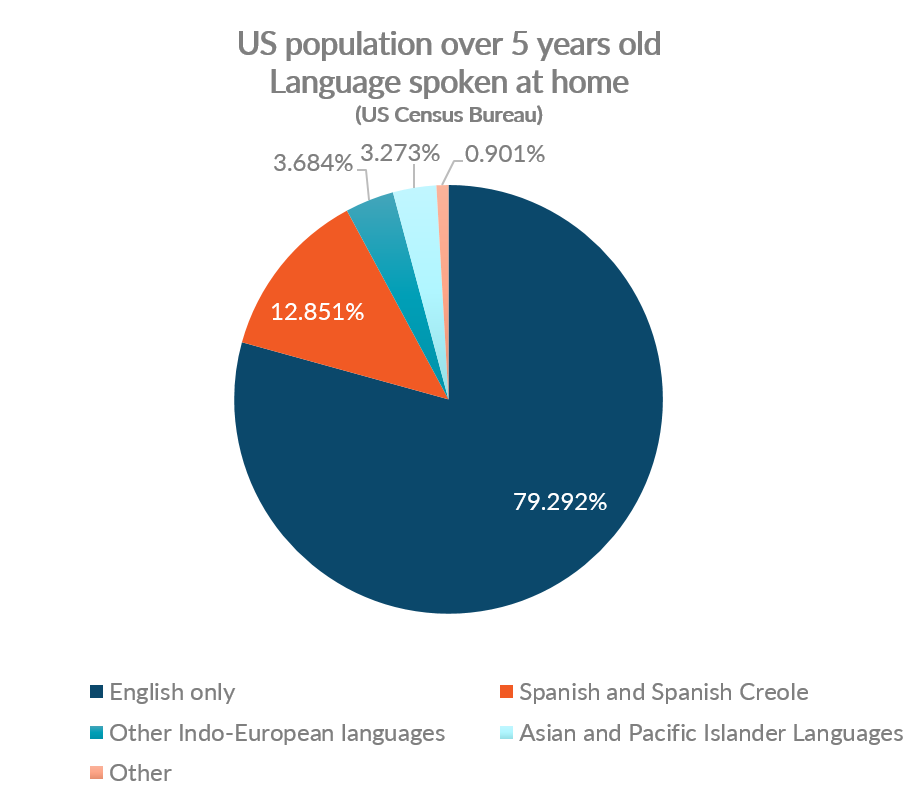 For the 60 million people who speak some language other than English, 42%, or 25 million, report that they speak English less than "very well".

The US Census Bureau Language Mapper provides an interactive map showing where speakers of a number of languages are concentrated in the United States. The map below shows where Spanish speakers are.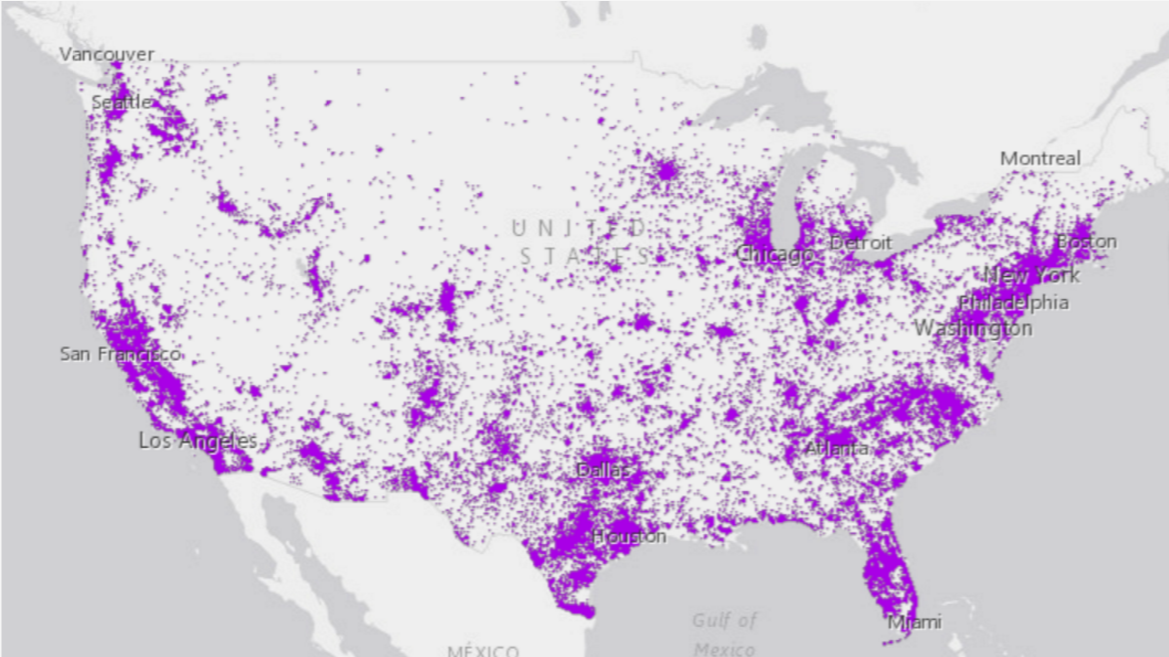 America the Melting Pot
Though the United States population identifies overwhelmingly as white and English-speaking, there is a varied ethnic heritage and many other languages are spoken within the country.
The United States is often referred to as a "melting pot" because people have come from many different countries. While the term implies that people came to the US and assimilated - melted together for a homogeneous culture - it is now common for many to think of the mix in terms of multiculturalism, where unique aspects of the various cultures are retained. While 77% of Americans identify as white, their heritage is from many countries and cultures. The 2010 census survey did not include questions about ancestry, but the Census Bureau's American Community Survey does track ancestry. According to their 2013 survey, people report ancestry from over 100 countries.
B2B and B2C business is largely conducted in English in the United States, and unless you are targeting a smaller ethnic group such as Hispanics, your business will also be conducted in English.
That being said, as with any localization, your language and marketing approach depends on your target audience. For instance, there are over 50 million Hispanics in the United States and over 40 million people over age 5 who speak Spanish at home. If they are your target customer, adjust your site and campaigns to be culturally relevant.
Since the United States has many ethnic groups, many languages, and even many regional accents for English speakers, obtain assistance from experts who can guide you in your understanding and approach in the US. The Globig Marketplace has a number of vetted experts and consultants who can help you with your plans in the United States.

The United States Census Bureau - Quick Facts
National Population Totals and Components of Change: 2010-2019
The United States Census Bureau - American Community Survey showing ancestry information
US Census population density by state
US Census Bureau Language Mapper
KNOWLEDGE BASE Population - Ethnicity - Language In The US