KNOWLEDGE BASE Market Research In The US
The information on this page was current at the time it was published. Regulations, trends, statistics, and other information are constantly changing. While we strive to update our Knowledge Base, we strongly suggest you use these pages as a general guide and be sure to verify any regulations, statistics, guidelines, or other information that are important to your efforts.
MARKET RESEARCH IN THE United States
Identify the areas where you will need to do research
Before you start developing a go-to-market strategy for the United States, it's important for you to answer some fundamental questions about the US, your company, product, and prospective market. Market research is a big part of this effort.
Who are your prospective customers?
As you know, the US is made up of a number of states with unique markets, and those states are often grouped into a number of regions. Here's a map showing a common way the country is often divided up. When characterizing Americans, they are often thought of in terms of these regions.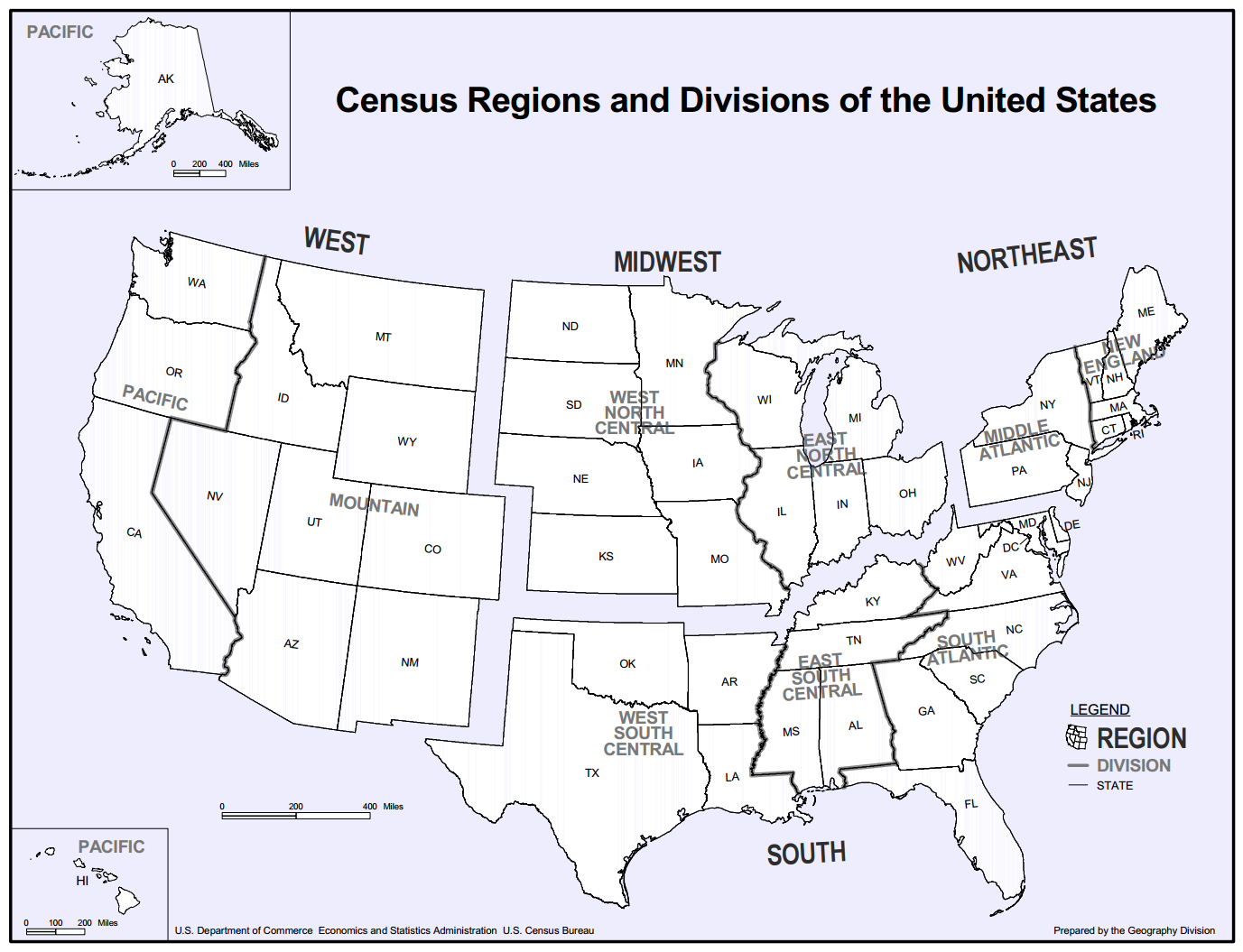 And the average Westerner is in many ways different from Midwesterners, and both are different from Easterns or Southerners. If you are really zeroing in on a specific region in the country, don't assume that the people will in all ways be like those in the other regions. The Globig Knowledge Base has a lot of information about the US culture that can help you identify your prospective customers.
Who are the influencers that those customer groups admire and pay attention to?
Once you've identified your target market or at least what you believe is the best segment to develop a plan around, you'll also want to identify the influencers for those groups. Do your research to identify which influencers are the most likely to help get the word out about your product or service. If you are not familiar with the ways in which influencers can help you, you can learn more about Influencer Marketing in our section on that subject. Globig Connect has influencers broken out by a number of categories and additional influencers are regularly added based on your industry.
What pain or problem do you solve for your target market in the United States?
For products or services that are familiar to a market, you must have a much better product and be more remarkable than what is already being used as a solution. For unfamiliar products and services, such as concepts that never existed before, it's best to test if the solution you're offering is something this new market will embrace. It helps to work with influencers first to get them using your product and services. Examples of new and unfamiliar product categories when they were launched are Airbnb and Twitter. It would be hard to know how people will respond prior to testing in market and getting influencers on board to talk about the brand.
Do people need or want your solution? Find out what they think about your product or service.
There are several ways you can test how well your product or service would be received and perceived, if there is confusion around it, if your product is sufficiently localized for this market, and even how much you could charge for your product and service.
Market research options
Online surveys and opinion polls
There are both self-serve options for surveying targeted groups and full service research firms to consider. Your budget, time frame, and required level of depth will all impact the cost of the research.
For do-it-yourself quick and lower budget surveys and opinion polls, several online survey companies offer targeted consumer groups in the US. These include: Mturk.com, HarrisPollOnline, Cint, AYTM, and Ask Your Target Market.
For full service local research firm options in the United States, you can search the Greenbook marketing research directory.
Focus groups
Depending upon the prospective customer group, the day of the week, time of day, and traffic, it can be hard to get people to show up for focus groups. Focus groups can be very effective, though, for better understanding the people and culture. It's also important to remember that different cultures will assign meaning to things in a different way and may have dialects and words with meanings that vary from culture to culture.
We recommend working with a local research group with experience recruiting and running focus groups in the US instead of doing them without assistance.
You can search for focus group companies near you using the Greenbook directory.
Product testing - sampling
For physical products that need customer feedback, there's a variety of ways to test your product. One is to work with influencers such as bloggers that have an audience you're interested in and ask them to give away some of your product and get feedback. Another is to set up sampling events in key areas. Many of the research agencies we've featured can assist you with this, or you could work with specialty retailers that might be interested in selling your product if customers really like it. You'll want to make sure that you have a small team of people ready to manage everything if you're not working with an agency to do it for you.
Market research is an important way to better define your target market and determine how your product or service will be received. Don't overlook this step in your plans.

KNOWLEDGE BASE Market Research In The US