KNOWLEDGE BASE Mobile - Internet Usage In The US
The information on this page was current at the time it was published. Regulations, trends, statistics, and other information are constantly changing. While we strive to update our Knowledge Base, we strongly suggest you use these pages as a general guide and be sure to verify any regulations, statistics, guidelines, or other information that are important to your efforts.
Mobile - Internet Usage in the United States
As you think about entering the United States to expand your market, build a business, and sell your product or service, one of the areas you will need to understand is the 'digital landscape', the ways in which mobile, the internet, and social media are used in the country. First, what is the digital infrastructure or networked readiness of the US? Is the government set up to support digital and do people use it? And you may want to know what percentage of the population owns a smartphone or an computer, and what activities are more likely to be done on each kind of device. And what about social media? Do people use it? If so, what social media platforms are favorites in the US? And do Americans purchase things online? What and with which devices?
Getting a sense for mobile and internet usage in the United States, and combined with what you know (or need to know) about your target market, will help you better understand how your target market can be reached, how they will find you on their own, and you will choose to present and promote your products and services.
The US Ranked #5 out of 139 countries in Networked Readiness Index
The first question might be, "Is the United States a digital country?" The World Economic Forum's Global Information Technology Report features the latest iteration of the Networked Readiness Index, which assesses the factors, policies, and institutions that enable a country to fully leverage information and communication technologies (ICTs) for increased competitiveness and well-being. The Networked Readiness Index (NRI) reveals the correlation between a country's level of ICT uptake and the economic and social impacts ICTs have on its economy and society.
Having a strong digital infrastructure and networked readiness translates to a big impact on the economy and society, and means that companies in America can leverage digital to create new businesses and opportunities.
Global Information Technology Report - United States
Global Information Technology Report - Full Report
INTERNET AND MOBILE USAGE, PURCHASE BEHAVIOR, AND SOCIAL MEDIA IN THE US
Internet Usage in the US
Americans are on the internet for personal use, and of those who are, most are on every day, and 20% acknowledge that they are on almost constantly. Not surprisingly, younger people are online more than older people, but even the majority (67%) of internet users in the 55+ age range report going daily internet activity.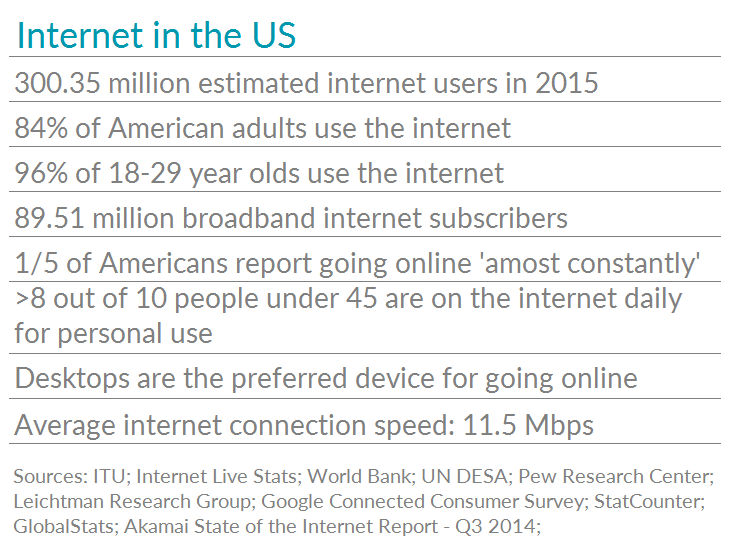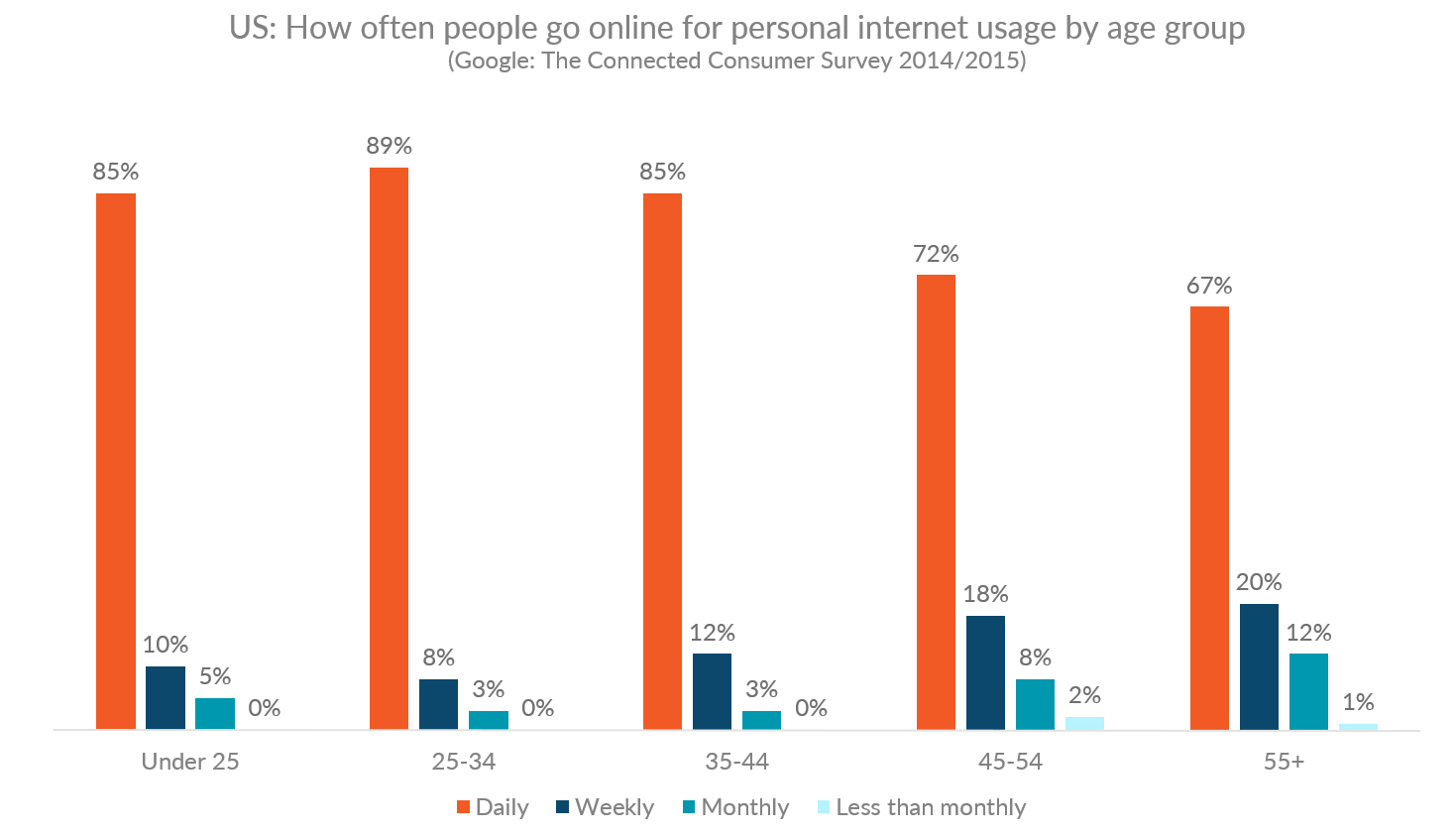 Among the most popular things to do online are using search engines, checking email, looking for product information, and visiting social networks. Certain activities (watching videos and visiting social networks) are done more frequently with smartphones, but few activities show a strong preference over a computer. There are many activities, two notables being looking for product information and using search engines, where people are just as likely to use a smartphone as a computer.
Google dominates the search engine world, with more than 80% share of page views. And while their overall share is declining over time, computers still own over 60% of web traffic.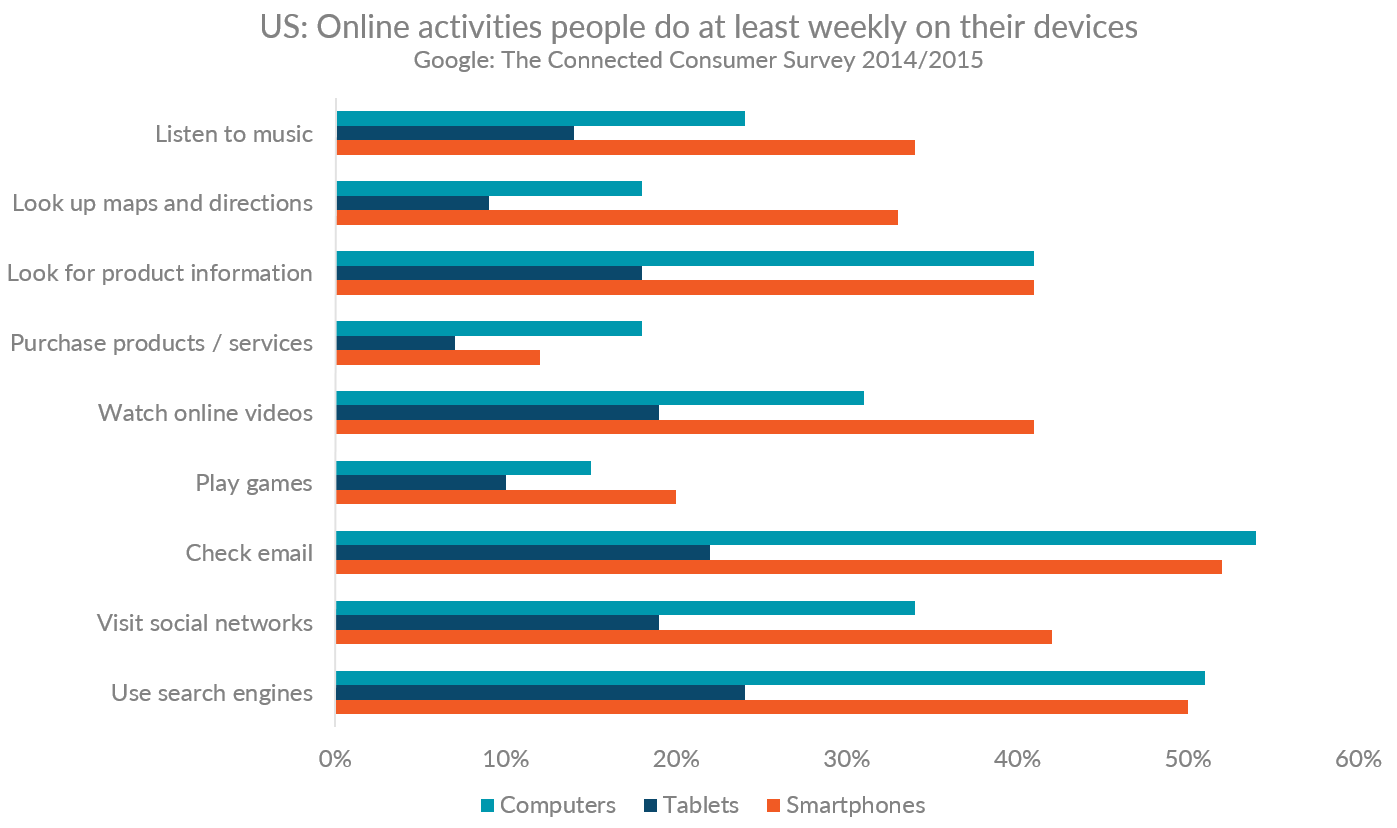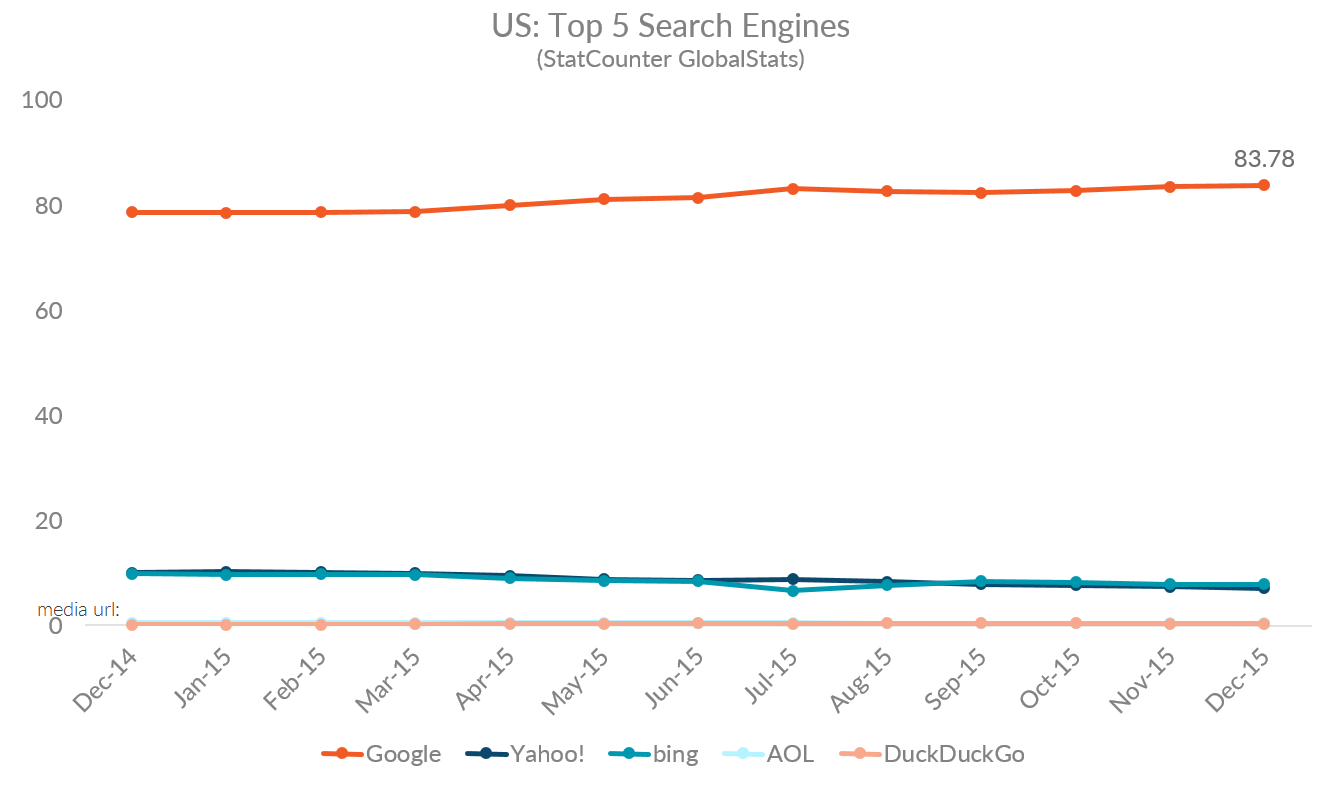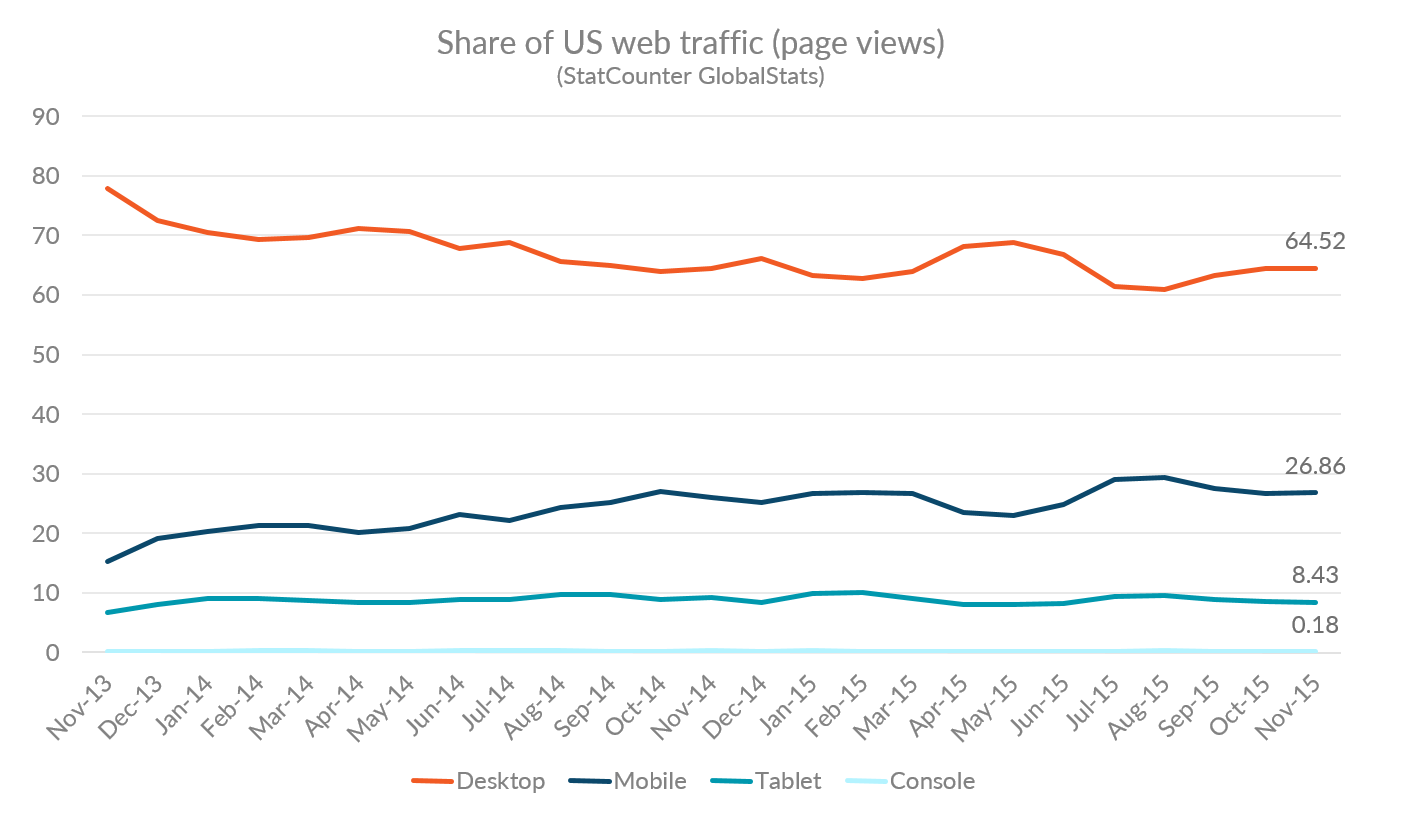 Globig Insights
Americans are online and they are looking for products and services - hopefully including yours - via the internet. Make sure you have a solid online presence that is compelling and pleasing for the American audience. By culturally localizing your product, service, app, and online presence, you increase your chances that people will find your offering relevant and comfortable for them. Read our sections on Product Localization to better understand what you can do to localize for the US, and go to the Globig Marketplace to find vendors and consultants who can help you put together a winning localization plan.

Americans are searching for information and doing product research online, often with a mobile device. Don't design just for the computer. Have a mobile-friendly presence!

Do you have an SEO strategy? Is it for just your own country or are you also planning for the US and other countries? Google is the dominant search engine in the US and their primary objective is relevant search results. They will give preference to local websites to make searches more relevant within each country, and also give preference to websites that have been localized for the people and language spoken there. Since you don't want to be buried pages down in search results, make sure you have an international SEO strategy in place. Globig provides guidance on International SEO for the US, and if you need assistance with understanding and developing an SEO strategy, visit the Globig Marketplace where you can find vetted experts.
Connected devices in the United States
Americans have devices - TVs, mobile phones, computers, tablets, eReaders - many of which are connected. While 21% have 2 connected devices, 50% of Americans have 3 or more. And while 85% report having a mobile phone (both basic and smartphone), 57% have smartphones. 90% have TVs and 35% have tablets.
While computers are still used for the majority of pageviews, that percentage has declined over the last several years and mobile is increasing. 56% of Americans are more likely or equally likely to use their smartphone than a computer to go online for personal use.
People use computers and tablets for a number of online activities, but tablets are not used at the same rate on a weekly basis.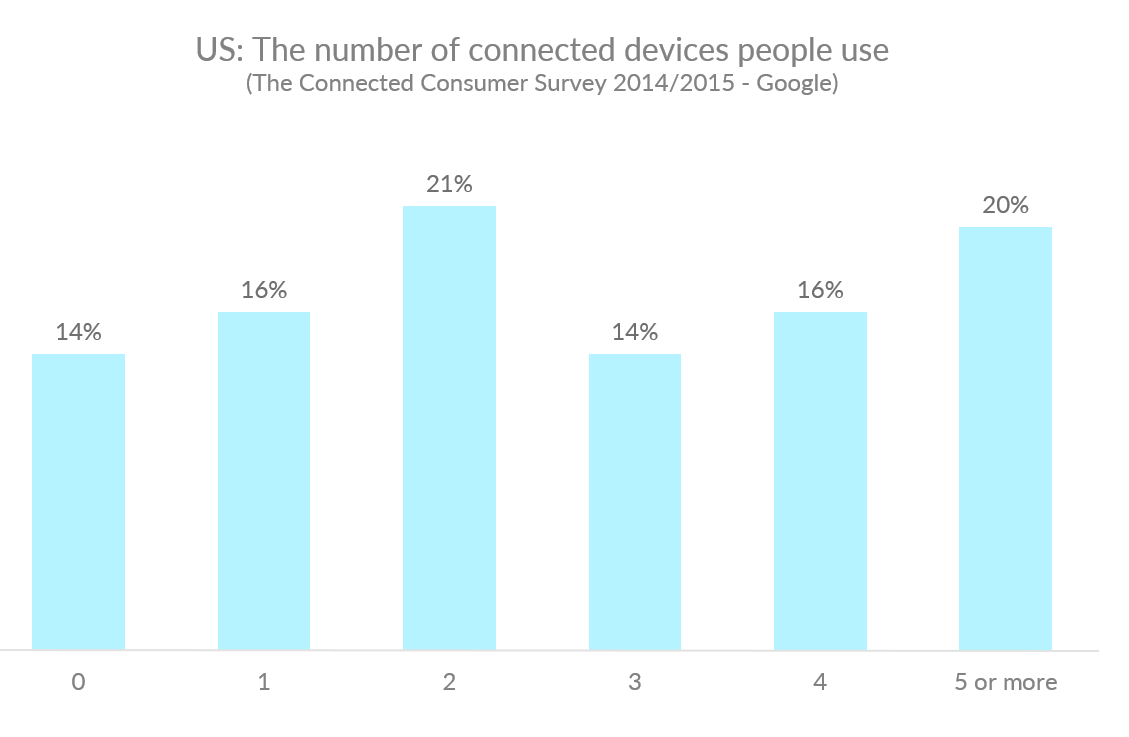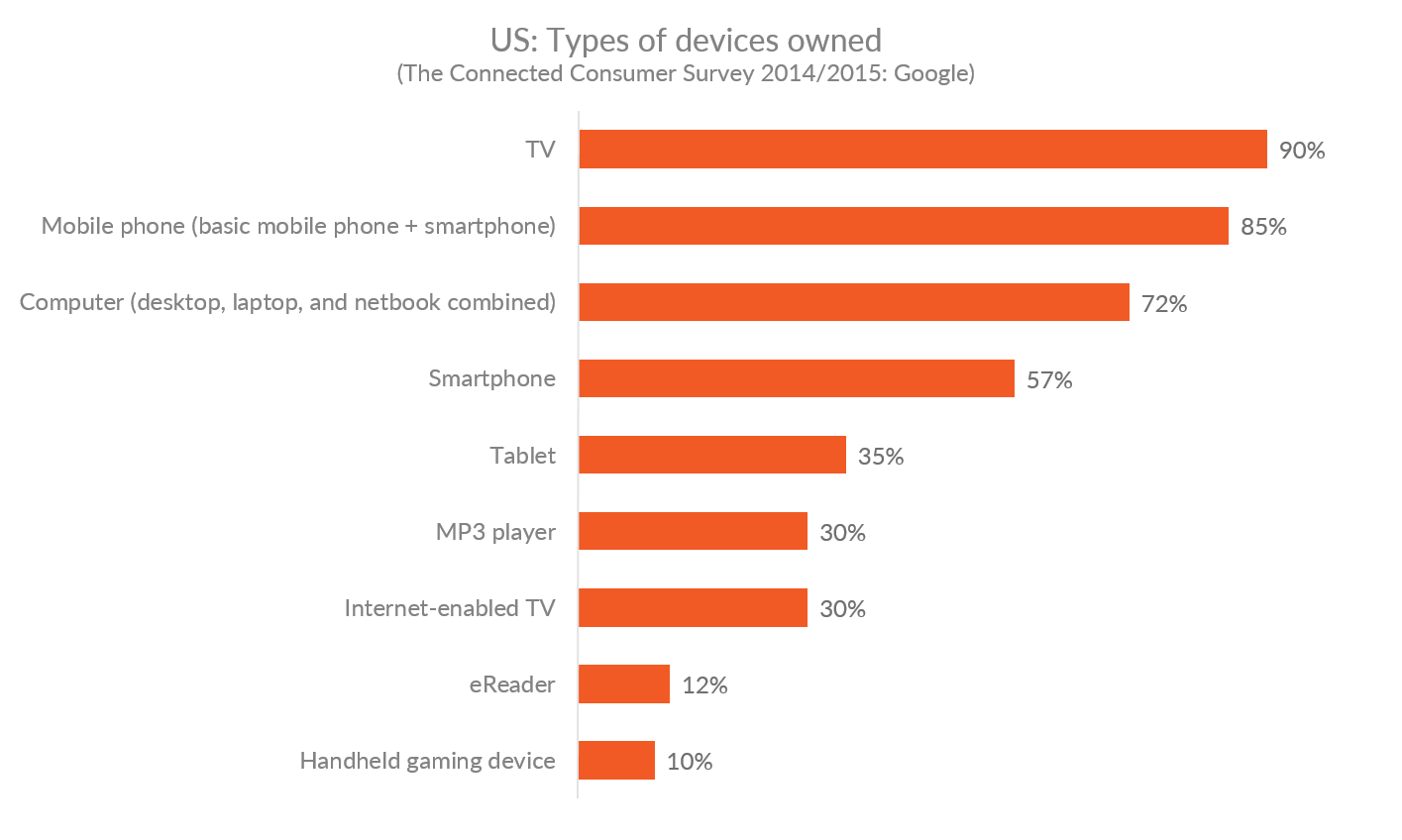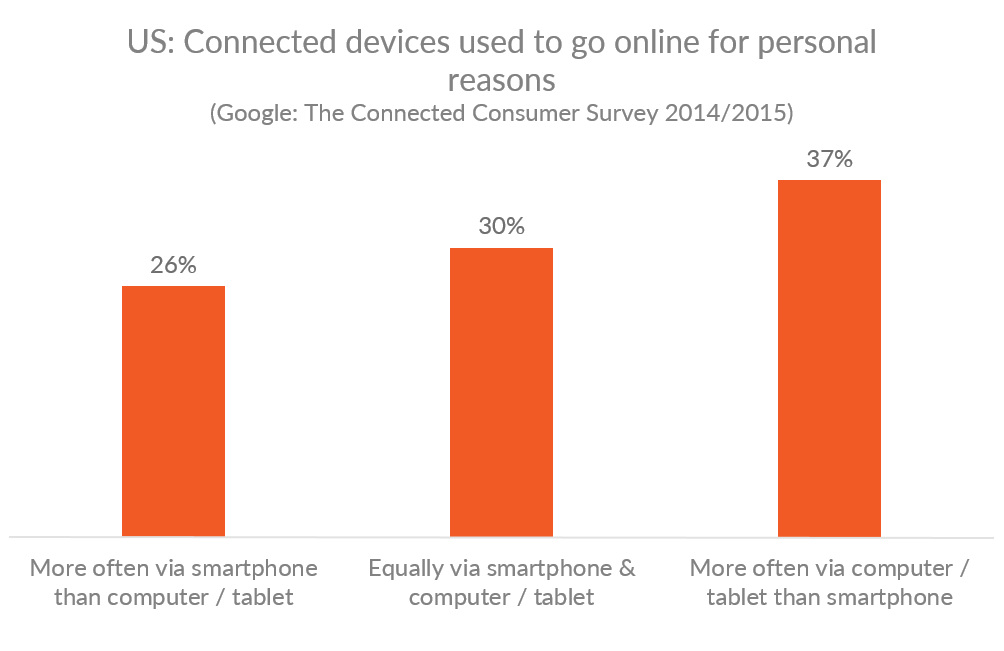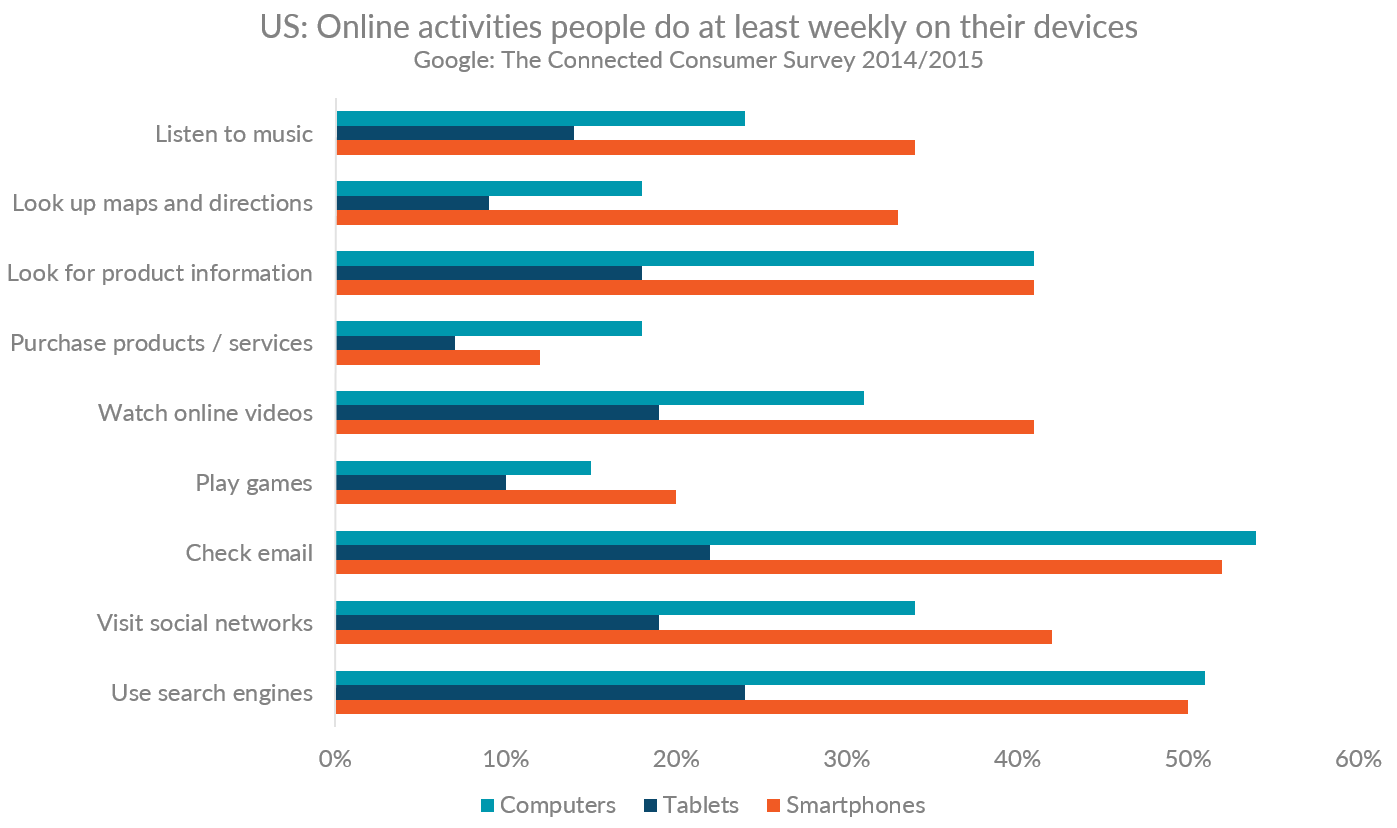 Mobile in the United States
For every 100 people in the US, there are 103 mobile subscriptions. 68% of adults owned smartphones in mid-2015, a number that has nearly doubled since 2011. Not surprisingly, younger adults are much more likely to own smartphones, with nearly 3 times as many 18-24 year olds having them as those 65 and older. And Americans are using their smartphones more and more to get online for a number of activities, and spend more than 2 hours per day doing so.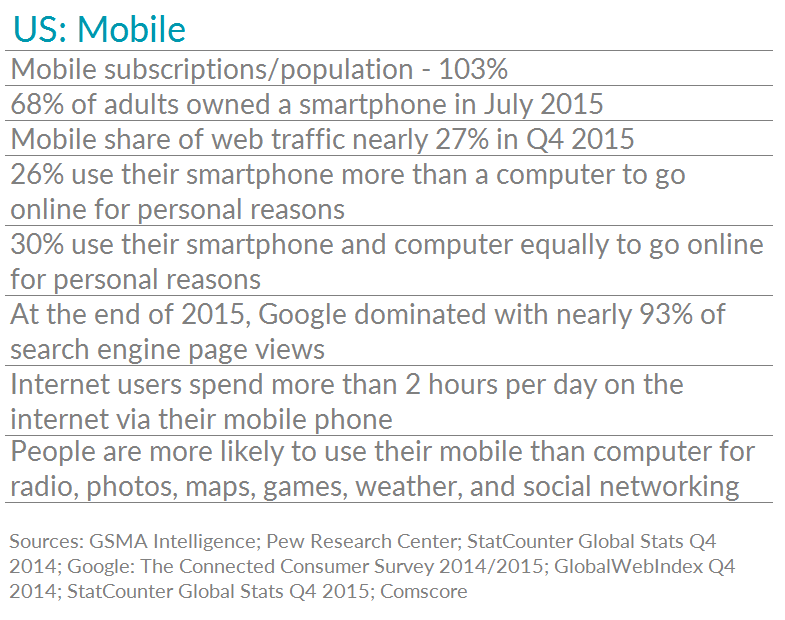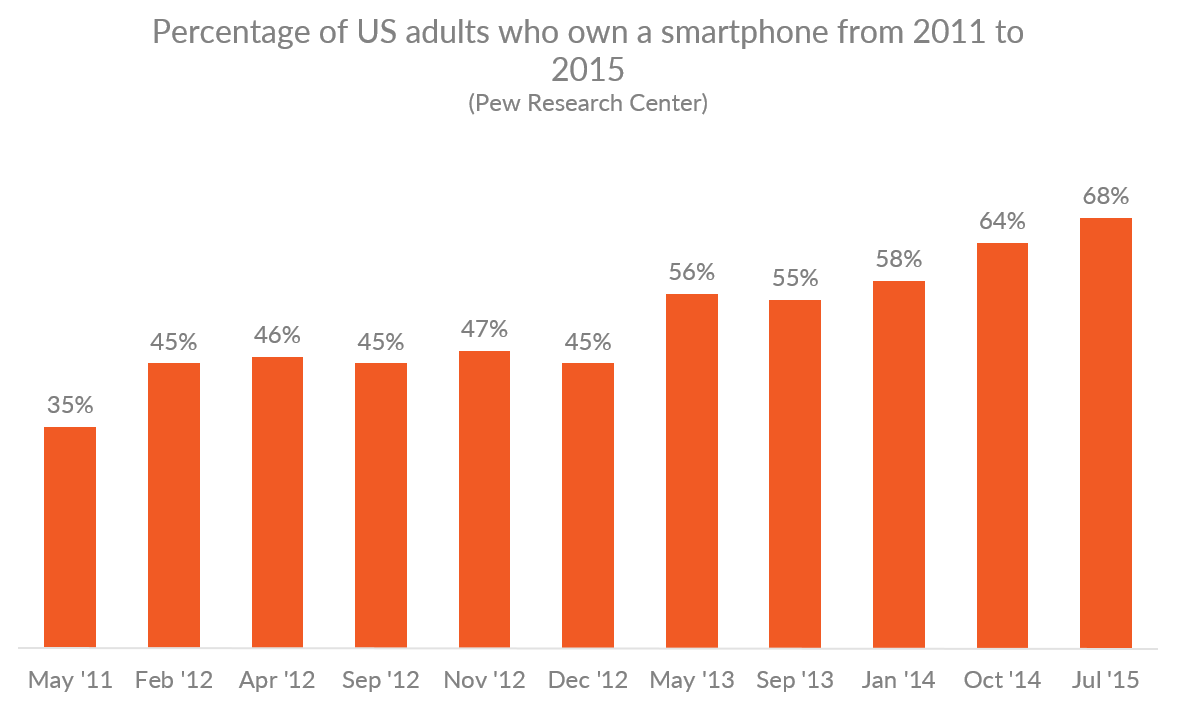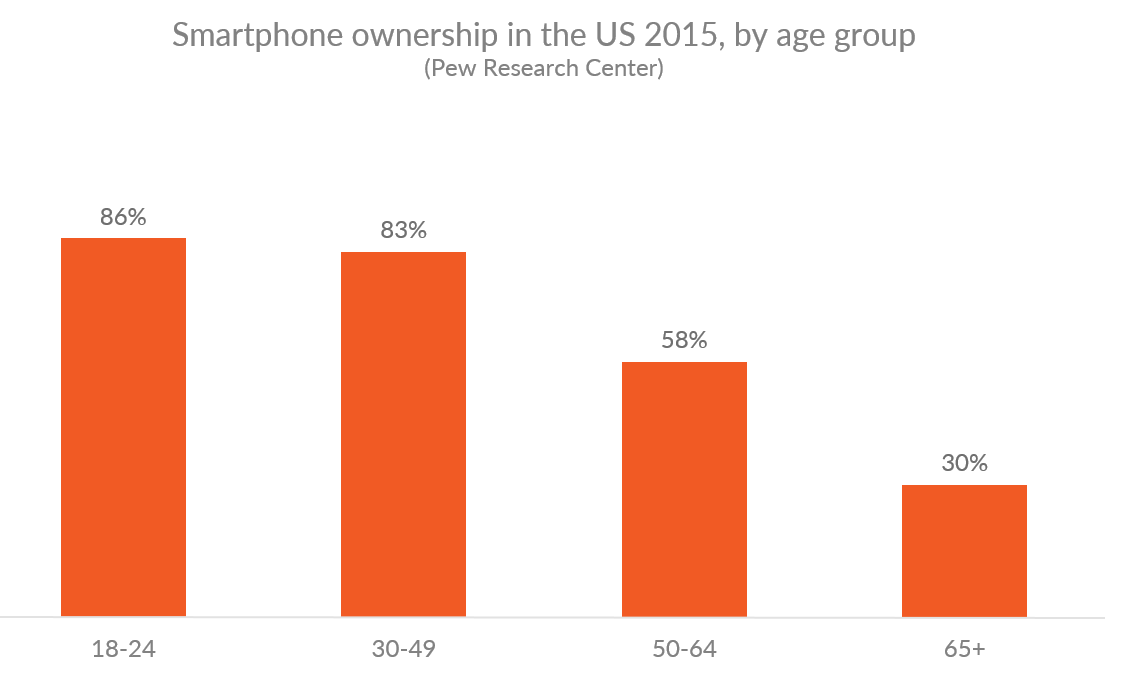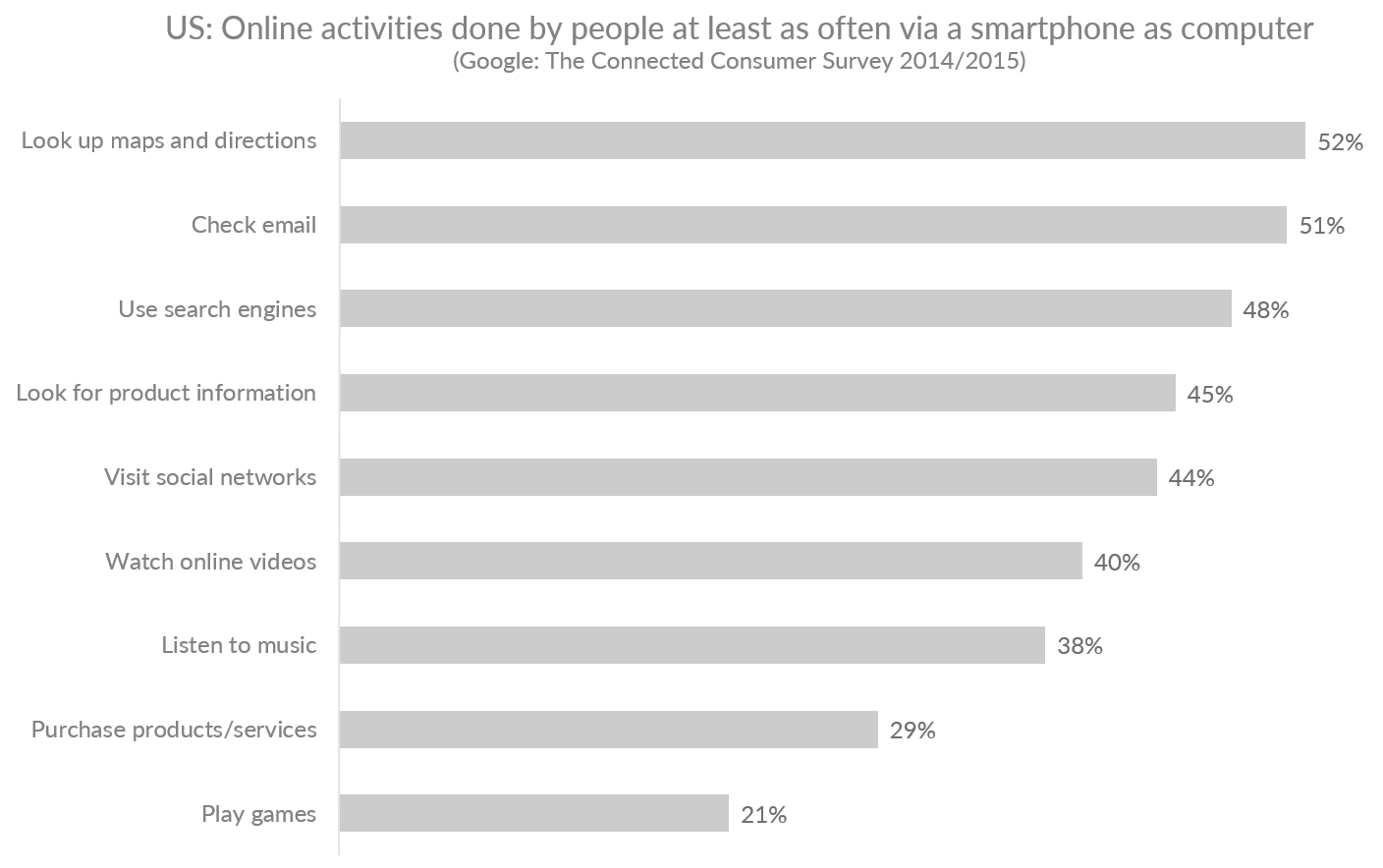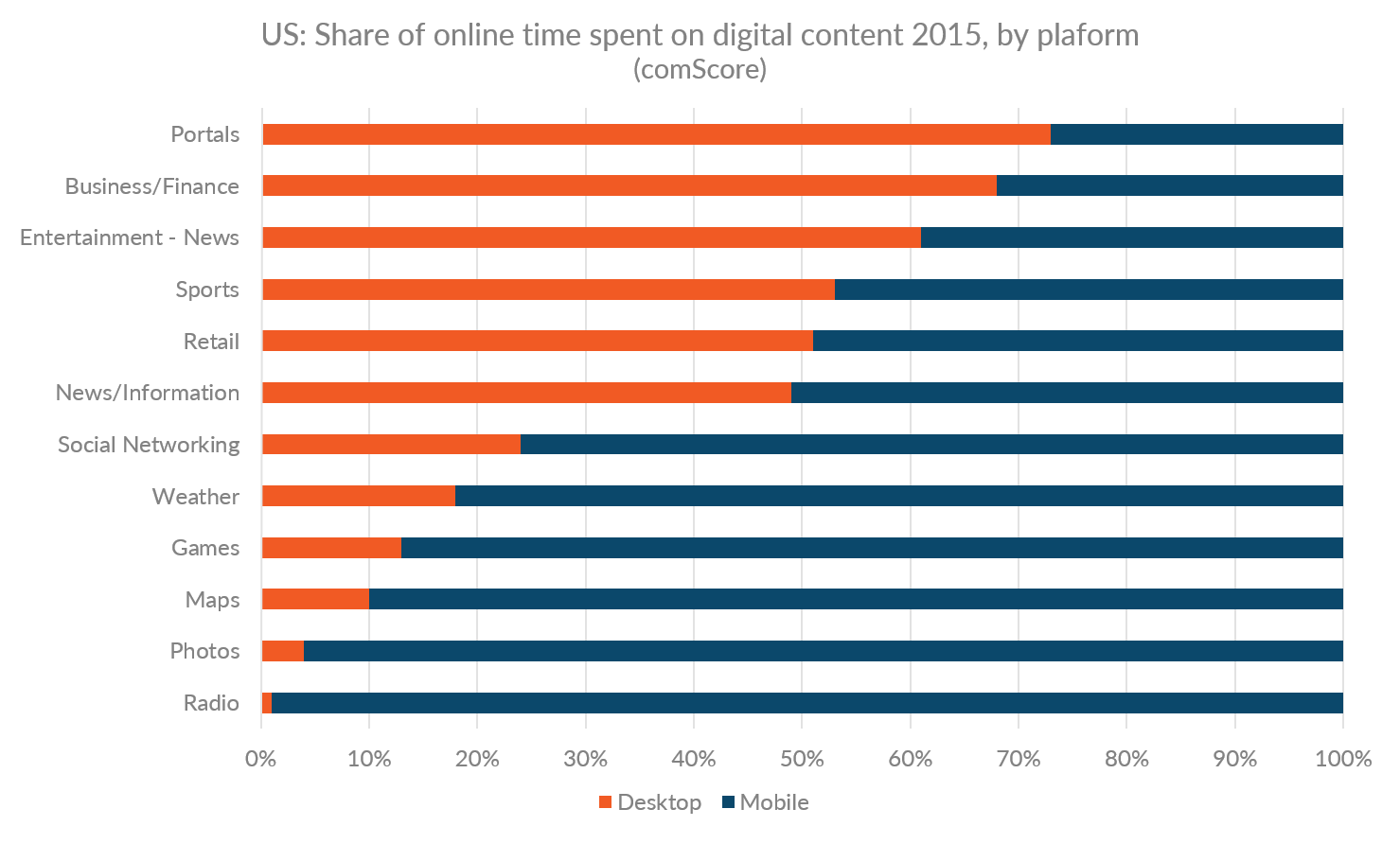 Globig Insights
Many Americans have smartphones today.
Smartphones are an important device for many Americans. As stated in the Internet section, make sure that you have a mobile strategy. Does your site look good on a mobile? Do you have an app? Is your mobile SEO ready to go?

More than 8 out of 10 in the 18-49 year old range have smartphones, and even nearly 1 in 3 who are 65+ have a smartphone

Nearly 50% are just as likely to use their smartphone as their a computer to use search engines or look for product information

Almost a third are just as likely to use their phone as a computer to purchase products and services online
If you need assistance in making your content mobile friendly or in developing a mobile strategy, you can find vetted vendors in the Globig Marketplace.
Social Media usage in the United States
People in the US are into social media. Nearly 6 out of 10 Americans have an active social media account, with 5 out of 10 Americans having an active mobile social media account. People spend nearly 3 hours per day on social media - that's more than 10% of any given day, not to mention just their waking hours.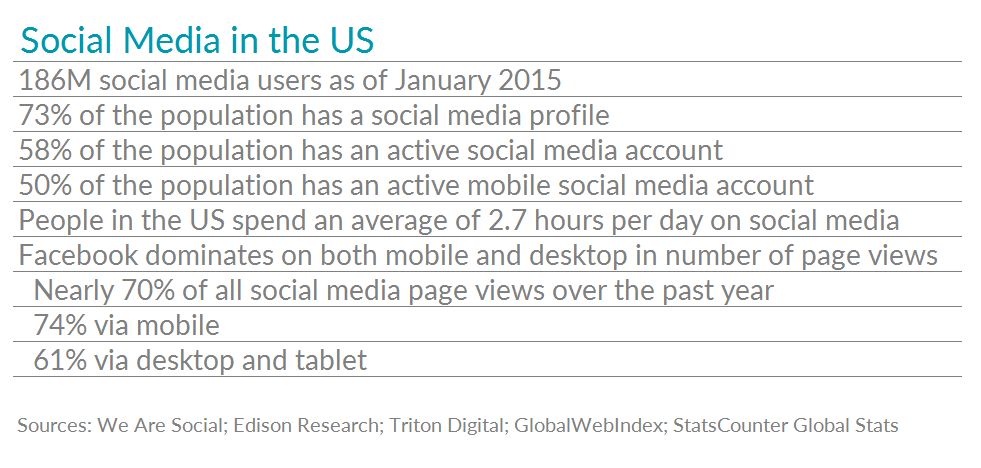 The top three social media sites in terms of pageviews are Facebook (70%), Pinterest (19%) and Twitter (6%). (Statcounter Global Stats, 2015). Another way to look at the role social media plays in the United States is to see where the various platforms fall in the overall list of top websites. According to Alexa.com, 5 out of the top 12 US websites are social media. (Be aware that you may see some variability in the list as the Alexa ranking is regularly updated.)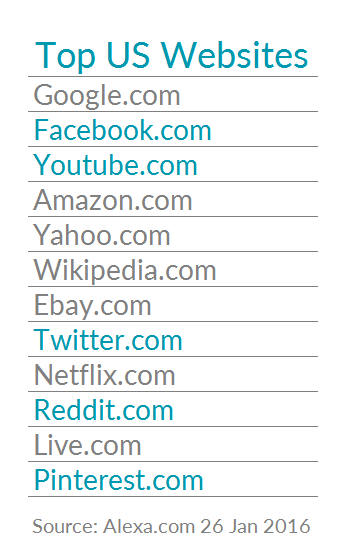 Facebook is the clear social media leader in the United States, with almost 7 out of 10 social media pageviews going to them and a 45% share of visits. Just under three quarters of Facebook users will access their accounts via mobile, so they are doing it on the go. And nearly half of them visit several times per day.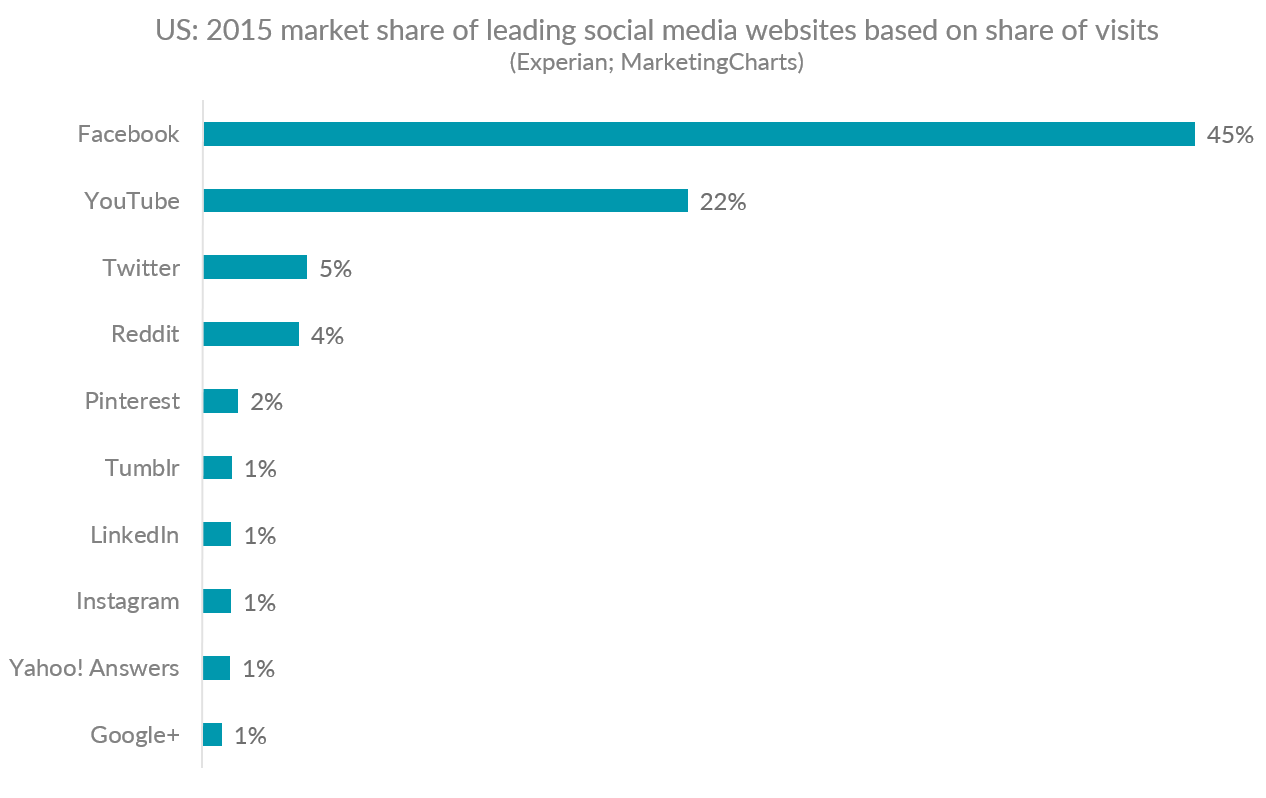 Twitter also has millions of users, with half of them being between the ages of 18 and 34. With a growing user base, eMarketer estimates there will be 69 million users by 2019.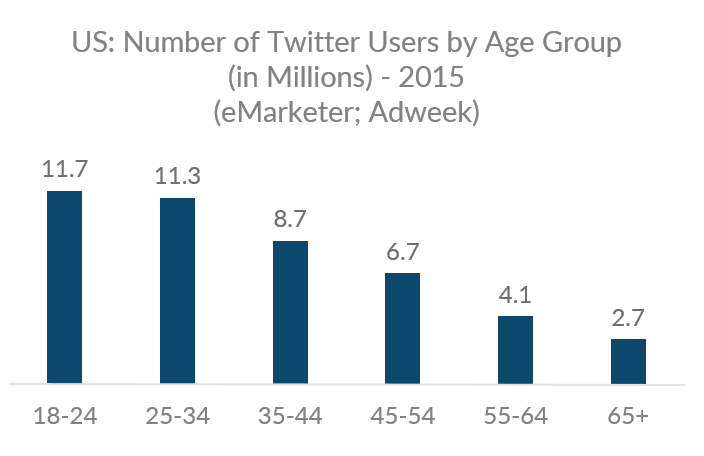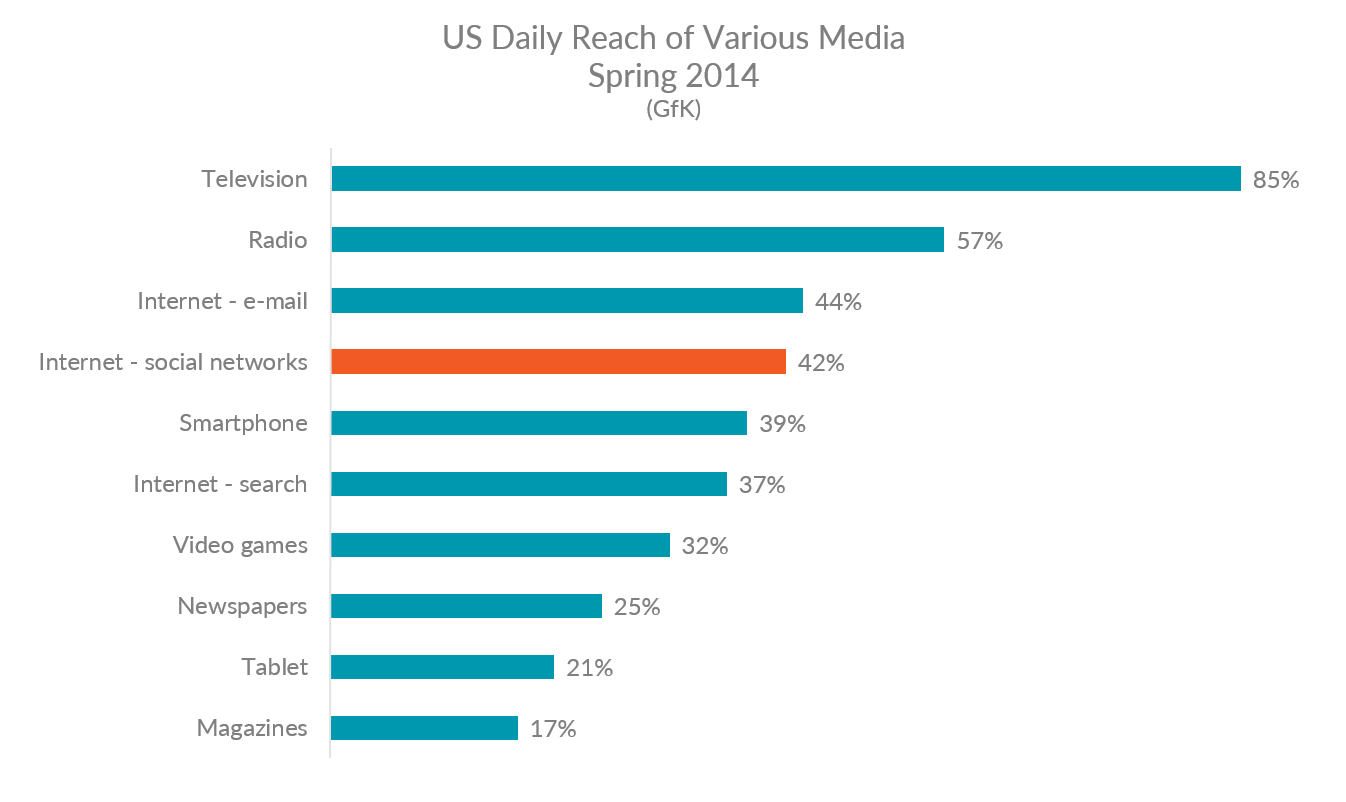 Globig Insights
What does social media in the US mean for you?
Social media plays a big role in the daily lives of many Americans. As you will learn in other sections on the Globig site - check out our Research section, for instance - what you first need to understand is how your customers and prospects use social media. Are they digitally hooked teenagers or are they senior citizens who never go near it? If they do use social media, are they focused on Facebook or are they hooked on Twitter? Do they check in only occasionally or are they never far away?
Social media can be a powerful way to reach your target customers, and it is important that you understand if it's meant for your customers. Take a look at our Social Media In The US section for more insights.
Be sure to find an agency in the US that understands how social media and your prospects and customers intersect, and who can help you use social media in a meaningful way. The Globig Marketplace can help you narrow down your search for the right marketing agency to help you with this complicated and powerful way to reach people.



Online purchase behavior in the United States
Americans use the internet in all phases of their online purchase process. They are researching and gathering information, seeing online advertising, and looking for ideas and choices. And though they are using computers, smartphones, and tablets, computers are still the favorite device for both research and purchase.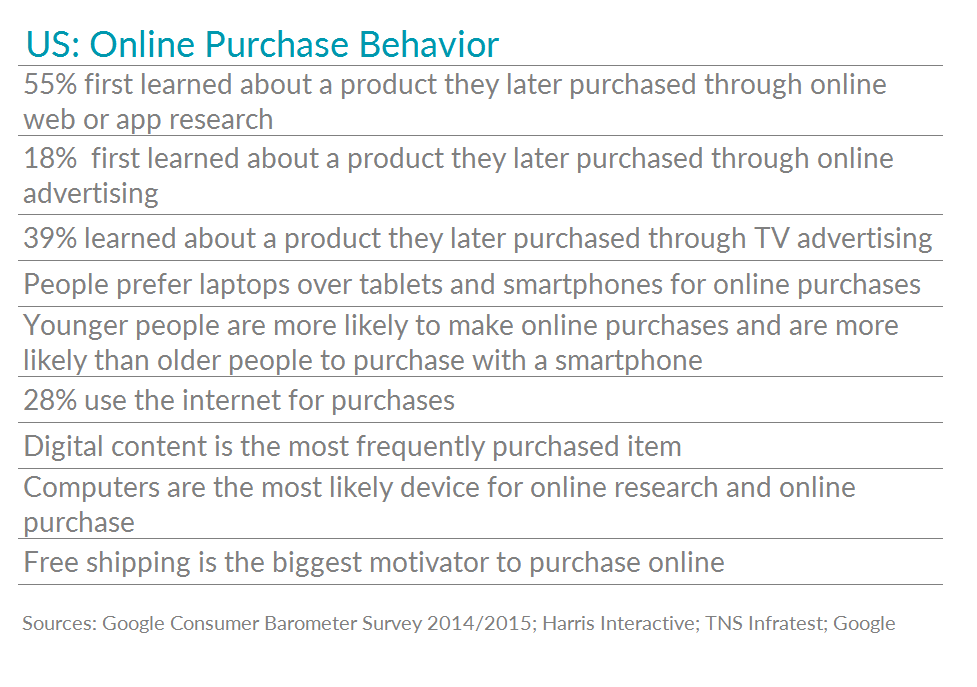 Americans use the internet when they are considering a purchase - they could be looking for ideas, comparing options, getting advice, and even looking for the place that they will purchase the product offline. The internet is often used in the entire process.
And while one in three use their smartphone for product research, one in ten uses it to make the purchase. In all product categories for online purchases, the laptop is the preferred device by a wide margin. Clothing is the most common item to purchase online with a computer, and for both the smartphone and tablet, digital content is the most commonly purchased category.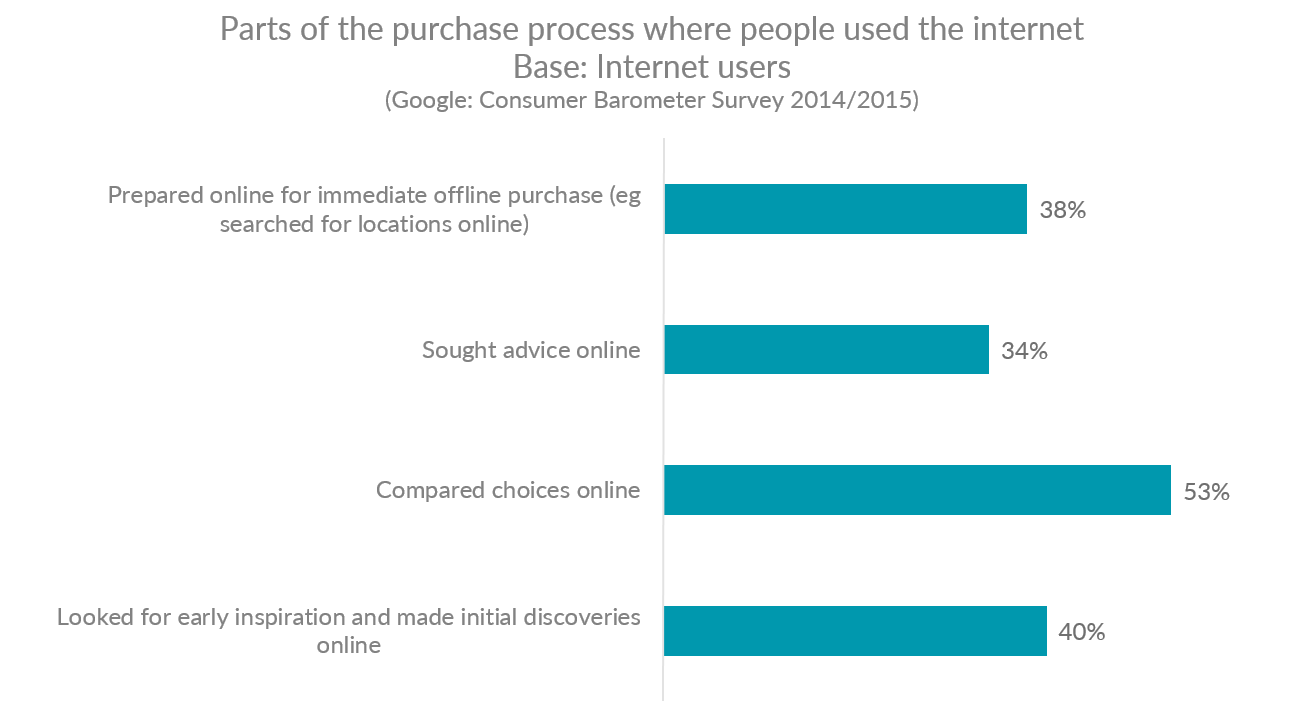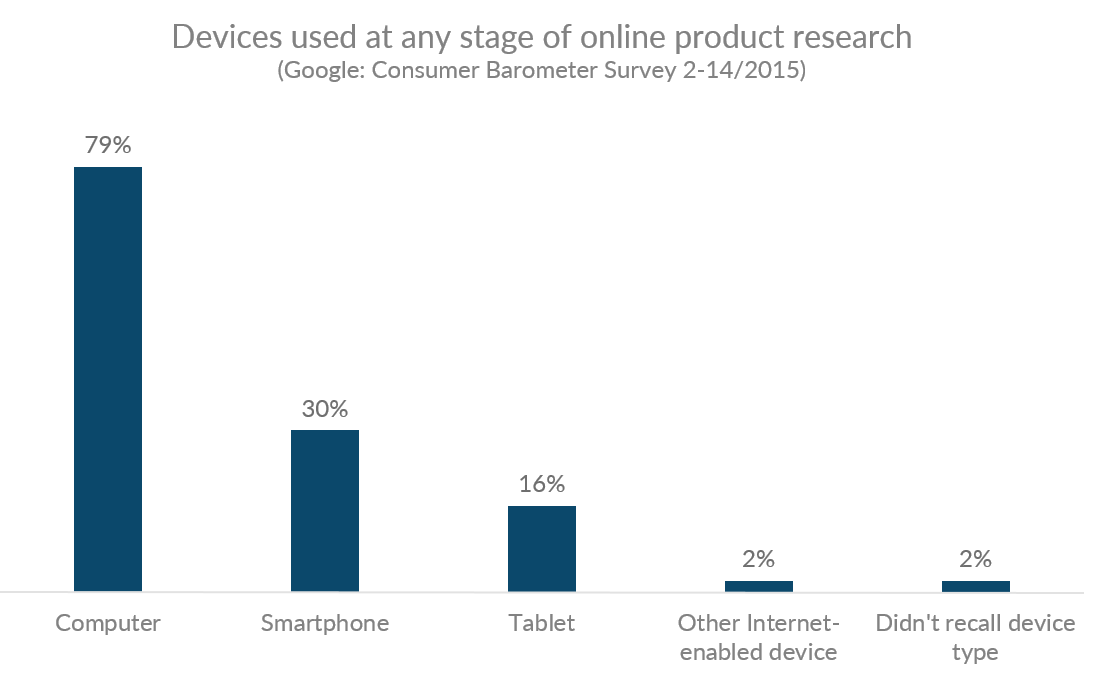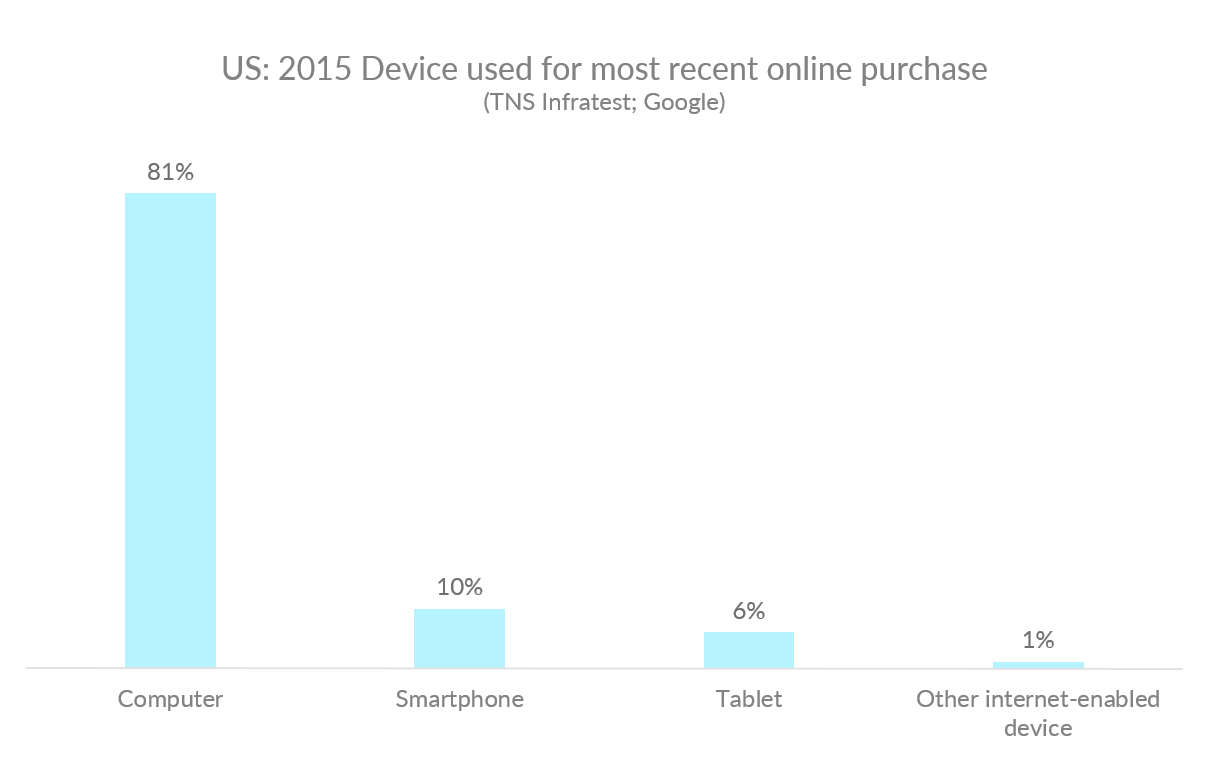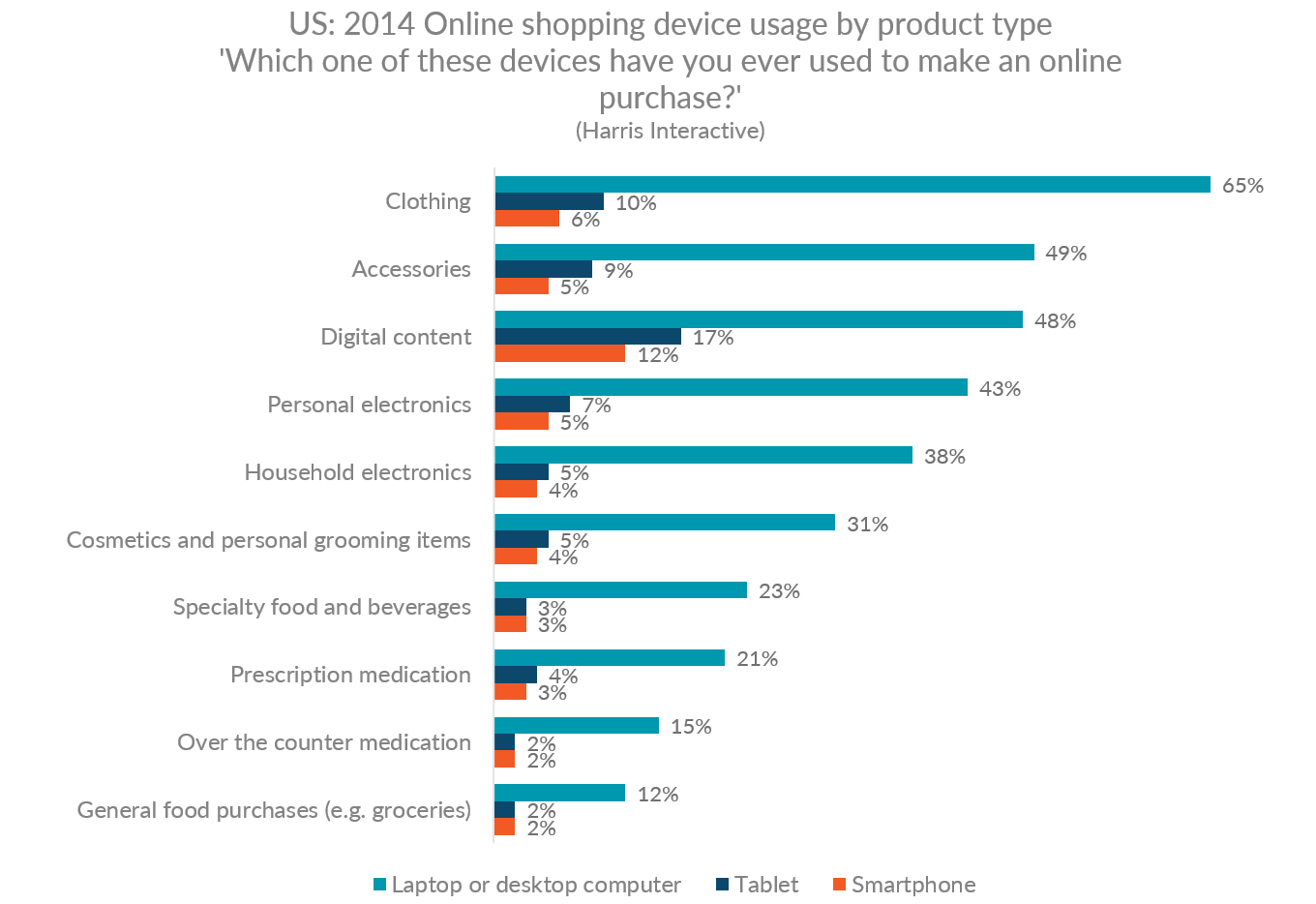 Knowing that computers and laptops are by far the favorite device for purchasing online, what do tablets and smartphones look like?
It will come as little surprise that there are differences between the generations in how they have embraced online purchasing. For the current group of 'Matures' (65+), online shopping with smartphones or tablets may never take hold. In only two categories (digital content and personal electronics) do they report making online purchases with a smartphone. Their most reported category (7% for digital content) is just over one quarter of the Millennials' rate (at 26%) and in many categories, they are at 1% or less. Of course, as more digitally comfortable generations move into this age bracket, the numbers should rise.
With each younger generation, there is a higher likelihood that they will purchase online in any category. And while the tablet is still more likely to have been used in almost all categories, the younger groups are much more likely to have used a smartphone than the older generations.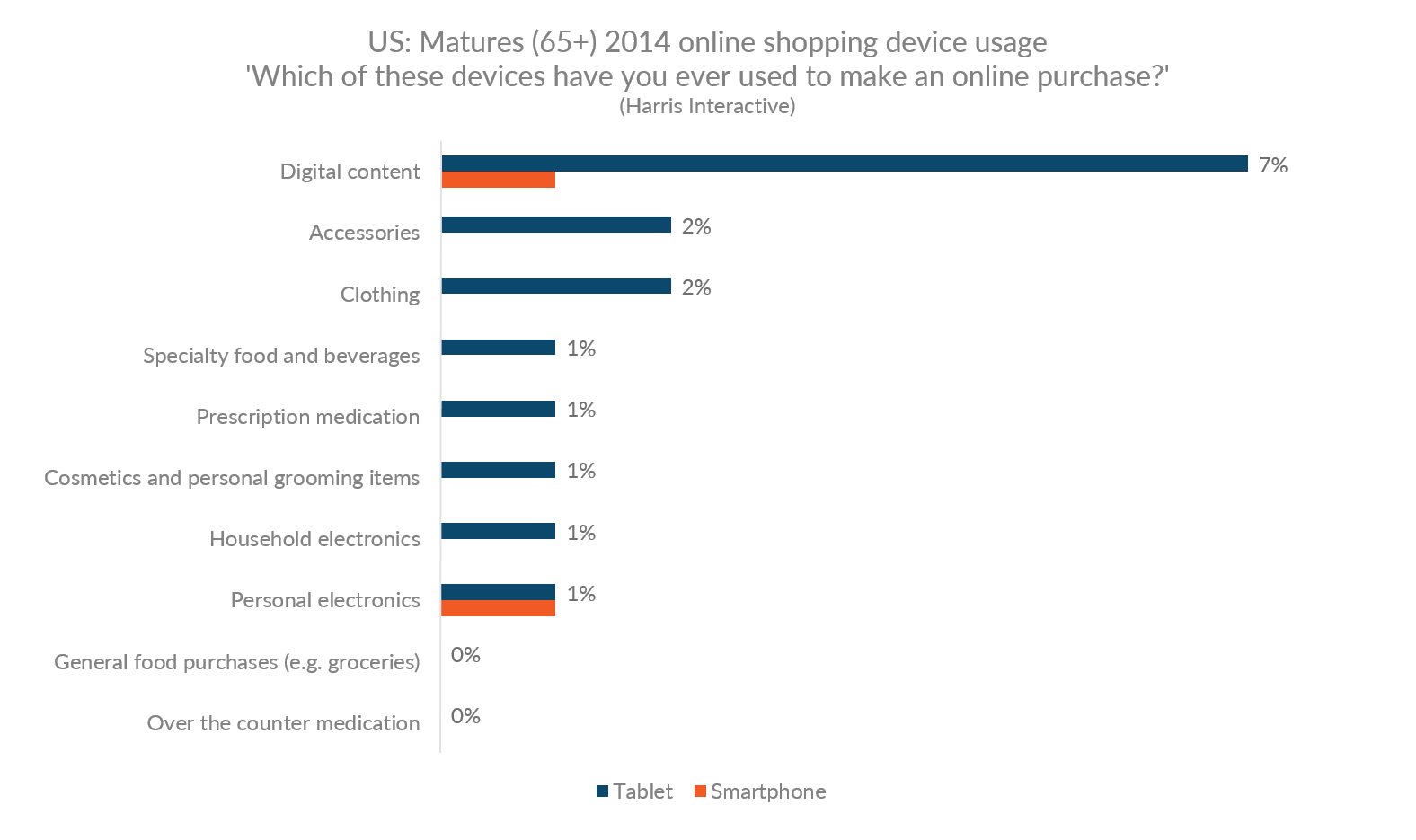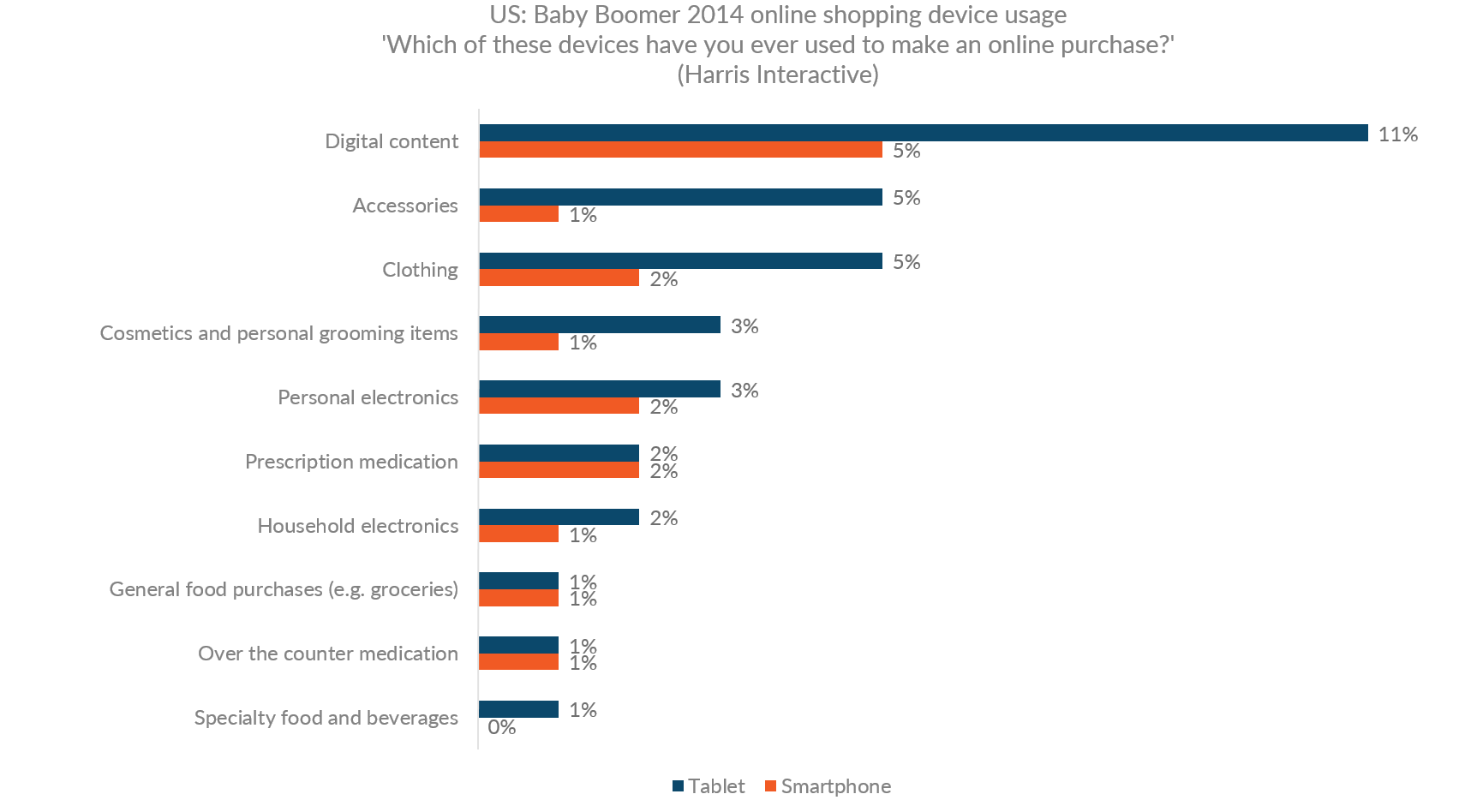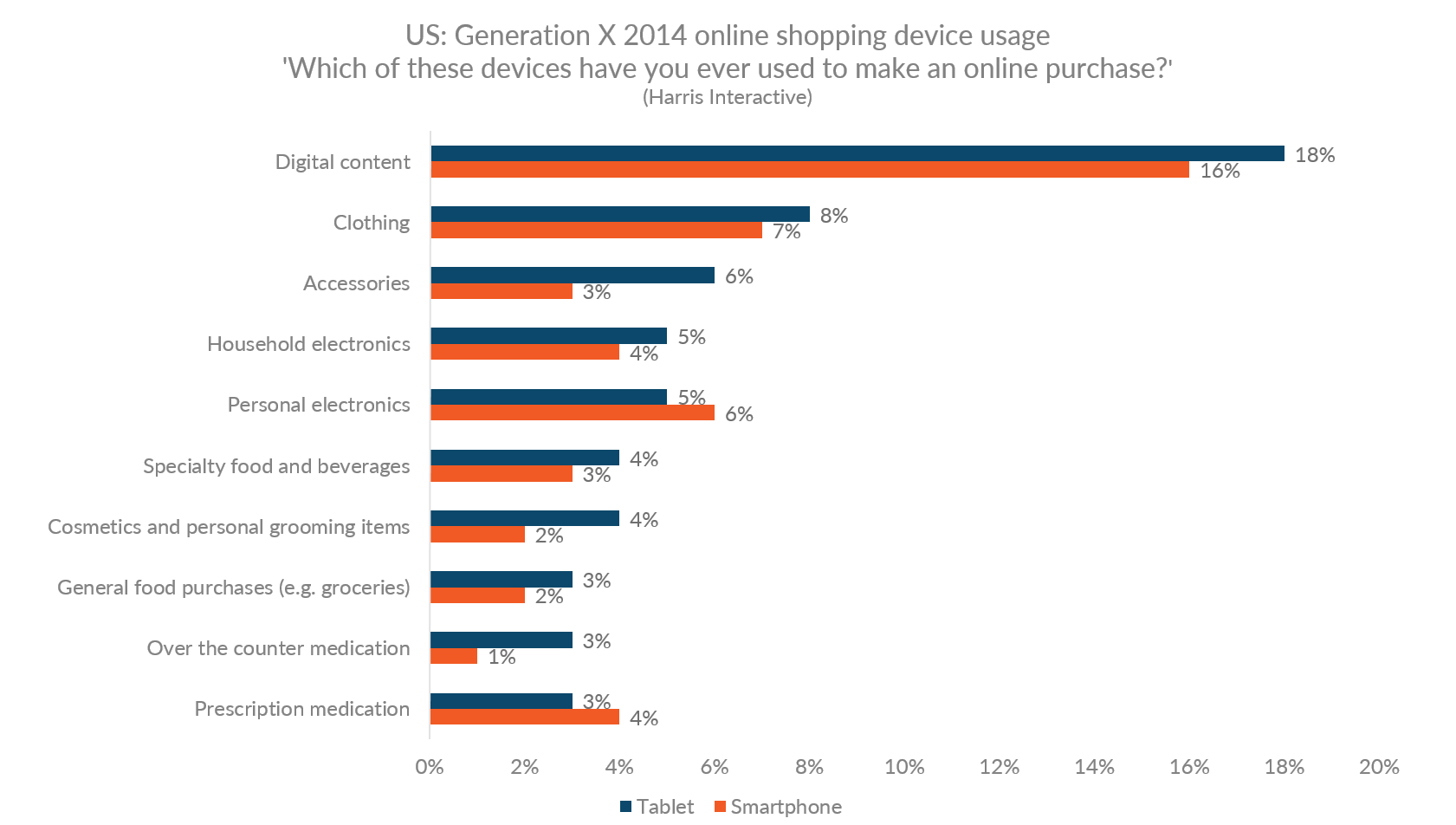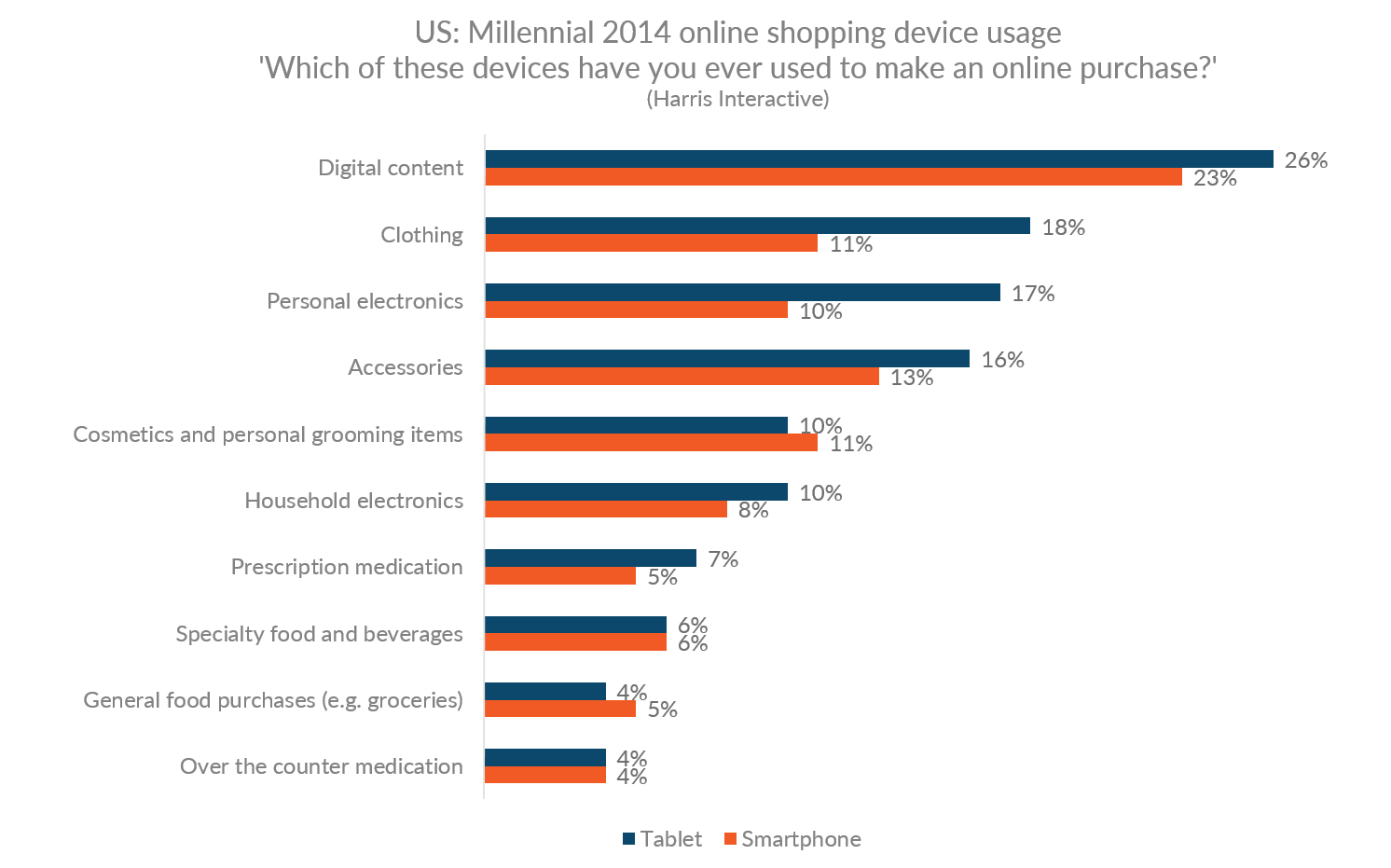 And what seems to hold the most sway in getting people to shop online? Free shipping, and for all generations. But if you get stingy and only offer free returns if there's not a store nearby, you'll be driving a lot fewer online sales.
Globig Insights
Americans do make purchases online, their likelihood depending on the product category, their generation, and the kinds of devices they use.
Consider your product or service category, your target market, how they interact with the internet, their likelihood of purchasing online, and if so, what device they are likely to use.
Because people use the internet at all phases of the process, from looking for ideas and inspiration, to comparing options, getting advice, and ultimately purchasing online or finding a location to purchase offline, your online presence is important. You want your product or service to be easily found through searches, to have meaningful, localized content, and to be accessible in multiple formats.
Here's another great resource for analytics on mobile and internet usage in the United States
Google has also compiled a great deal of searchable information regarding the online world in its Consumer Barometer research from 2014 and 2015. Google provides a wealth of information in the use of devices and the internet and how Americans use them to research and make purchase decisions. There are many ways to analyze and interpret the information, much of which can be useful in guiding your online strategy. You can use the Google Consumer Barometer research to further analyze behavior, both with their key insights and option to use their graph builder. Just filter down on the country or countries you are interested in.
For instance, on a weekly basis here's an idea for what devices Americans use for certain online activities: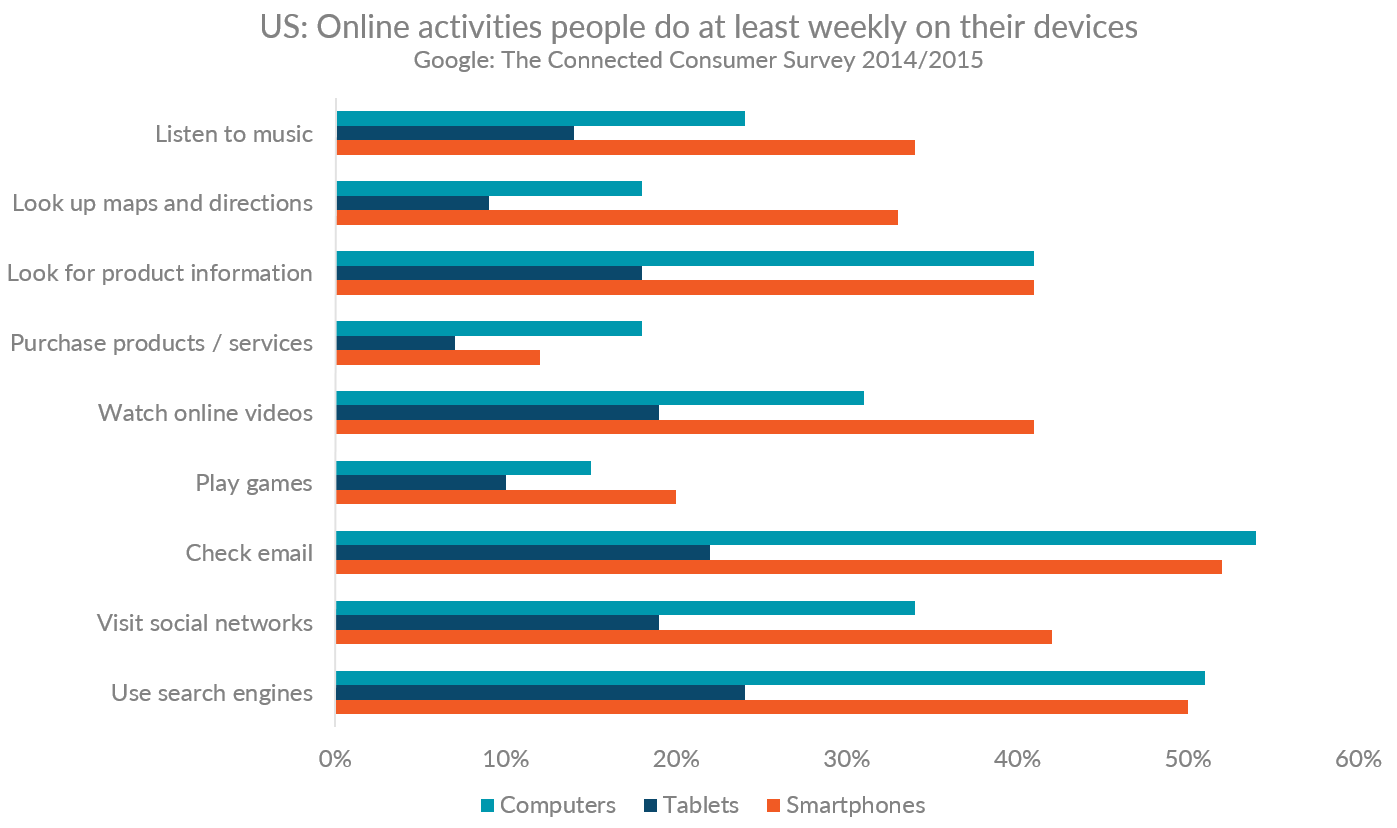 Here is some additional interesting information about US online activities taken from the Google research:
20% have 5 or more connected devices, with another 16% having 4 and 14% having 3

79% of internet users go online every day for personal usage

57% have smartphones

72% have computers (desktops, laptops, and netbooks)

35% have tablets

90% have TVs

Of those internet users who learned about a product via pre-purchase research, 55% first learned about a product that they later purchased online via websites or apps. This was the most common way that people first learned about products they later purchased

18% first learned about a product they later purchased through online advertising, second behind TV at 39%

28% made their purchase online, with 81% using their computer, 10% using their smartphone, and 6% using their tablet
The Google Consumer Barometer site is very straightforward and you can use it to search on parameters such as:
Internet usage and segmentation

Connected devices and device usage

Online shopping behaviors

Online video viewing

Apply filters for demographics groups
Google Consumer Barometer has also created some visual insights for the US data. As you'll see, an online presence is important for your go-to-market strategy, as well as for your ongoing sales and marketing.
People use the internet to get information for upcoming purchases, and use all of their devices to do so

79% computer

30% smartphone

16% tablet

And they use their smartphones at all phases of the online purchase process, so plan on having a mobile -friendly strategy

43% inspiration

36% comparison

35% advice

32% preparation online for immediate offline purchase
You should now have a better sense for mobile and internet usage in the United States. Use these resources to keep an eye on trends and to tailor your needs to what is most important for your company. Combined with what you know (or need to know) about your target market, you will better understand how your target market can be reached, how they will find you on their own, and you will choose to present and promote your products and services. If you need outside experts to help you make sense of the information and who can assist you in putting together a targeted digital strategy, visit the Globig Marketplace for a number of vetted vendors.

https://agenda.weforum.org/2015/04/which-nations-are-top-for-digital/
Global Information Technology Report - United States
Global Information Technology Report - Full Report
Google Consumer Barometer key insights
Google Consumer Barometer graph builder
Digital Nation Data Explorer: National Telecommunications & Information Administration
KNOWLEDGE BASE Mobile - Internet Usage In The US